Wooden bathtub caddy trays can be used with a variety of bath tubs.  Adding a wooden bathtub tray to your tub, will create an at home spa experience for you to relax and unwind after a hard days work.
Whether you have an old fashioned tub with claw feet or a bathtub that is against a wall, you can add one of these trays easily.
A bath tub caddy tray is designed to rest across each end of a tub.  It provides you with a spot for placing a book, tablet, a candle, a glass of wine and more while you enjoy your bath time soak.
It is also keeps bath essentials organized and easily accessible for the perfect home spa experience.
When choosing your wooden bathtub tray, decide what you are planning to put on it so that you choose the right size of tray to accommodate your essentials and the size of your bathtub.
A wooden bathtub tray is another bathroom accessory that will blend in perfectly with any type of decor including farmhouse.
Best Types Of Woods For Bathtub Trays
When choosing your bathtub tray, ensure that the tray is water-friendly as it will be in close proximity to the bath water.
Some of the more desirable woods that are used to make these bathtub trays are solid teak, bamboo and cedar.  These types of woods are water-resistant which makes them an ideal choice for a bathtub tray.
Let's start off by looking at some of our Top Picks in bathtub caddy trays that are made from bamboo.
Bathtub caddy trays that are crafted from bamboo are eco-friendly and water-resistant.  This type of wood is resistant to humidity or moisture which makes it the ideal choice for a bathtub tray. 
Here are some of the more popular bamboo bathtub trays to choose from.
XcE Bathtub Caddy Tray Expandable to 105cm with Bamboo Book Stand and Soap Tray, Brown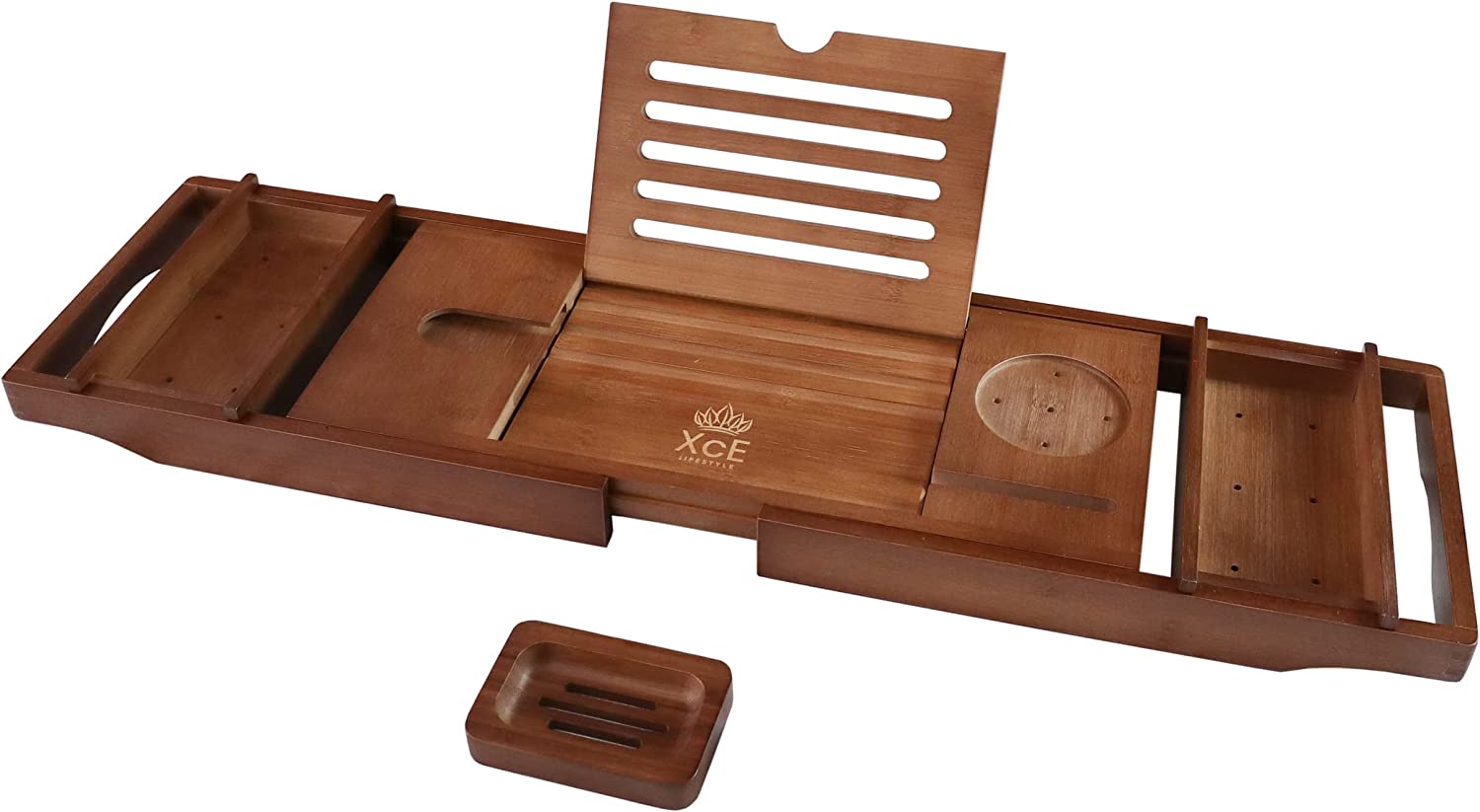 This luxury bathtub tray is crafted from high quality bamboo wood that is designed to last.  This tray has been designed to fit most bathtubs available on the market.
The sides can extend up to 40 inches and non-slip pads keep the caddy in place.  This bathtub tray is designed for two people with two side-trays, extendable handles and accessory slots.
There is a spot to place a book or tablet, a wine glass holder, a phone stand, two removable side trays, a candle/tea mug slot, extendable sides and non slip pad.
Here is another bathtub caddy that is crafted from bamboo
Redmon Bamboo Bathtub Caddy With Reader Stand and Wine Glass Holder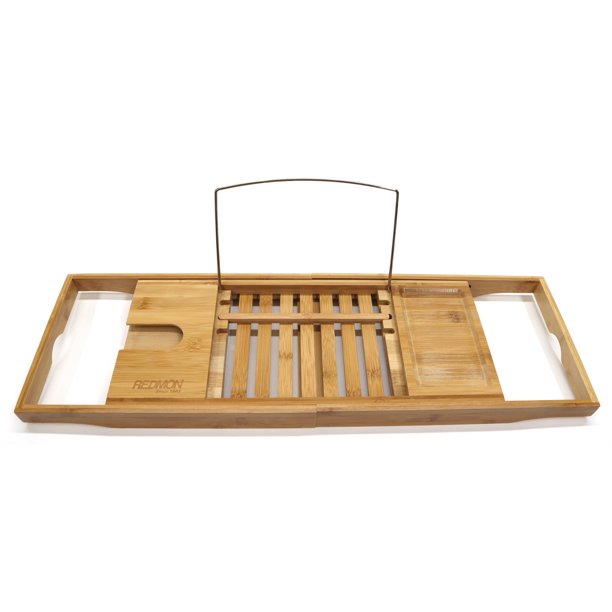 The Redmon Luxury Bamboo Bathtub Expandable Caddy includes a book holder, a wine glass holder, and an additional accessory area for placing a razor, candle, or toiletries).
Made of durable bamboo that is resistant to humidity or moisture, this bathtub caddy fits across most standard sized tubs and the arms are expandable from 27.5″ wide to 41.25″ wide.
The reading material backrest is adjustable to three levels to accommodate various size books.
The wine glass holder is designed to hold a stem style wine glass.
Another bathtub caddy tray that is made from bamboo and is VERY popular with consumers is the Umbra Aquala bathtub caddy.
Umbra Aquala Bathtub Caddy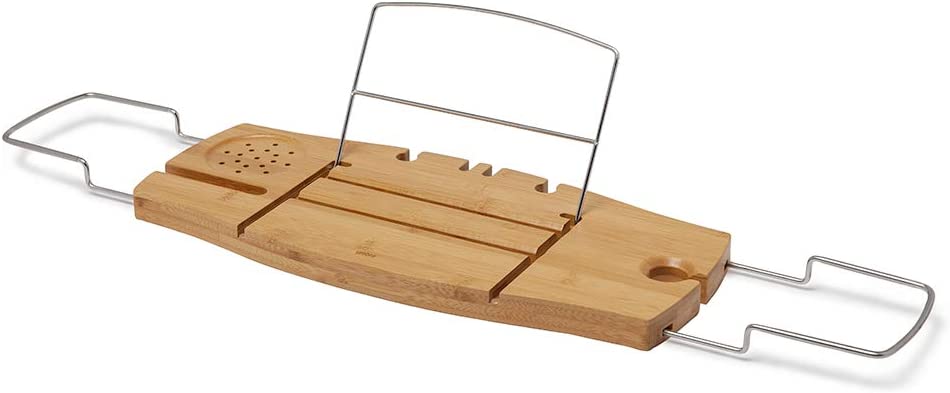 The Aquala bathrub caddy with its new design, features a sturdy slot for your phone, a double hook for your loofah, a wine glass holder and an additional middle bar for extra support to prop up your book, magazine or tablet.
This caddy puts everything at your fingertips so that you can relax and unwind while you enjoy a warm, soothing bath together with a glass of wine and your favorite book!
This tray also has extendible slip-resistant arms that extends to a maximum of 37 inches to fit most bathtubs.   There is also a thin layer of silicone on each arm to help prevent the caddy from sliding.
Here is another bathtub caddy tray that is made from bamboo that has extendible sides.
Luxury Bathtub Caddy Tray, 1 or 2 Person Bath and Bed Tray, Bamboo Bathtub Tray Expandable, Bath Tub Table Caddy with Extending Sides – Free Soap Dish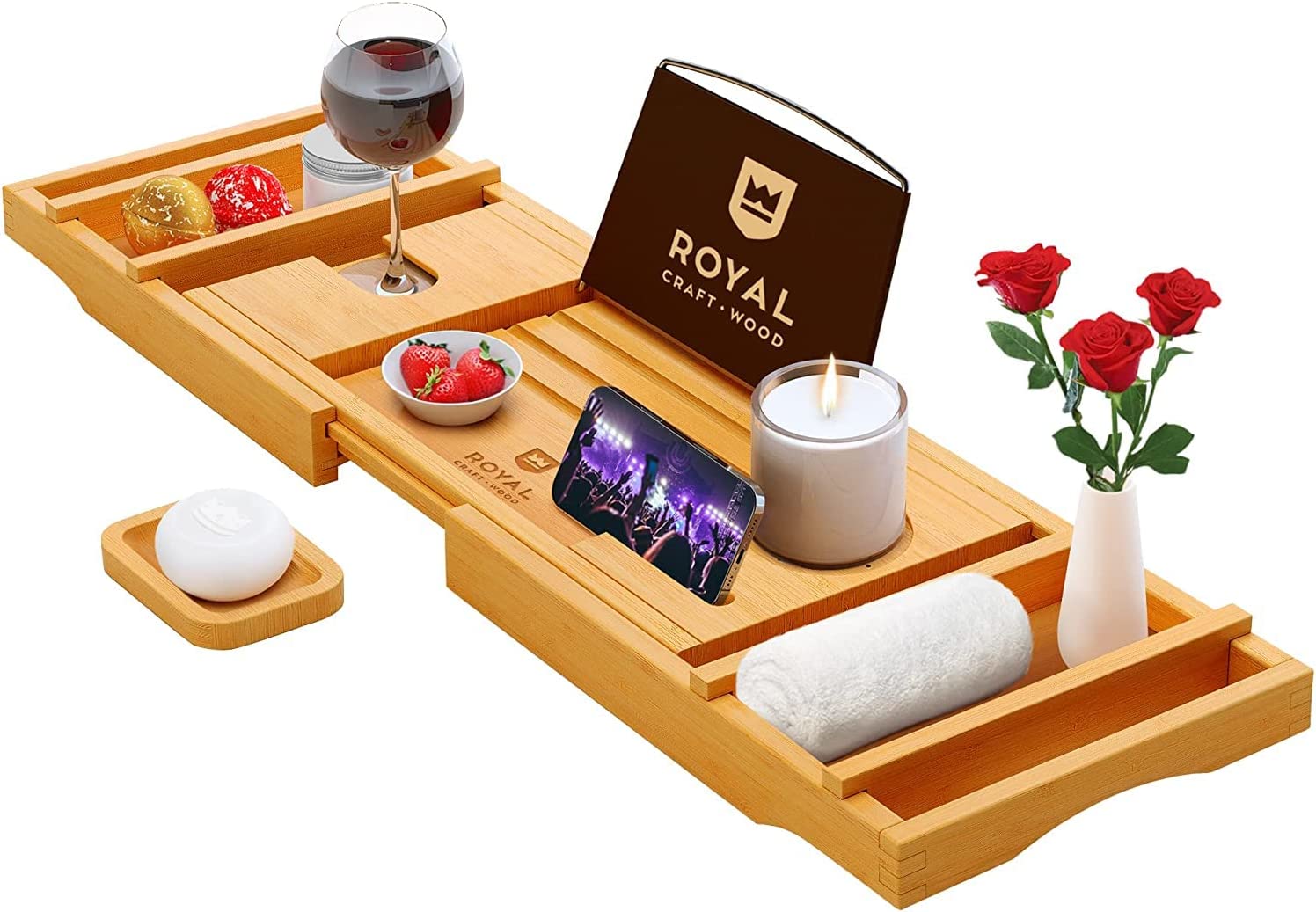 This Royal bamboo bathtub tray is crafted from sustainable premium quality bamboo and coated with a protective layer of lacquer that makes it waterproof and sturdy.
This bathtub caddy has been designed to meet the dimensions of most bathtubs.   It expands from 29 ½ inches to 43 inches to fit even the widest tub. 
It also has slip resistant silicone grips to prevent the tub caddy from sliding.

Bathtub Trays For A Tub Against A Wall
For a bathtub that is against a wall and is part of a shower unit, this Temple Spring bath caddy that is adjustable would fit this style of tub nicely.
Temple Spring Bath Caddy – Extendable Bath Tray for Bathtub with Candle, Wine Glass, Book, iPad & Phone Holders – Adjustable Bath Table Shelf Over tub with Bathroom Accessories – (Wood Brown)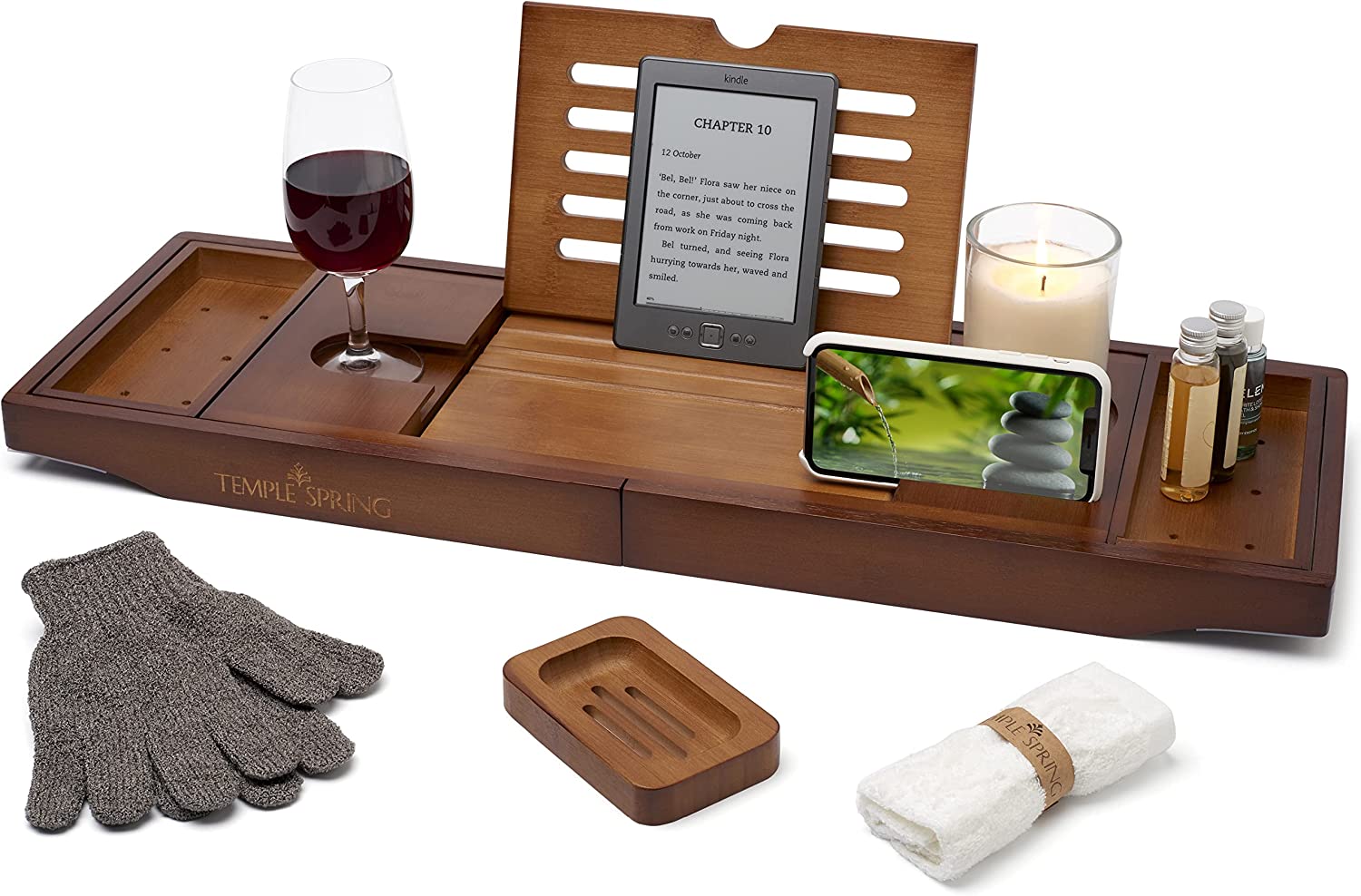 With this beautiful stylish bamboo bath caddy, you will experience a a truly relaxing spa experience.  Unlike other bathtub trays, this caddy has a solid bamboo back rest for placing your tablet, iPad or book.

The bath tray easily extends to fit most bath tubs with NON-SLIP pads that keep it in place.  It has also been specially treated with a water-resistant finish to protect the bamboo.
Included with this caddy is
a matching bamboo soap dish, a 100% bamboo face cloth and exfoliating gloves – for that little extra bit of luxury.  
PROS:
Easy to Assemble
Very Sturdy & Solid
Solid Bamboo Back Rest
Adjustable
Non-Slip Pads
Water Resistant Finish
CONS:
Tray needs To be Extended To Use Wine Glass Holder (according to one customer review)
Here is another bath caddy that could be used with a tub against a wall.
Tieman Freestanding Bamboo Bath Caddy

This bathtub caddy is crafted from eco-friendly bamboo, which is stronger and thicker than most traditional wood.  A thin protective coat of lacquer has been applied to this bath caddy to maximize water durability and round the edges for better usability.
This sleek bathtub caddy has a place for your tablet or book, cell phone, a glass of wine, a candle and more.  The caddy handles can be adjusted from 27.5″ – 43."
Pros:
Extendable
No-Slip Rubber Grips To Keep Caddy in Place
Perfect for Built-in Shower/Tub Combination
Phone Holder
Tablet/Book Holder with 5 Positions
Cons:
book easel/support is a nylon screen mesh material
If you wanted a bathtub caddy that was completely made out of wood, then this may not be the caddy for you.  Other than that, the customer reviews for this product were VERY positive.
Colors Available:  Natural, Brown or Gray
Where To Buy:  Wayfair
Gardner Freestanding Bamboo Bath Caddy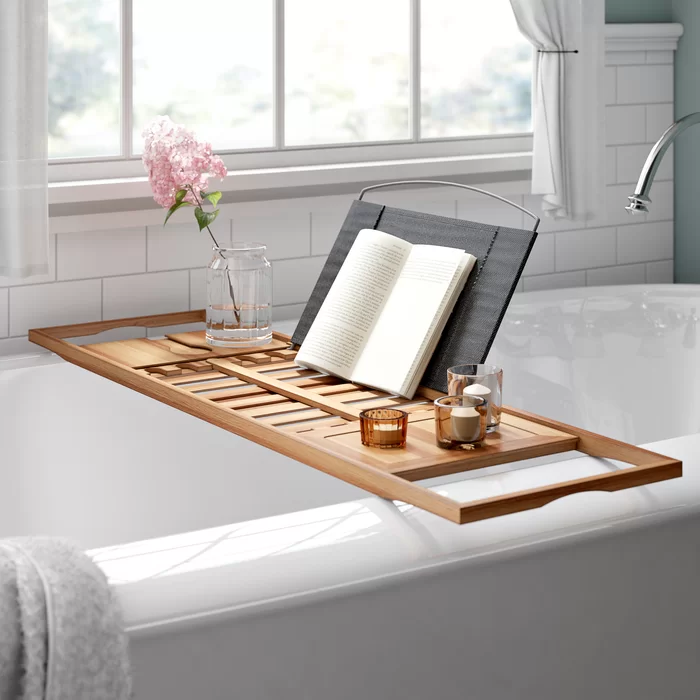 This stylish bath caddy is crafted from eco-friendly bamboo.  It has adjustable extending sides with cutout grooves to fit over the sides of your bathtub comfortably.
It features a slotted cup holder designed for you to slide in stemware, and a side shelf for holding everything from candles to your cell phone.
A book holder wrapped in a water-resistant covering is perfect for propping up magazines, novels, or your tablet.
Pros:
Sturdy & Durable
Easy To Adjust the Length
Adjustable Slots for Book or iPad
Water & Bacteria Resistant
Cons:
No lock in place to hold Caddy together when not in use
How Wide Should a Bathtub Caddy Be?
Bathtub caddy trays need to be a certain length in order to sit comfortably across the width of a tub. 
The standard size of a U.S. bathtub is 27″-30″ wide on the inside. 
In turn it is recommended that bathtub trays should measure a width that is at least 4″-6″ wider than the interior width of your tub. This will ensure that you have at least 2″-3″ inches for the tray to rest on the sides of your tub
Teak is another type of wood that is used to make bathtub caddy trays.  Teak is firm and durable, with excellent texture and naturally water-resistant.  With each use, the wood will become more beautiful and smoother.
Here are some teak bathtub trays to consider getting.
Teak Bathtub Tray, Expandable Wooden Bath Tray for Tub with Wine and Book Holder, Solid Bathroom Caddy with Free Teak Body Brush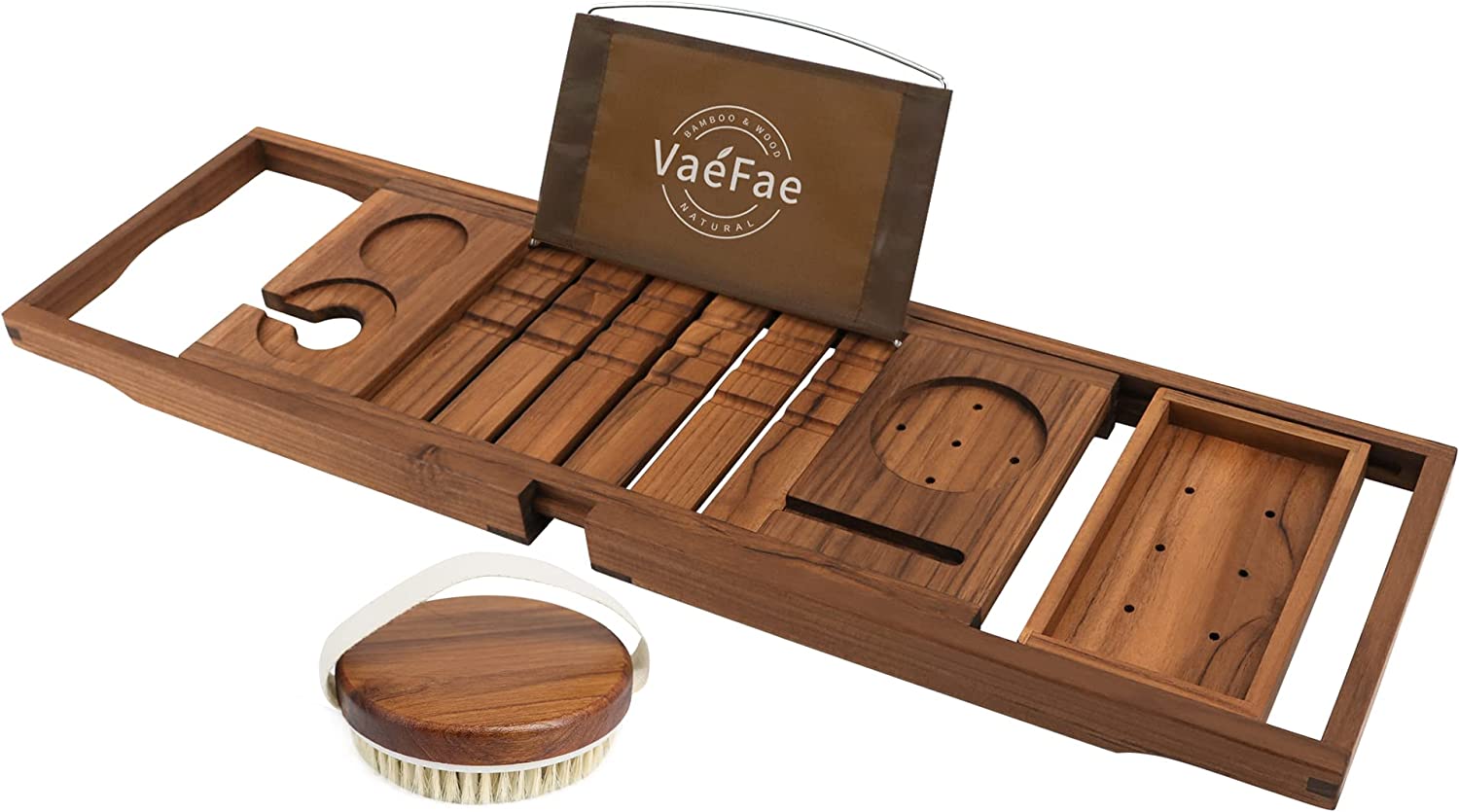 This bathtub tray is made of premium teak wood that is sturdy and durable in construction. Perfect for holding all of your bath essential needs.
It is designed with a foldable stand for book or iPad, a special slot for a wine glass, another round compartment for candle and cup, and a sliding tray with draining holes for a towel and a bar of soap.
PERFECT for holding all your bath essentials.
The tray with expandable handles can be adjusted to accommodate a single tub, double tub, round tub, rectangular tub, etc.; Won't slip.  The length is from 29.5″to 43.3″(110 cm) while the width is 9.05."
Also included with this wooden bathtub tray is a teak body brush.
Another bathtub tray that is made from teak is the EcoFives Teak Bathtub tray caddy.
PROS:
Very Sturdy
Easy To Assemble
Foldable Stand for Tablet or Book
Expandable Handles
Naturally Water Resistant
CONS:  No-slip pads don't adhere very well
EcoFives Teak Bathtub Tray Caddy – Expandable Bath Tray – Adjustable Organizer Tray for Bathroom – Luxury Bath Caddy Tub Table, Bathtub Accessories & Bathroom Gadgets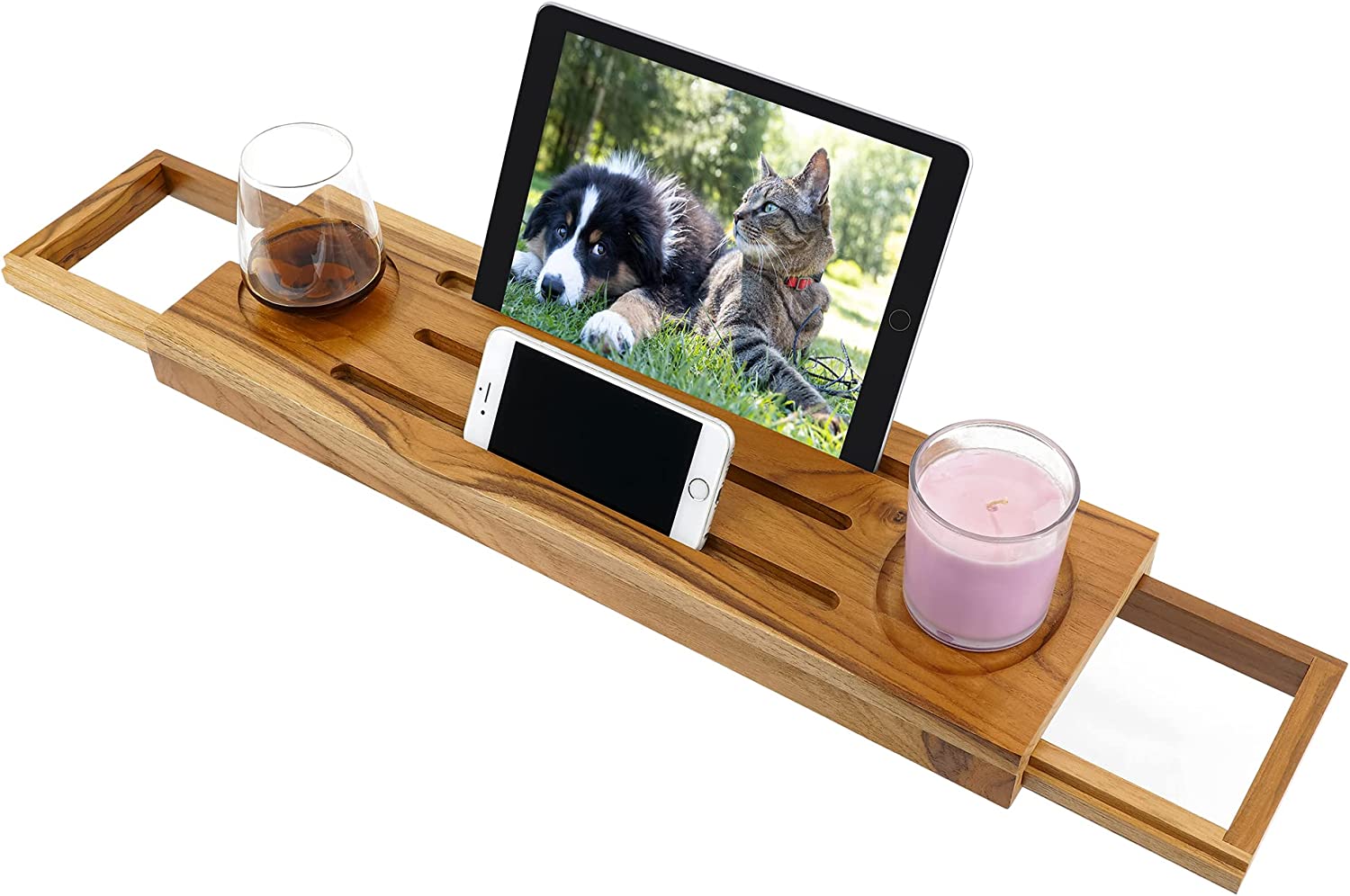 This teak bathtub tray is made from sustainable premium quality teak that is coated with a protective layer of lacquer.  This makes this bathtub tray table waterproof and sturdy.
This solid teak wood tray comes with a tablet holder and a glass holder, perfect to sit and relax while reading or watching your favorite movie.
It is suitable for almost all standard bathtubs on the market, and can be easily adjusted to the required width, extending from 19.6 inches to 33.3 inches. 
PROS:
Well Made & Sturdy
Beautiful Smooth Teak Wood with No Splinters
Water Resistant
Tablet, Phone & Glass Holder
No Warping Once Exposed to Water
CONS:
Extensions Do Not Have Grips Or A Lip On The Ends
Missing A Rubber Bottom
Can Slide Easily If Knocked
According to customer reviews, this beautiful teak bathtub tray is well made and sturdy in construction.  There is a spot to place your drink, a bar of soap, and ridges for a waterproof phone and tablet.
Consumers came up the idea that you could add grip tape to the bottom of the tray to keep it in place.
Where To Buy:  Amazon
Cedar is another type of wood that is used to make bathtub caddy trays because it is also solid and sturdy in construction.
Cedar Bath Caddy, Bath Tray Shelf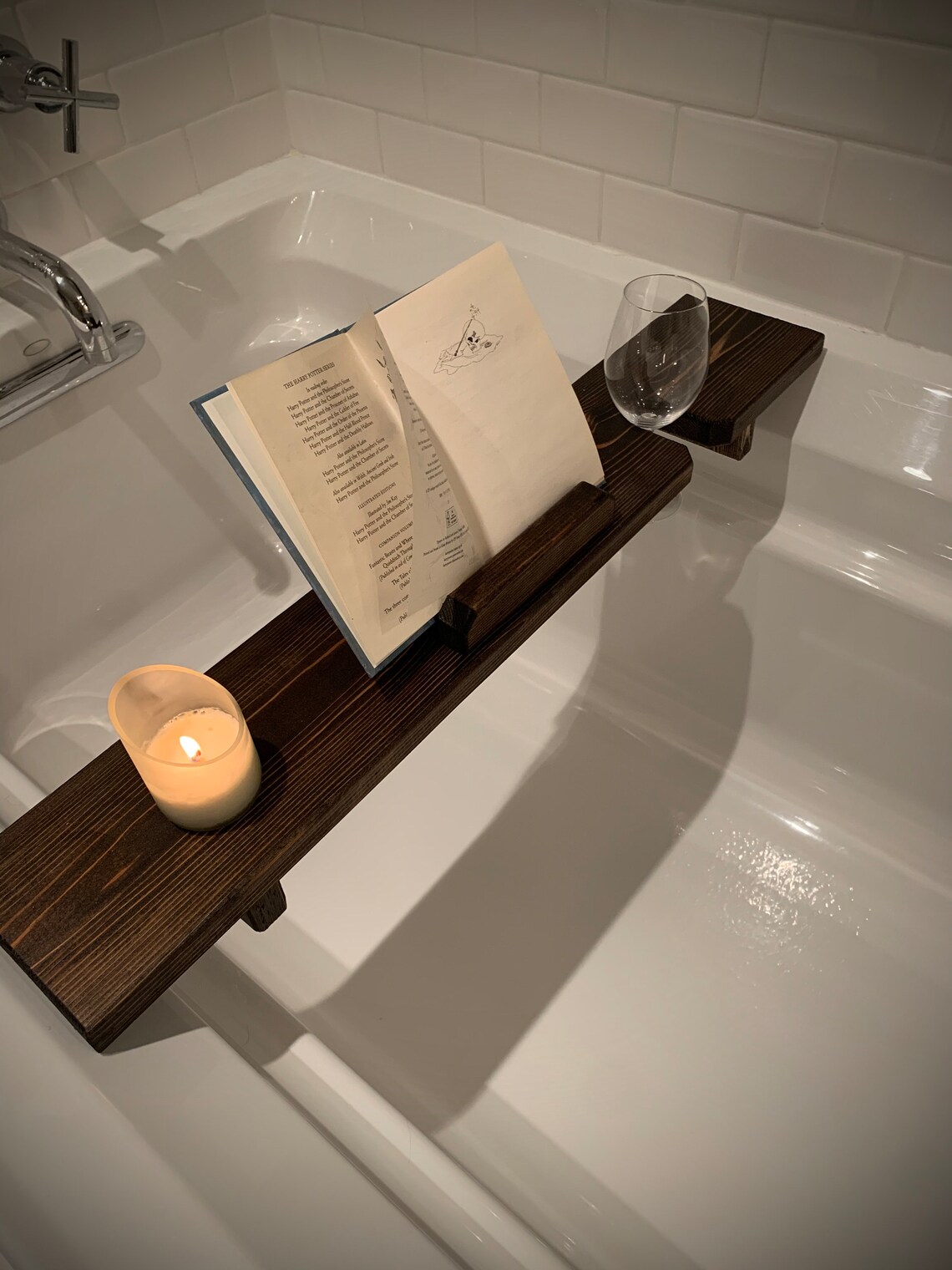 Shop On Etsy
This bathtub  caddy is made from solid cedar with no metal fasteners, sealed with food safe lacquer and optional stain.  Standard size is 30.5", with side supports 4" from the edges.
All dimensions are customizable to suit your bathtub.
Stain Colors:  Dark, Medium & Natural
DIY Bath Tub Tray Ideas
If you are would like to learn how to make your own bathtub tray, then visit Dunn Lumber for DIY tips on 'How To Make A Bath Tray' from scratch.
Conclusion,
Having a wooden bathtub caddy tray will provide you with a spa-like experience right in the comfort of your own home.  These bathtub wooden trays are crafted from different types of wood like bamboo, teak or cedar.
These types of woods are solid and and are water-resistant.  These bath tub wooden trays are also extendible which means that they will fit most bathtubs.
You also have the option of buying a bathtub caddy that is custom made to fit your tub perfectly.
I hope that this article has given you some insight into the different types of wooden bathtub caddies available.
Whether you choose a bamboo, teak or cedar made caddy for your tub, you can be assured that you will experience a splash of luxury during your bath time routine.
So I say, treat yourself to one of these wooden bathtub caddy trays to experience a relaxing soak while you enjoy a drink and a good book or a movie.