Are you thinking about decorating your bathroom in a farmhouse style? The bathroom is another room in your house where you can decorate it in a farmhouse style.
If you LOVE farmhouse like I do, then there are SO many accessories that you can add to your bathroom to give it that farmhouse look.
Everything from wooden shelves, rustic bathroom signs, vanity lights and accessories for your sink. There are a lot of choices available.
If you are in a hurry….
==>> See a Selection of Farmhouse Style Bathroom Accessories Here >>
Otherwise, let's take a look at some bathroom accessories that I found online that would be perfect as accents for creating a farmhouse bathroom.
The first piece that I found online is this decorative vase that would be perfect in a farmhouse bathroom for displaying dried flowers.
IDoall 7.5 High Decorative Vase with Unique HeartShaped and Rope Design Galvanized Finish Rustic Decorated for Living Room
This rustic metal vase features a unique heart-shaped and rope design and would be perfect for a rustic bathroom setting. It's petite size allows it to fit on any counter and this vase works great with artificial flowers.
This decorative vase is grey in color and is constructed from iron. It measures 7.5″ x 4.1″ x 3.9."
Where To Buy: Amazon
Add a rustic touch to your bathtub with this barn wood gray bathtub tray. 
Rustic Style 12 inch wide Bathtub Tray , Barn Wood Gray , Personalized Quote, Recycled Wood, Custom Made to Order and Fit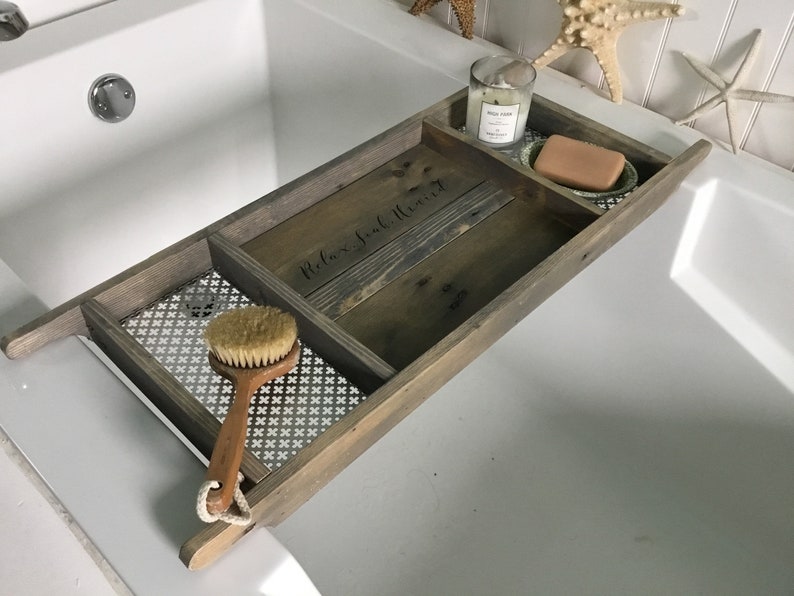 This rustic style 12 inch wide bathtub tray is custom made to fit any bath tub.  It is made of recycled pallet wood with a metal screen at the two end compartments.  The middle compartment can be personalized with a short quote.
No extra charge for personalized quotes.  Quotes must be limited to 3-5 words.  The tray is 12″ wide and the length is determined by:  the exterior width of your tub and the interior width.   The tray is 2.5″ deep.
The wood is natural with a protective oil finish to protect it from humidity and water.
Where To Buy:  Etsy
SET OF TWO Rustic wood shelves with industrial pipe mount || bathroom shelf || industrial chic shelves || farmhouse style floating shelf
This set of two beautiful rustic industrial style shelves are the perfect touch in a living room, bathroom, bedroom, kitchen, and so many more!
These wooden shelves are made from solid pine and they come with metal pipe brackets. Shelving is available in different sizes to fit your space.
Where To Buy: Etsy
Farmhouse Bathroom Medicine Cabinet / Apartment Sized Ladder Shelf with Rope / Rustic Country Decor / Essential Oils Shelf
This farmhouse bathroom shelf will add some order to your country style. This piece is handmade and has three shelves with a rope for hanging it on the wall.
Bring some farmhouse style to your bathroom with this wooden medicine cabinet.
Finishes Available: Dark Walnut as shown above, Golden Oak, Carbon Grey, Briarsmoke & Ebony
Where To Buy: Etsy
Mason Jar Soap Dispenser (Oil Rubbed Bronze), Bonus Soap / Lotion Label Tag, Premium Stainless Steel Pump, with 16 Ounce Ball Mason Jar/Classic Decor for Bedroom, Bathroom, Kitchen, Farmhouse Decor (Oil Rubbed Bronze)
This Mason jar soap dispenser will be right at home in a farmhouse setting. It is made with heavy duty stainless steel and durable PE plastic. The shiny multi-layered Oil Rubbed Bronze finish makes it resistant to rust.
The hand soap dispenser pump mechanism is designed for long lasting performance to dispense. You could use this dispenser for soap or lotion.
Where To Buy: Amazon
Wash your hands // hand washing sign // bathroom wall art // bathroom wall decor // farmhouse bathroom // rustic bathroom
This custom made wood-framed 'Wash Your Hands sign' is a great reminder for any bathroom! It features a white background with black painted lettering.
It's dimensions are: 17.5″ (H) by 10.5 (W). This cute sign would make a great addition to any farmhouse bathroom.
Where To Buy: Etsy
MyGift Industrial-Style Wall-Mounted Pipe Toilet Paper Holder with Shelf
This wall-mounted bathroom tissue holder features a pipe with matching fittings and a handy rustic distressed torched wood shelf. Open-ended roll-holder allows for easy replacement of toilet paper without removing a spindle.
Where To Buy: Amazon
Foreside Home & Garden Black Distressed Rim White Enamel Bathtub Soap Dish
This enamel soap dish is inspired by a vintage claw-foot bathtub and features a distressed white enamel finish with an intentionally antiqued black rim. With it's rustic style, this soap dish will fit perfectly in any farmhouse bathroom.
Bathroom Rules Sign, Bathroom Sign, Flush Sign, Bathroom Decor, Bathroom Wall Decor, Brush, Bathroom Decor, Rustic Bathroom Sign
This rustic farmhouse bathroom sign is handmade and hand painted. It is sure to compliment your home and earn a few compliments on your decor choice!
The background is painted a white and its' lettering is black. It has been framed with hardwood, stained in Dark Walnut. The frame comes in four (4) different finishes to choose from.
Where To Buy: Etsy
Here is another cute accessory that would look great in a farmhouse bathroom.
Mason Jar Bathroom Set, Bathroom Decor, Home Decor, Country Decor, Farmhouse Decor, Rustic, Wedding/Housewarming Gift, Christmas Gifts
Add some unique charm to your bathroom decor with this Blue Mason Jar Bathroom Set. Perfect for creating a rustic, country or farmhouse look in your home or bathroom or as a wedding or house warming gift, etc.
The soap pumps are high quality, solid stainless steel and rust resistant.!
All jars are primed, painted, distressed and sealed on the outside, allowing them to hold water or any of your bathroom items. Two coats of sealant protect the jars from water splashes however should not be submerged in water.
To clean, gently wipe with a damp cloth.
Where To Buy: Etsy
Here is another mason jar set that would go great in a farmhouse bathroom.
Rustic Bathroom Decor, Farmhouse Bathroom Decor, Mason Jar Bathroom Set, Southern Bathroom Decor, Painted Mason Jar Bathroom Set, Bathroom
This mason jar bathroom set can be customized to match your bathroom decor. You can choose you tray, jar and flower colors!! This set would be the perfect accent in a farmhouse bathroom.
Where To Buy: Etsy
This cast iron cow soap dish would make the perfect accent in a farmhouse bathroom.
Vintage Farmhouse Style Cast Iron Cow Soap Dish
Add some rustic style to your bathroom with this vintage-style farmhouse cow soap dish.
This soap dish is made of cast iron with a distressed white finish for an antique look. It measures 4″ high x 6.25″ wide x 4″ deep and would also great for holding sponges.
You are sure to get some chuckles from friends and family with this next bathroom accessory.
Bathroom storage box | Rustic Toilet Paper Holder | Bathroom decor Bathroom Sign Bathroom Storage Toilet Paper Caddy Toilet Top Storage Box
This wooden toilet bowl storage box is the perfect addition to any bathroom. Perfect for storing toilet paper, bathroom spray bottles, and decorative accents.
It's a great way to tidy up any bathroom! This box is made with solid premium pine wood and stained to give it a finished look. It measures 14.5″x7.5″x5.5″.
Colors Available: Dark Walnut or Grey
Where To Buy: Etsy
This shabby chic cottage style storage cabinet with rattan baskets would fit in nicely in a farmhouse bathroom with its distressed look and metal ring pulls.
Sunset Trading Shabby Chic Cottage Basket Storage Cabinet

This shabby chic cottage storage cabinet with baskets includes two removable 100% natural core bleached rattan baskets that are hand woven, protected with a matte lacquer finish, and equipped with sturdy loop handles on the fronts.
The storage cabinet is crafted from solid mahogany wood in a two-tone whitewash and raft wood finish. Four convenient drawers feature antique brass-finished metal ring pulls.
These dimensions of this cabinet are 36W x 17.5D x 41H in.
Where To Buy:  Walmart
If you are looking for a farmhouse style vanity light for your bathroom, then this one is an excellent choice.
Farmhouse wood triple vanity light with metal cage pendants / edison bathroom lighting / pipe wall light
This farmhouse style wood vanity light would look great over your bathroom sink, or anywhere else in your home!
This vanity light is made from a combination of wood, metal cages and custom steel sockets which makes it the perfect accent for a farmhouse bathroom.
This light is designed for an easy install and comes with the necessary mounting hardware.
Where To Buy: Etsy
Hot Bath Sign | Soap and towel extra | Bathtub sign | Bathroom decor | Bathroom sign
This Hot Bath, Soap and towel extra framed sign is SO adorable and measures 10"x24".
This sign is handmade and has a saw tooth hanger. Each sign is made to order, which means that the primary & secondary colors are customizable per customer request.
Where To Buy: Etsy
Wash Your Hands and Don't Steal our Toilet Paper Farmhouse Sign, Funny Restroom Decor, Guest Bath Funny Decor, Toilet Paper Shortage Sign
This bathroom farmhouse sign will make a hilarious statement in your home and provide the perfect accent piece for your bathroom!
This bathroom sign is hand painted lightly with a distressed white or cream background with black wording. You can choose from Barn Red, Aqua, American, or Ebony framing.
Frames are made with solid hardwood and will each stain differently, and may have knots, nicks, dings, etc. A saw tooth hanger is attached to the back and a peg is included to stand the sign on a shelf or back of toilet.
Where To Buy: Etsy
Another accessory that you could add to your farmhouse bathroom is this Fleur De Lis Bathroom Toilet Paper Holder.
Fleur De Lis Toilet Paper Roll Holder | Cast Iron Rustic Toilet Paper Holder | Rustic Bathroom Accessories | Farmhouse Toilet Roll Holder
This Rustic Cast Iron Bronze Fleur De Lis Bathroom toilet paper holder is designed to be both functional and beautiful in appearance.
This Fleur de Lis toilet paper holder is hand made and hand brushed for a BEAUTIFULLY crafted + detailed statement piece perfect for rustic bedroom decor.
It measures 8.7" X 4.8" X 7" and screws are included for easy wall mounting.
Where To Buy: Etsy