Are you thinking about decorating your bathroom in a farmhouse style? The bathroom is another room in your house where you can decorate it in a farmhouse style.
If you LOVE farmhouse like I do, then there are SO many accessories that you can add to your bathroom to give it that farmhouse look.
Everything from wooden shelves, rustic bathroom signs, vanity lights and accessories for your sink. There are a lot of choices available.
If you are in a hurry….
==>> See a Selection of Farmhouse Style Bathroom Accessories Here >>
Otherwise, let's take a look at some bathroom accessories that I found online that would be perfect as accents for a farmhouse bathroom.
SET OF TWO Rustic wood shelves with industrial pipe mount || bathroom shelf || industrial chic shelves || farmhouse style floating shelf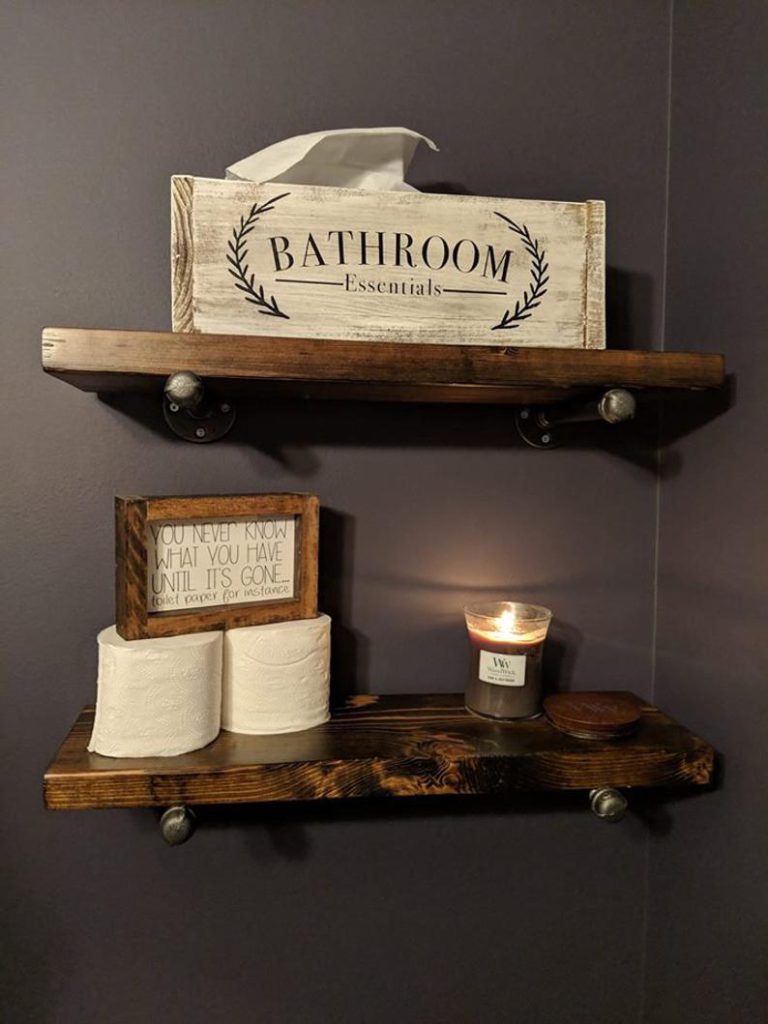 This set of two beautiful rustic industrial style shelves are the perfect touch in a living room, bathroom, bedroom, kitchen, and so many more!
Shelves are made from solid pine and comes with the metal pipe brackets. Shelving is available in different sizes to fit your space.
Where To Buy: Etsy
Farmhouse Bathroom Medicine Cabinet / Apartment Sized Ladder Shelf with Rope / Rustic Country Decor / Essential Oils Shelf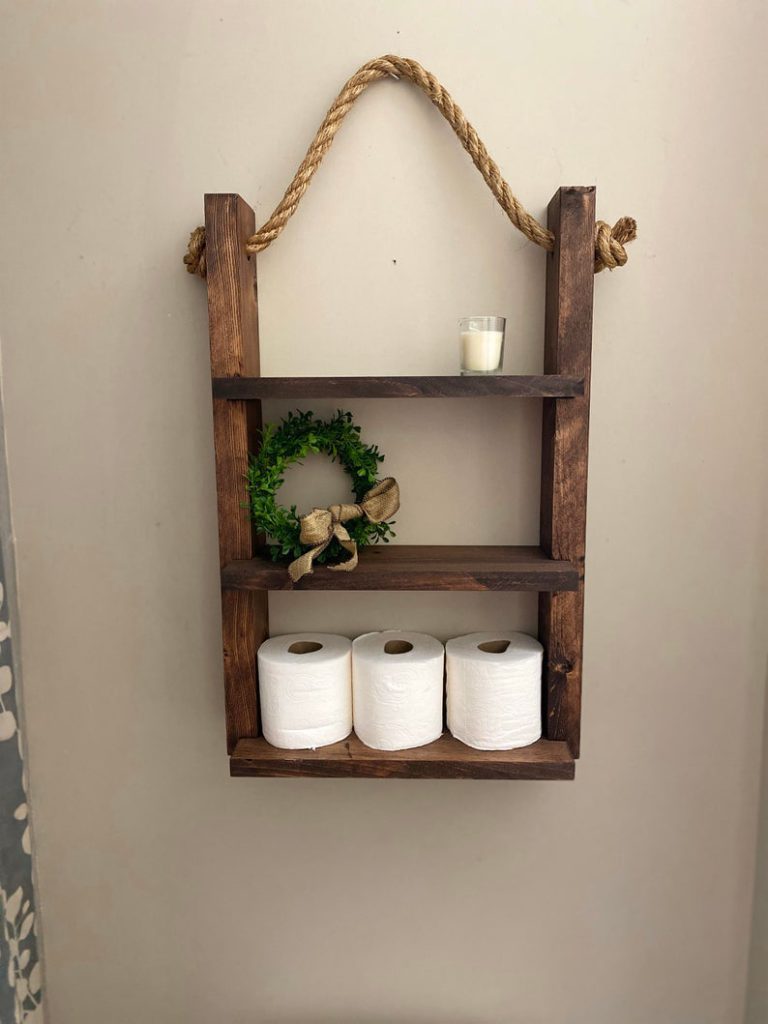 This farmhouse bathroom shelf will add some order to your country style. This piece is handmade and has three shelves with a rope for hanging it on the wall.
Bring some farmhouse style to your bathroom with this wooden medicine cabinet.
Finishes Available: Dark Walnut as shown above, Golden Oak, Carbon Grey, Briarsmoke & Ebony
Where To Buy: Etsy
I think this next accessory for a farmhouse bathroom is so cute and SO appropriate for these times.
Wash your hands // hand washing sign // bathroom wall art // bathroom wall decor // farmhouse bathroom // rustic bathroom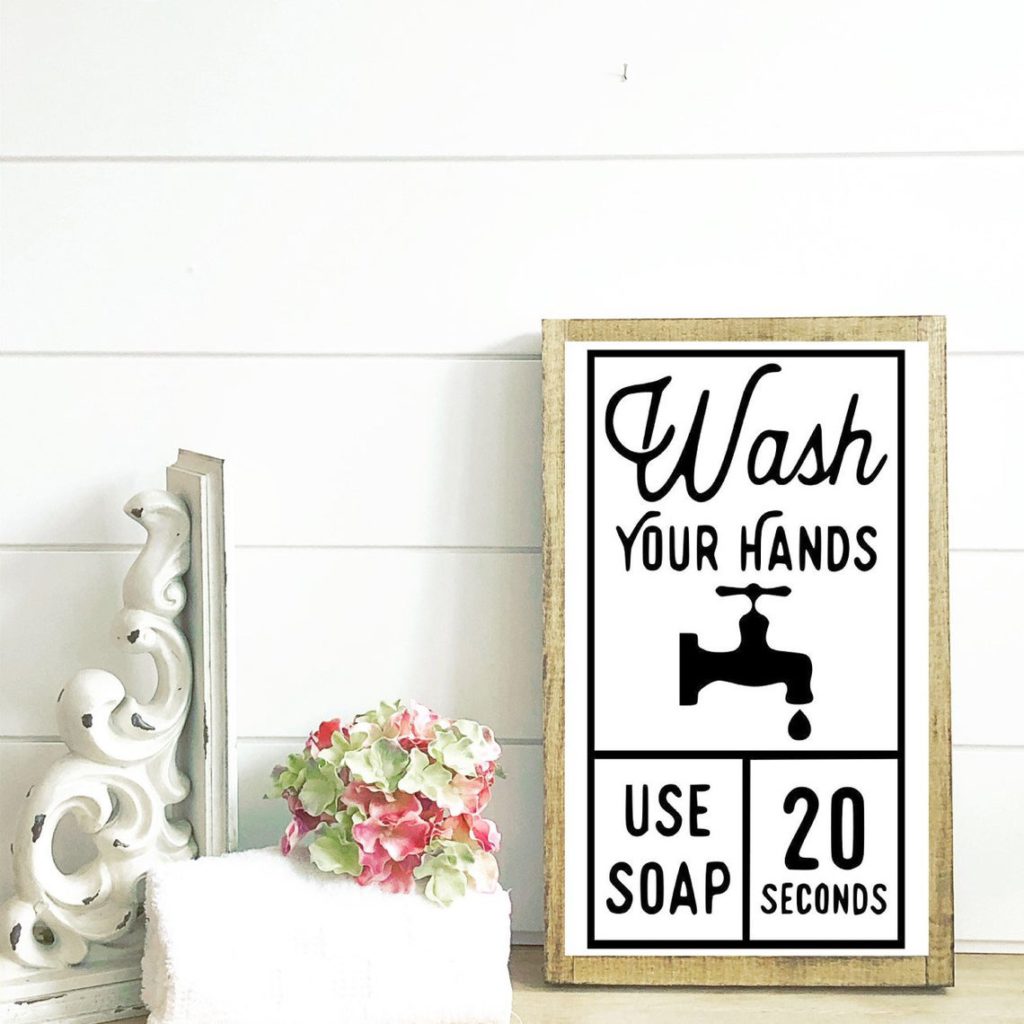 This custom made wood-framed 'Wash Your Hands sign' is a great reminder for any bathroom! It features a white background with black painted lettering.
It's dimensions are: 17.5″ (H) by 10.5 (W). This cute sign would make a great addition to any farmhouse bathroom.
Where To Buy: Etsy
Bathroom Rules Sign, Bathroom Sign, Flush Sign, Bathroom Decor, Bathroom Wall Decor, Brush, Bathroom Decor, Rustic Bathroom Sign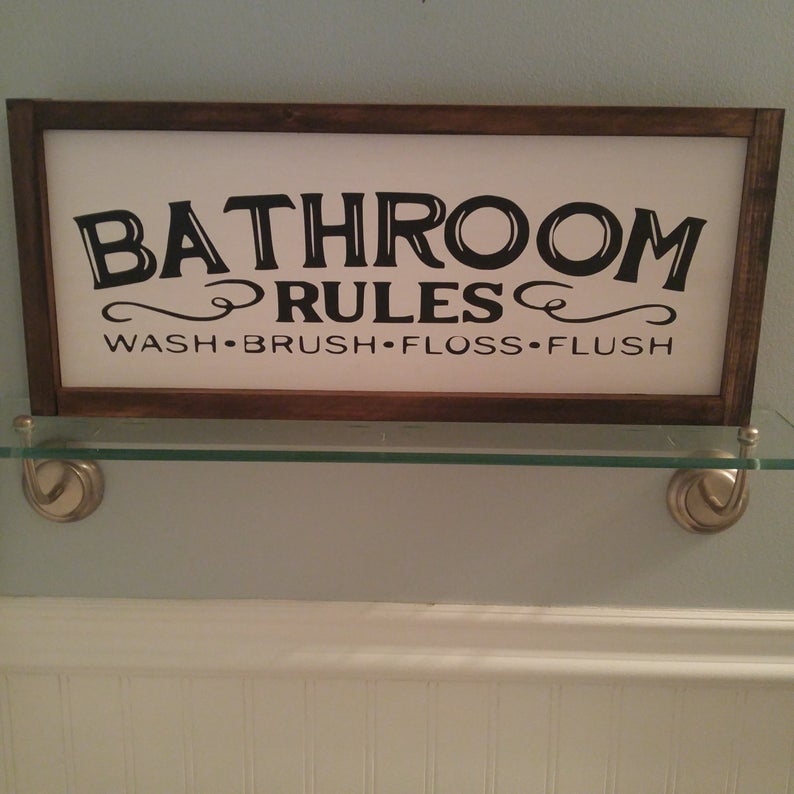 This rustic farmhouse bathroom sign is handmade and hand painted. It is sure to compliment your home and earn a few compliments on your decor choice!
The background is painted a white and its' lettering is black. It has been framed with hardwood, stained in Dark Walnut. The frame comes in four (4) different finishes to choose from.
Where To Buy: Etsy
Here is another cute accessory that would look great in a farmhouse bathroom.
Mason Jar Bathroom Set, Rustic Bathroom, Farmhouse Bathroom, Housewarming Gift, Bridal Shower Gift, Bathroom Organization, Bath Accessories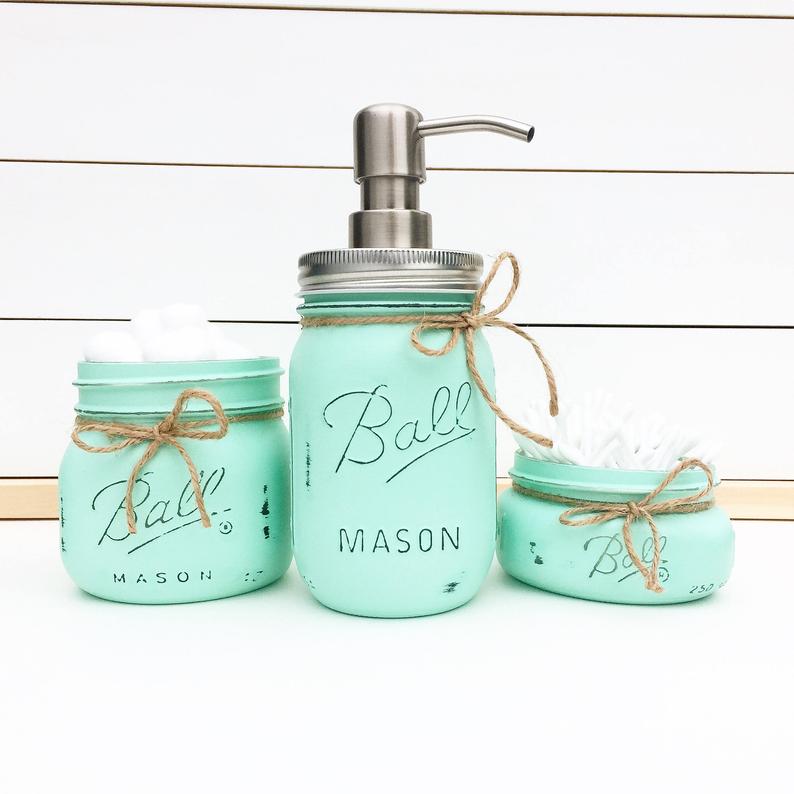 This mason jar farmhouse bathroom set will add some country charm to any bathroom. This 3 piece Ball Mason Jar Bath Set is hand painted, distressed and sealed with a matte sealant to match your farmhouse or rustic bath.
The set includes one pint size Mason Jar Soap Dispenser with a stainless steel pump as well as a wide mouth pint and half pint elite mason! Perfect for cotton-balls, q-tips, make-up brushes, toothbrushes, etc.! Organize your bathroom set to fit your needs!
LOTS of different colors to choose from to go with your bathroom decor.
Where To Buy: Etsy
Here is another mason jar set that would go great in a farmhouse bathroom.
Rustic Bathroom Decor, Farmhouse Bathroom Decor, Mason Jar Bathroom Set, Southern Bathroom Decor, Painted Mason Jar Bathroom Set, Bathroom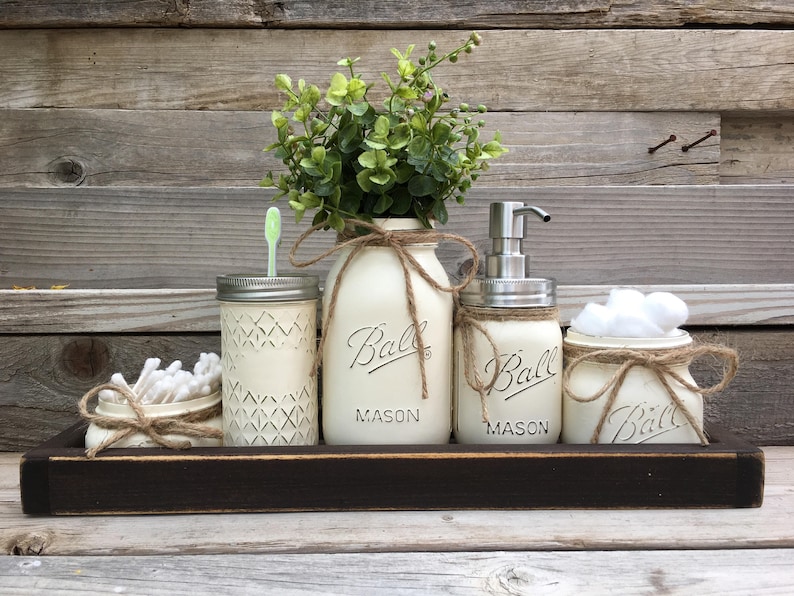 This mason jar bathroom set can be customized to match your bathroom decor. You can choose you tray, jar and flower colors!! This set would be the perfect accent in a farmhouse bathroom.
Where To Buy: Etsy
This cast iron cow soap dish would make the perfect accent in a farmhouse bathroom.
Vintage Farmhouse Style Cast Iron Cow Soap Dish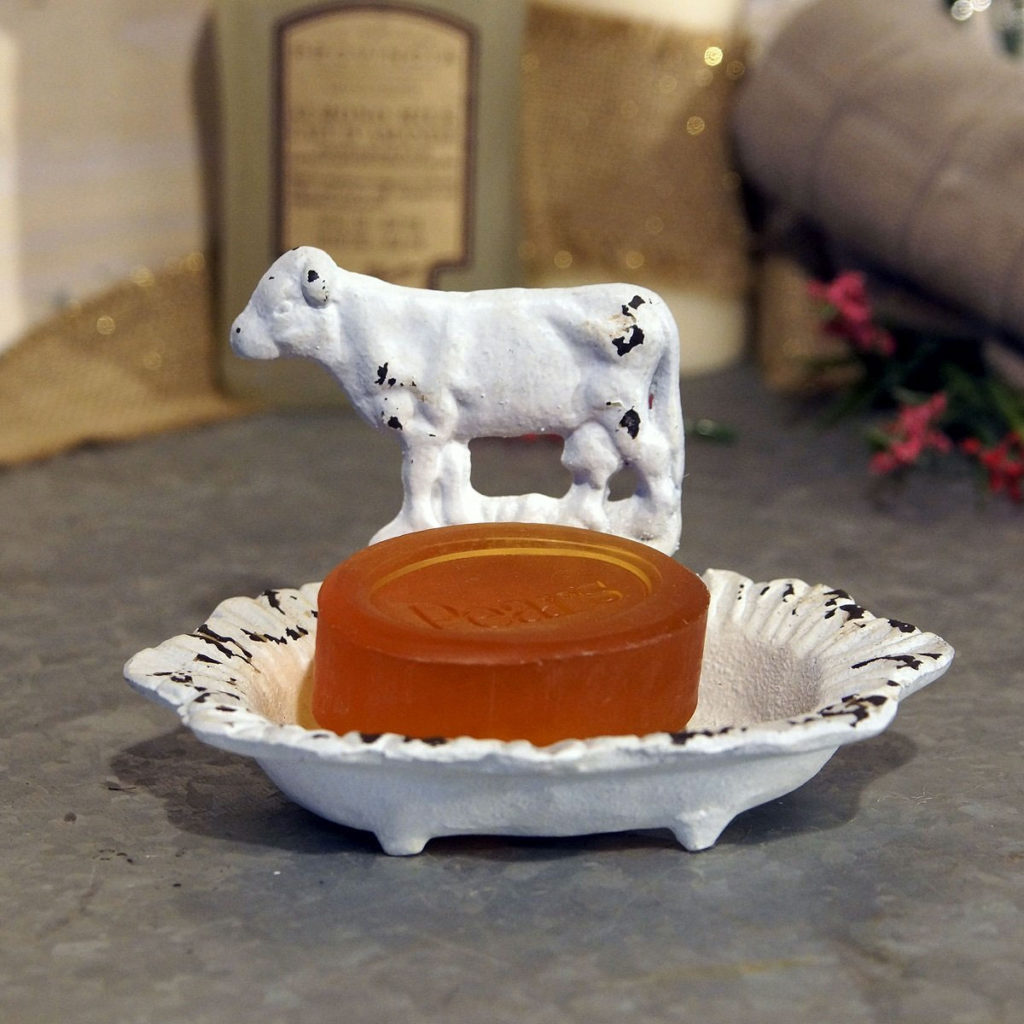 Add some rustic style to your bathroom with this vintage-style farmhouse cow soap dish.
This soap dish is made of cast iron with a distressed white finish for an antique look. It measures 4″ high x 6.25″ wide x 4″ deep and would also great for holding sponges.
You are sure to get some chuckles from friends and family with this next bathroom accessory.
Bathroom storage box | Rustic Toilet Paper Holder | Bathroom decor Bathroom Sign Bathroom Storage Toilet Paper Caddy Toilet Top Storage Box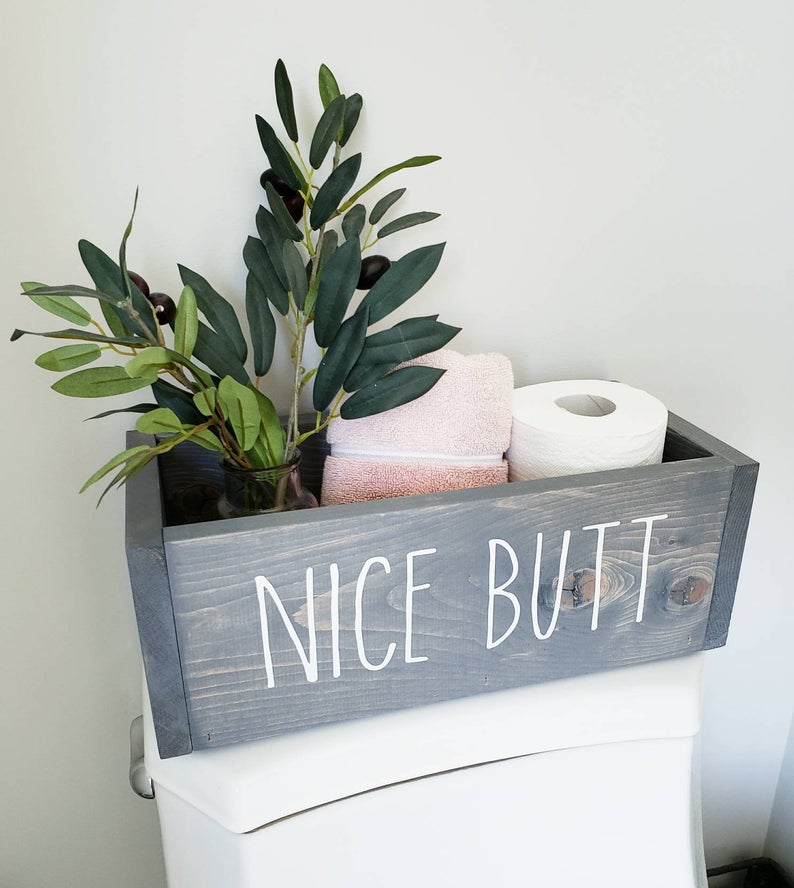 This wooden toilet bowl storage box is the perfect addition to any bathroom. Perfect for storing toilet paper, bathroom spray bottles, and decorative accents.
It's a great way to tidy up any bathroom! This box is made with solid premium pine wood and stained to give it a finished look. It measures 14.5″x7.5″x5.5″.
Colors Available: Dark Walnut or Grey
Where To Buy: Etsy
Another accessory that you could add to your farmhouse bathroom is this open floor cabinet.
Better Homes & Gardens Modern Farmhouse Bathroom Floor Cabinet, Rustic Gray Finish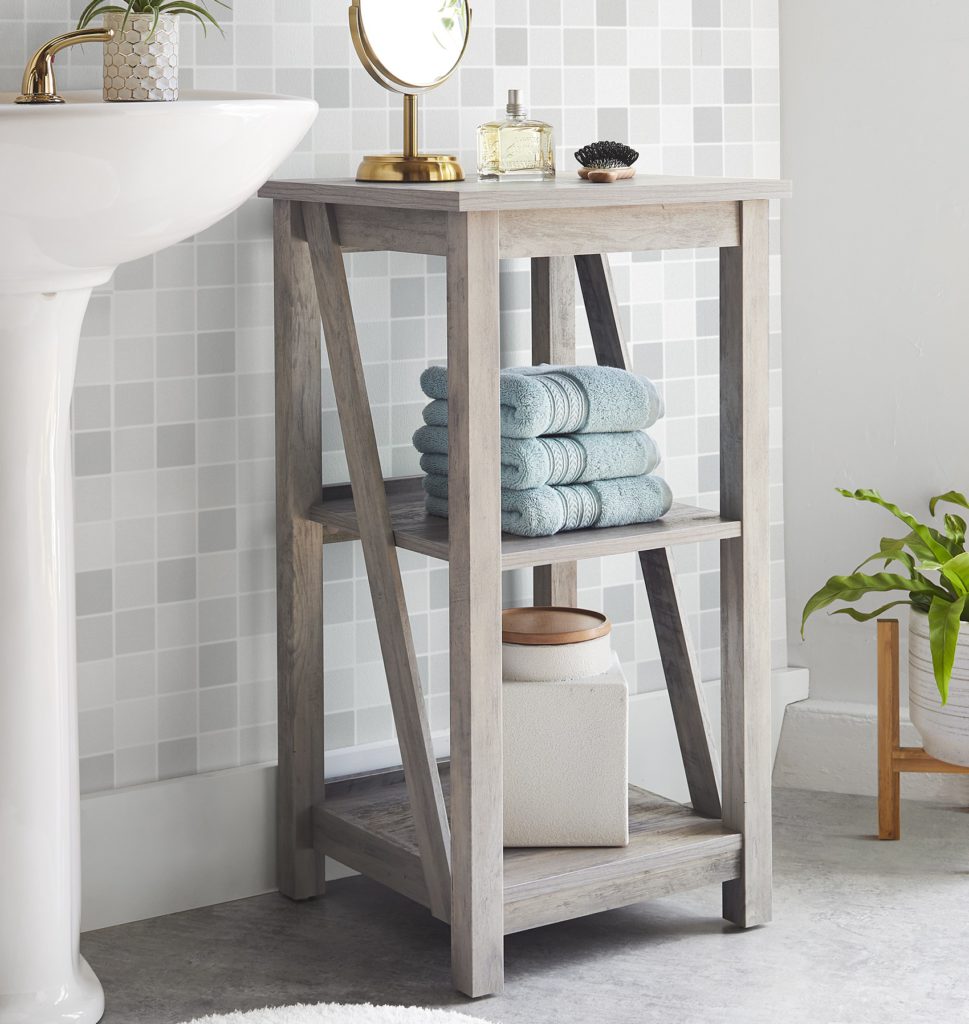 This modern farmhouse bathroom cabinet in a rustic gray finish will provide you with versatile storage for storing a variety of different items like towels, bottles of perfume, organizing bins, and much more.
These spacious shelves also make a great place to display home décor items like decorative plants and your favorite knick-knacks.
If you are looking for a farmhouse style vanity light for your bathroom, then this one is an excellent choice.
Farmhouse wood triple vanity light with metal cage pendants / edison bathroom lighting / pipe wall light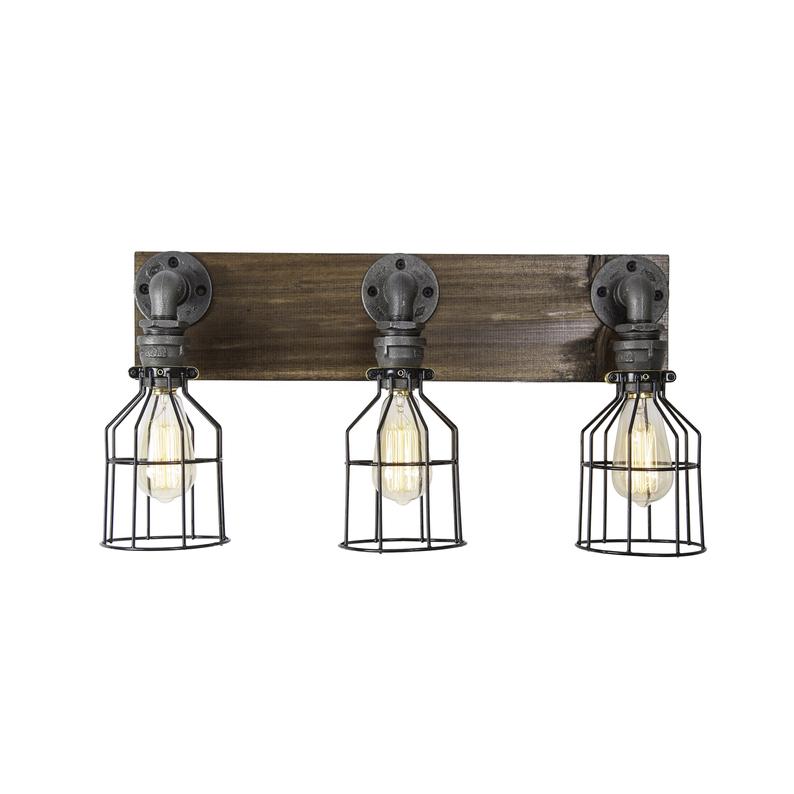 This farmhouse style wood vanity light would look great over your bathroom sink, or anywhere else in your home!
This vanity light is made from a combination of wood, metal cages and custom steel sockets which makes it the perfect accent for a farmhouse bathroom.
This light is designed for an easy install and comes with the necessary mounting hardware.
Where To Buy: Etsy
Hot Bath Sign | Soap and towel extra | Bathtub sign | Bathroom decor | Bathroom sign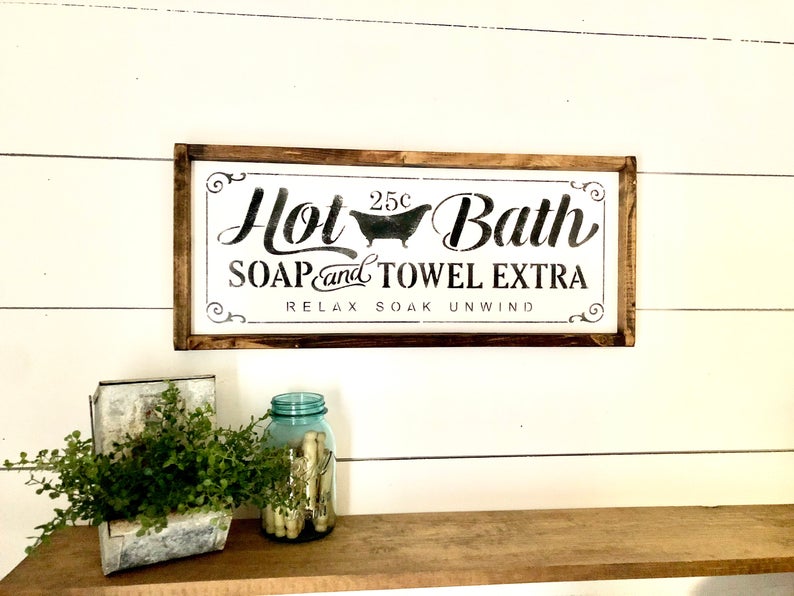 This Hot Bath, Soap and towel extra framed sign is SO adorable and measures 10"x24".
This sign is handmade and has a saw tooth hanger. Each sign is made to order, which means that the primary & secondary colors are customizable per customer request.
Where To Buy: Etsy
Wash Your Hands and Don't Steal our Toilet Paper Farmhouse Sign, Funny Restroom Decor, Guest Bath Funny Decor, Toilet Paper Shortage Sign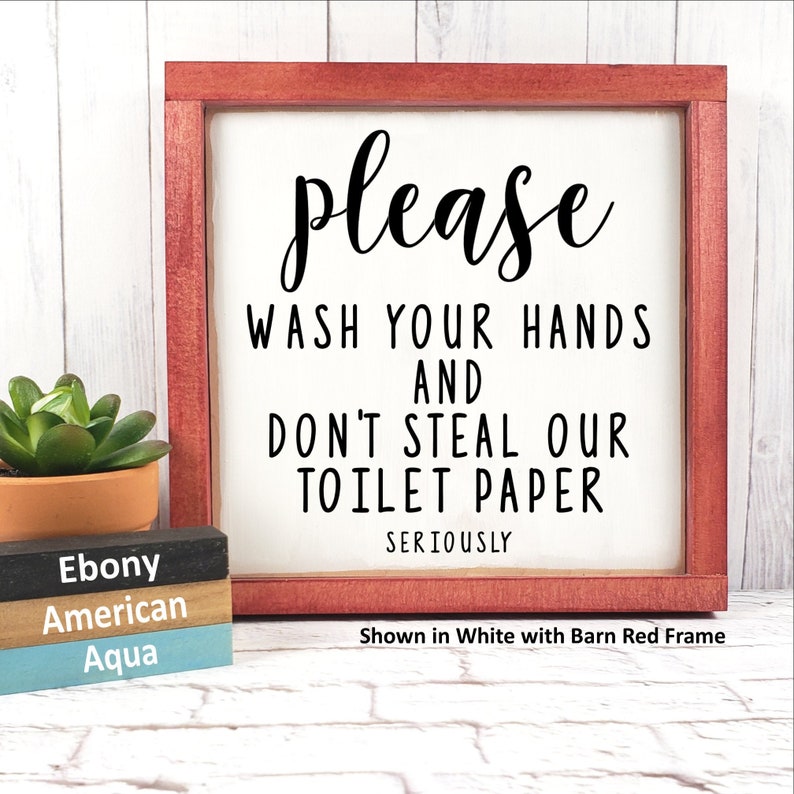 This bathroom farmhouse sign will make a hilarious statement in your home and provide the perfect accent piece for your bathroom!
This bathroom sign is hand painted lightly with a distressed white or cream background with black wording. You can choose from Barn Red, Aqua, American, or Ebony framing.
Frames are made with solid hardwood and will each stain differently, and may have knots, nicks, dings, etc. A saw tooth hanger is attached to the back and a peg is included to stand the sign on a shelf or back of toilet.
Where To Buy: Etsy
Bath Mat, Farmhouse Bath Mat, Rugs and Mats, Lavender Bathroom Decor, Floral Decorative Bath, Bath Gift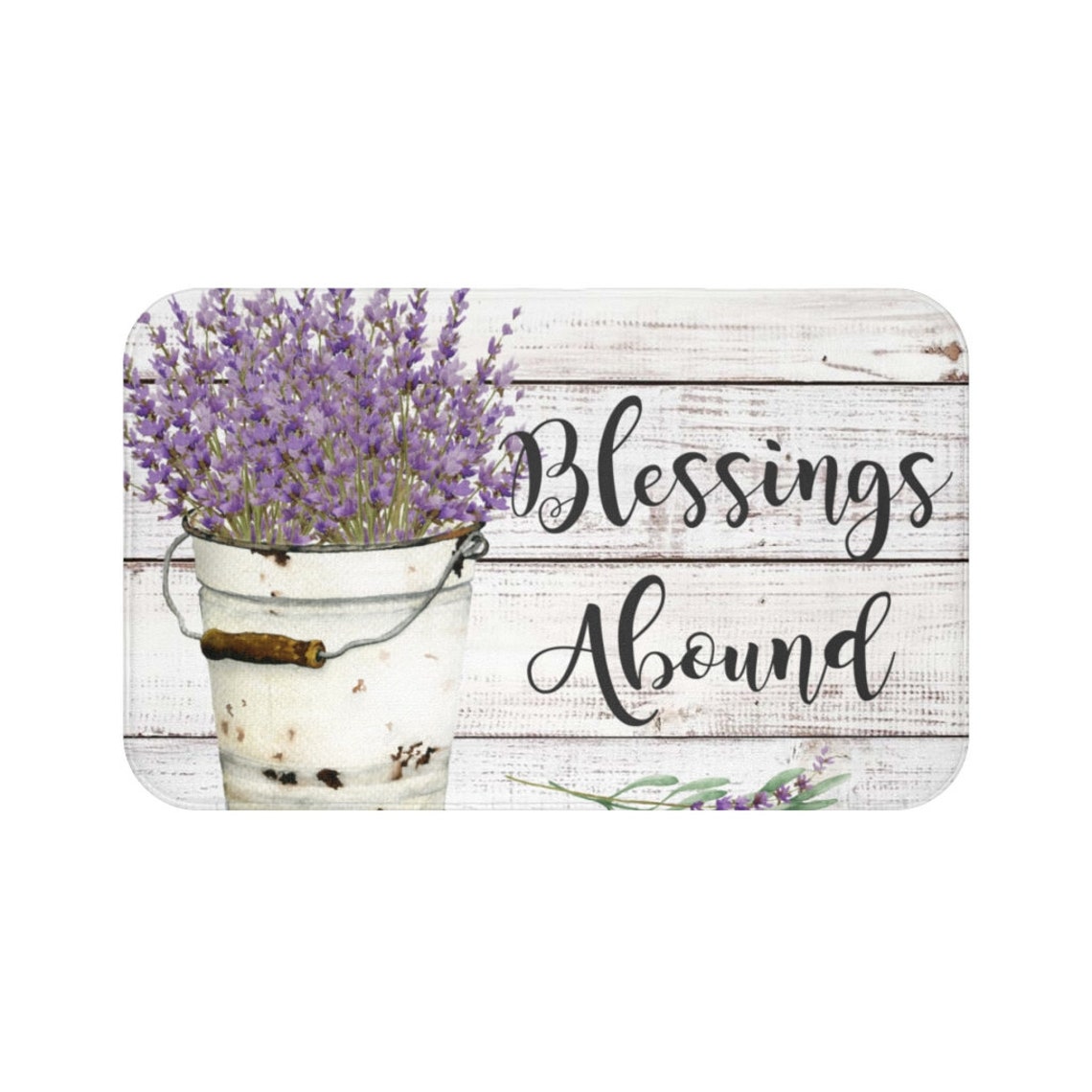 This Bath Mat is as practical, as stylish – the anti-slip backing keeps the bath mat firmly in place and reduces the risk of slipping. If you LOVE, farmhouse, then this bathmat is a MUST for your bathroom.
Where To Buy: Etsy
Please Flush The Toilet & Wash Your Hands | Modern Farmhouse Rustic Wood Sign | Home Decor | Bathroom Decor | Many Sizes | Free Shippin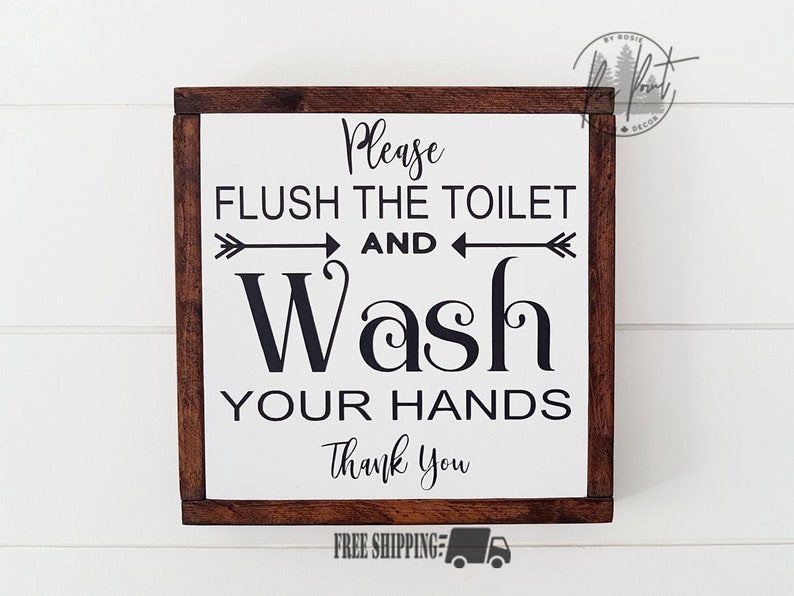 This 'Please Flush The Toilet AND Wash YOUR HANDS Thank You ' sign is handmade and comes in different sizes with different background and letter colors to choose from.
Where To Buy: Etsy