Are you looking for some farmhouse bathroom wall decor ideas for your bathroom? If so, then you have arrived on the right page.
There are SO many accessories that you can hang on your wall to create a farmhouse bathroom. Everything from rustic shelves, farmhouse bathroom signs, rustic mirrors, wall art and more.
I have also included some decorative farmhouse bathroom wall decor ideas from Pinterest just to give you some more ideas for your bathroom wall.
If you are looking for a floating shelf for your bathroom wall, then this rustic accent piece is both functional and stunning. 
Farmhouse Bathroom Decor, Storage for bathroom, Floating Shelves, Bathroom Shelf, Wood Shelf, Wall Shelves, Rustic Home Decor, Modern Shelf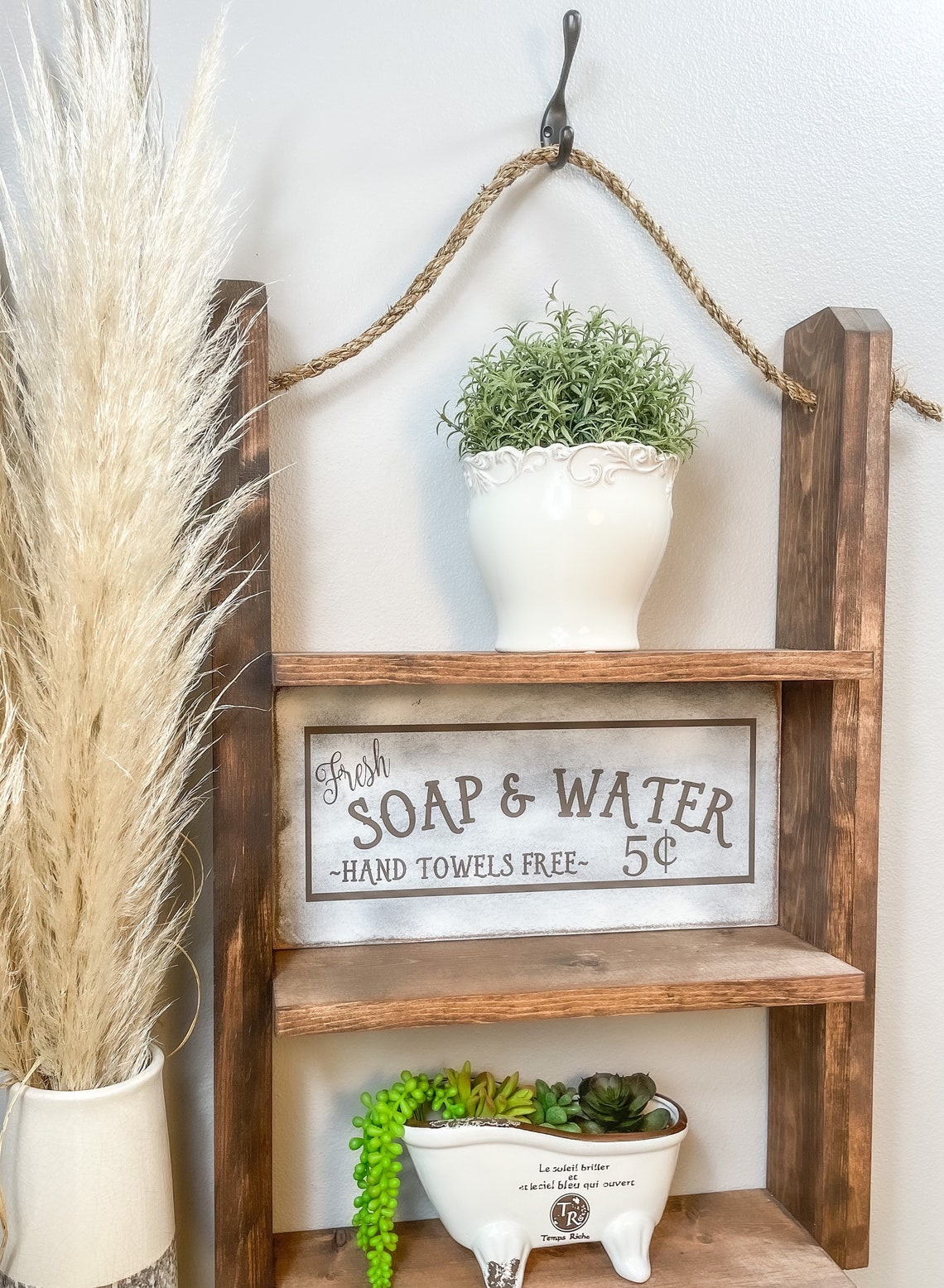 This bathroom storage shelf will help keep your space organized and stylish in a farmhouse style.  This rustic wooden shelf comes with the cute hand-painted sign as well.
Great for displaying your favorite knick knacks and more, this floating shelf measures 28″H x 18″W x 5″D.
Lots of wood colors and letter options for the sign are available to compliment your existing decor.
Where To Buy:  Etsy
If you are looking for a rustic shelf that you could hang on the bathroom wall for storing a towel, a bath robe and more, then I think this rustic shelf is really neat. 
Rustic distressed shelf, towel and robe hanger, bathroom storage, barn board look and finish, coat hook, toilet roll holder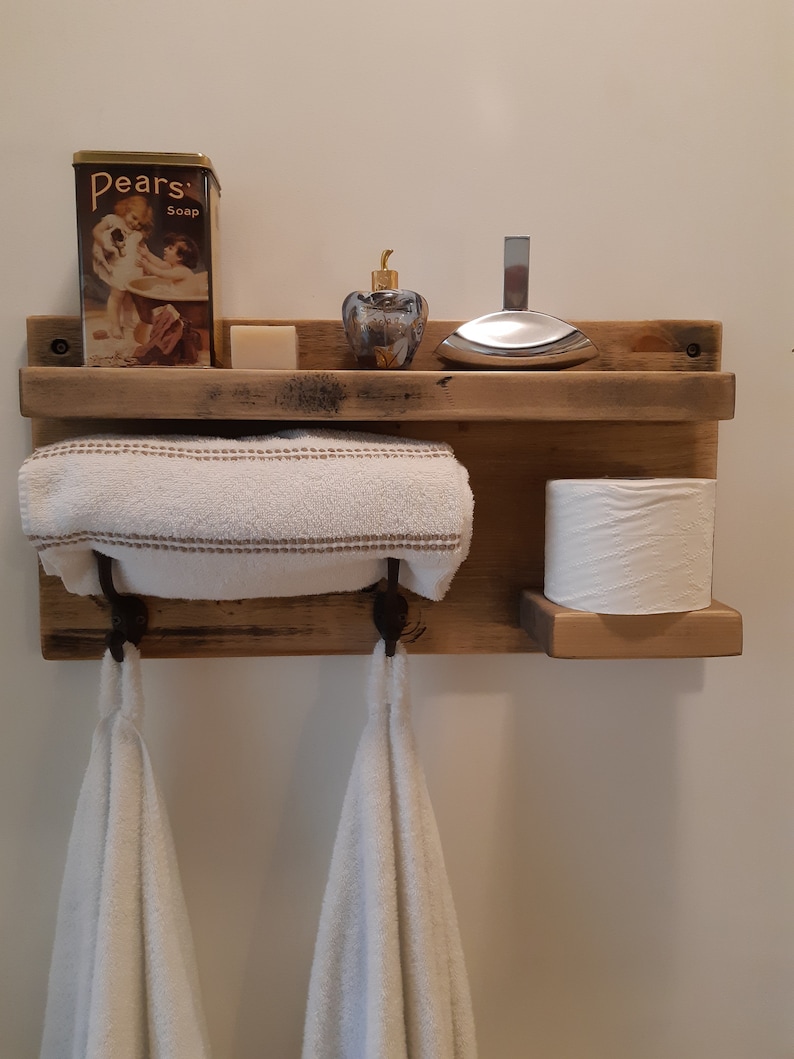 This rustic distressed bathroom shelf is made from Douglas Fir/Spruce and Pine.  This bathroom shelf offers the perfect solution to bathroom storage.  It gives you room for your bath item's, an extra roll of toilet paper, and a place to hang robes or towels.
Comes with two rustic reproduction, multi paint layered hooks, for that old look.  This shelf comes in different widths.
Where To Buy:  Etsy
This 'Hello Sweet Cheeks' bathroom sign would be perfect to hang on your bathroom wall.
Hello Sweet Cheeks Bathroom Sign, Modern Farmhouse Wall Decor, Bathroom Decor, Antique Wall Art, Farmhouse Bathroom Sign, Vintage Style Sign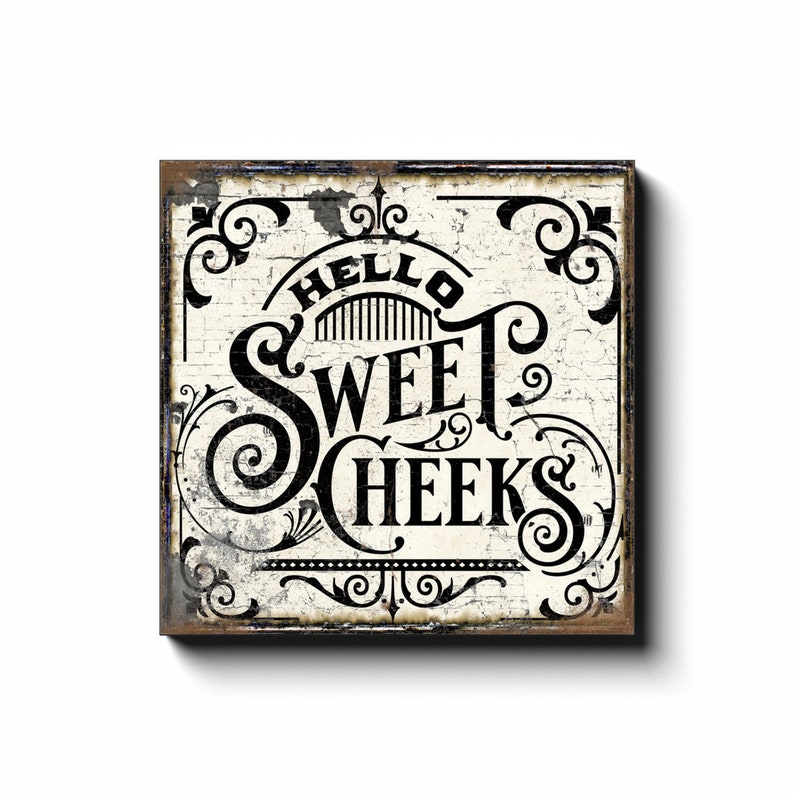 This fun vintage-inspired canvas sign adds a bit of whimsy to any bathroom. Our uniquely designed Hello, Sweet Cheeks sign features cracks and peels with hints of rust.
This lightweight canvas sign comes ready to hang and enjoy.  It is handmade from canvas with a wooden frame back. 
Available in (4) four different sizes to fit you space perfectly.
Where To Buy:  Etsy
Bath Hand-Made Farmhouse Bathroom Sign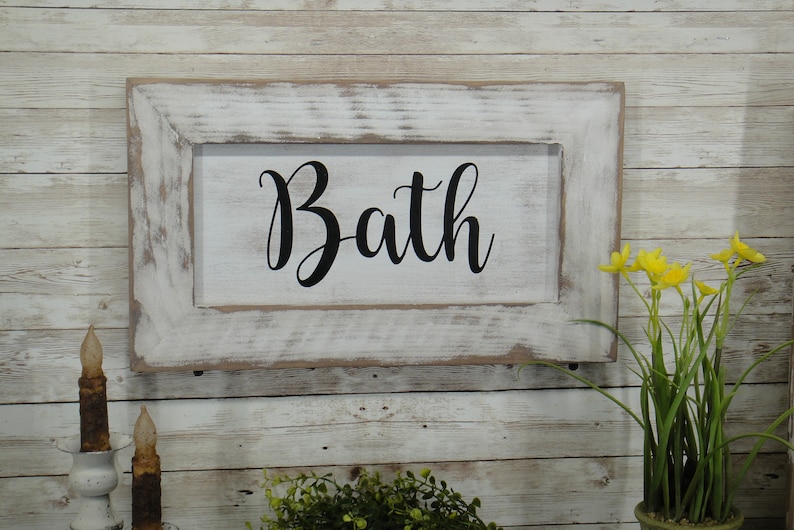 This hand-made bathroom wall sign is fully-customizable in terms of the color of the frame and background/insert color.  This rustic bathroom sign would be the perfect addition for a farmhouse bathroom and this sign measures 16L x 9H x 1D. 
Where To Buy:  Etsy
I thought I would include these adorable wash tags that could be displayed on a shelf or hung on a wall in the bathroom.   SO cute!
Wash tag. ( Made To Order) Wood tag. Bathroom decor. Wash sign Rustic.Farmhouse.Farmhouse Bathroom.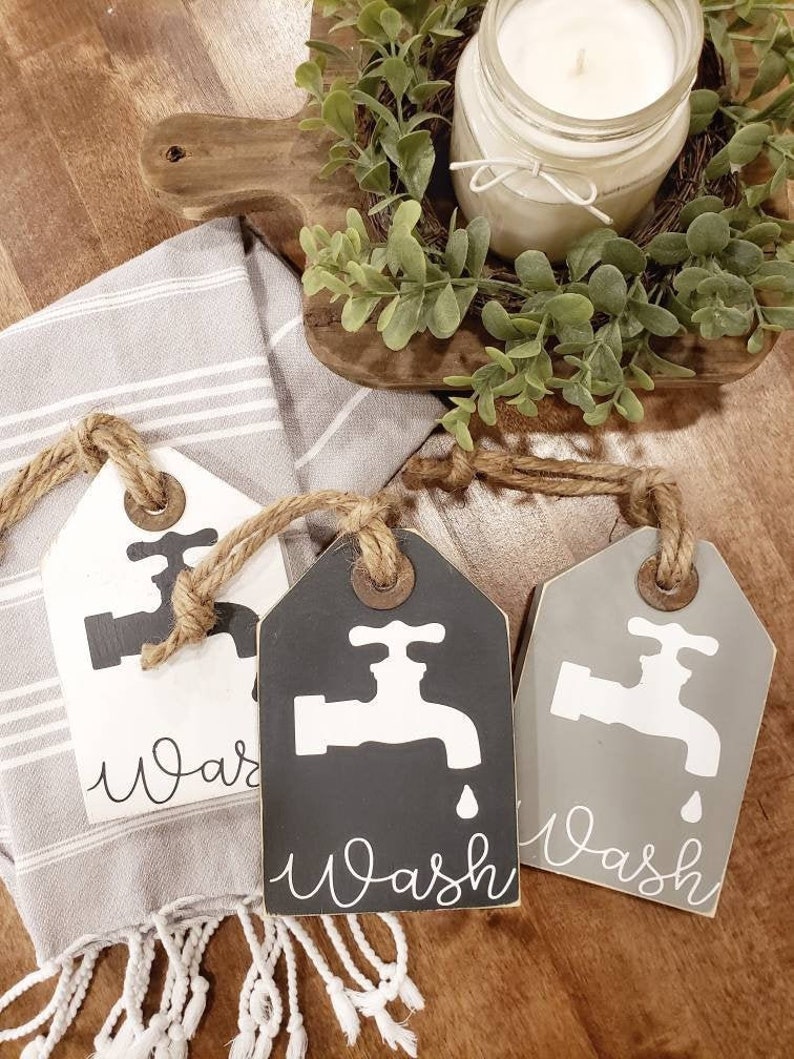 These wash wooden farmhouse tags are so adorable and would serve as a reminder for everyone to wash their hands.  Each tag is embellished with a rusty washer and measures 6″ x 4." 
The back of these rustic looking tags are unfinished and are available in different background/letter colors.
Where To Buy:  Etsy
Here is another farmhouse style bathroom sign that would go perfectly in a modern farmhouse, shabby chic or boho style bathroom. 
Bathroom sign, farmhouse bathroom, bathroom decor, shabby chic bathroom, modern farmhouse, bathroom wall decor, restroom sign, boho style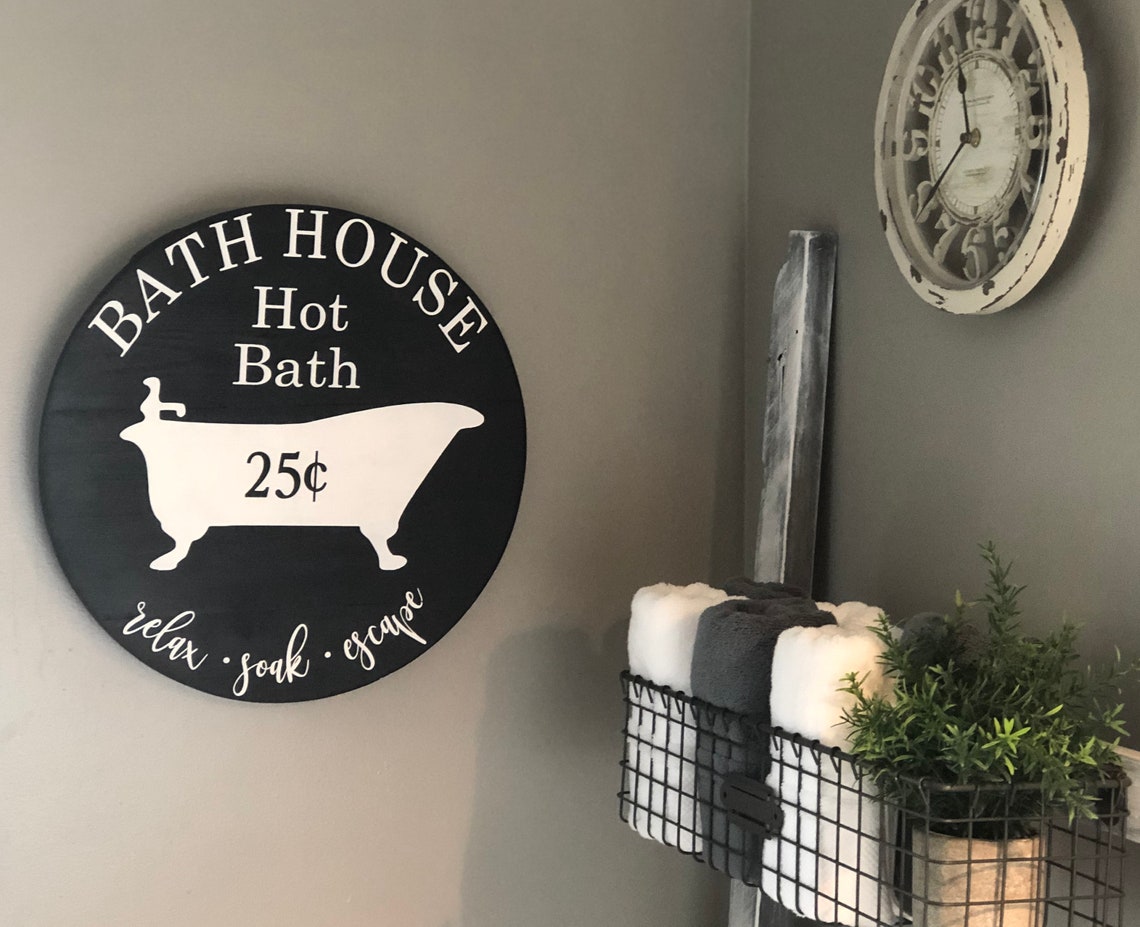 Our bathhouse sign is hand-crafted from reclaimed barn wood.  This sign measures 16″ round and can be ordered in several different colors.
The sign pictured has a black painted background with white painted font. Your sign will come sealed with hardware ready to display.
This bathroom wall sign would be a great addition to any bathroom decor!
Where To Buy:  Etsy
Here is another vintage style bathroom sign that you could hang in your farmhouse bathroom.
Vintage Bath House Sign, Modern Farmhouse Decor, Large Canvas Sign, Farmhouse Signs, Signs With Sayings, Bathroom Decor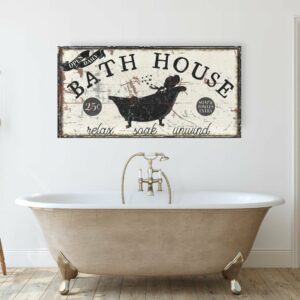 This vintage bath house sign is uniquely designed on canvas and incorporates a distressed look to make your sign perfectly modern farmhouse.  Once you hang it up, you will have a hard time being convinced it is canvas! 
This bathroom sign is lightweight and comes ready to hang and enjoy.  Your family and guests will LOVE it and it is available in (4) four different sizes to accommodate your space. 
Where To Buy:  Etsy
Jetec 2 Pieces Funny Vintage Bathroom Wall Sign Bathroom Rules Wooden Hanging Sign Please Seat Yourself Rustic Sign Welcome Farmhouse Sign Decor for Home Bathroom Wall Decor, 12 x 6 inch
This vintage style 2-piece bathroom wall signs are made of a wood material that is strong and thick, safe and non-toxic, resistant to wear, lightweight but sturdy and durable.  This bathroom sign comes with sturdy hooks for hanging and will add a touch of FUN to your bathroom farmhouse decor. 
Where To Buy:  Amazon
Elegant Signs Bathroom Rules Sign Rustic Kids Art Wall Decor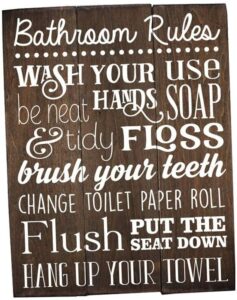 This rustic bathroom rules wall sign will add a splash of FUN to your bathroom wall.  This sign features crisp white ink lettering and measures 11″ x 14″.  
This bathroom sign is made from REAL natural rustic wood and will compliment many decors like farmhouse, modern rustic, country and industrial.
Where To Buy:  Amazon
Bath Sign,Hot bath 25 cents,white/black bathroom decor,vintage,shabby,retro,primitive gift,bathroom sign,hot bath sign,crackle,bath decor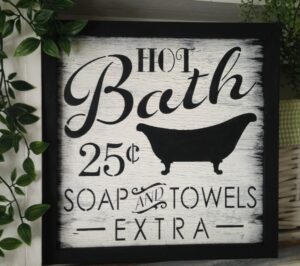 This bath sign has been made with a crackle effect for a chic and shabby, vintage, farm style bath design.  A handcrafted wood frame has been lightly stained and added to the sign.  The frame is available in different stains.
Where To Buy:  Etsy
FSV Get naked just kidding this is a half bath sign, Many Sizes! Farmhouse style, kid or master bathroom, funny framed, fixer upper VINYL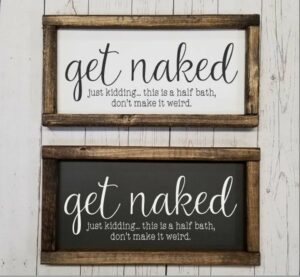 This farmhouse style 'Get naked just kidding this is a half bath' sign is available in many sizes.  This chunky framed farmhouse style sign has a slightly distressed background with professional grade permanent vinyl design. 
The frame is made from rustic pine so knots, nicks, dings, etc are typical as with all solid wood products.  **Note: you can get the frame in a different color from brown if you like.  **
Where To Buy:  Etsy
Bathroom Sign • Don't be Gross Wash your Hands • Free Shipping • Bathroom Decor • Bathroom Wall Art • Powder Room Decor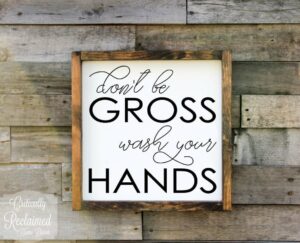 Add a bit of humor to your bathroom decor with this funny wood sign!  A crisp white background with a dark wooden frame featuring the phrase "don't be gross, wash your hands." Hang this bathroom sign on your wall, shelf, or display on the back of your toilet!
This bathroom sign is available in different sizes and is ready hang.
Where To Buy:  Etsy
Another wall decor sign that is sure to get some chuckles from friends and family is this 'Hello Sweet Cheeks sign.'
Hello Sweet Cheeks Sign, Bathroom Wall Decor, Kids Bathroom Farmhouse Bathroom Sign, Restroom Sign, Funny Bathroom Decor, Guest Bath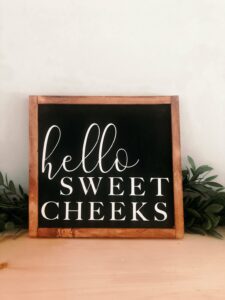 The bathroom wood sign is made of quality wood with a painted background and premium vinyl lettering.  This bathroom display sign is framed in "English Chestnut" and is 10×9."  Hanging hardware is included.
Add a touch of humor to your bathroom with our "Hello Sweet Cheeks sign"!
Where To Buy:  Etsy
Bathroom rules | Wood Sign | Framed Sign | Wall hanging | Wood wall art | bathroom wall decor |Bathroom sign | Wood framed sign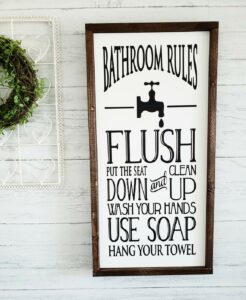 This Bathroom Rules wooden sign is made from premium plywood and trimmed with pine wood.  A combination of paint, stains, glue, and nails are used in production of this sign. 
Due to the nature of wood, no two signs are ever alike.  This is what gives this sign its character.
Each sign has painted lettering, they are also made for interior decorating; no clear coat is added.  Our signs can be hung by the frame.
Where To Buy:  Etsy
8×8 Bathroom Signs, Please Seat Yourself, Thank You Gift, Gift For Her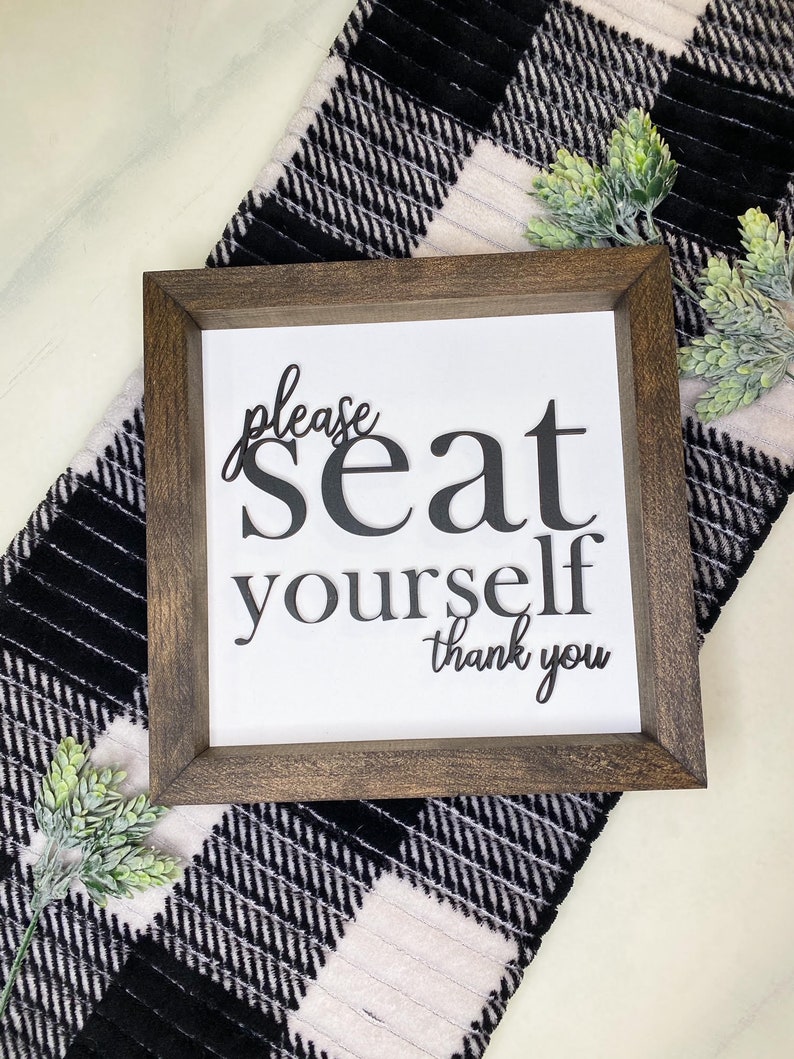 This adorable shelf sitter farmhouse sign is the perfect touch to add to your bathroom decor.  This sign is 3D laser cut, adding that much more beauty to the sign.  sign will measure 8.5" wide x 8.5" tall, 1.5" deep. 
Your new sign will come with hanging hardware, but it makes a perfect shelf sitter as well. 
Where To Buy:  Etsy
Farmhouse Bathroom Storage Shelf Decor with Industrial Towel Bar – Rustic Wood Rope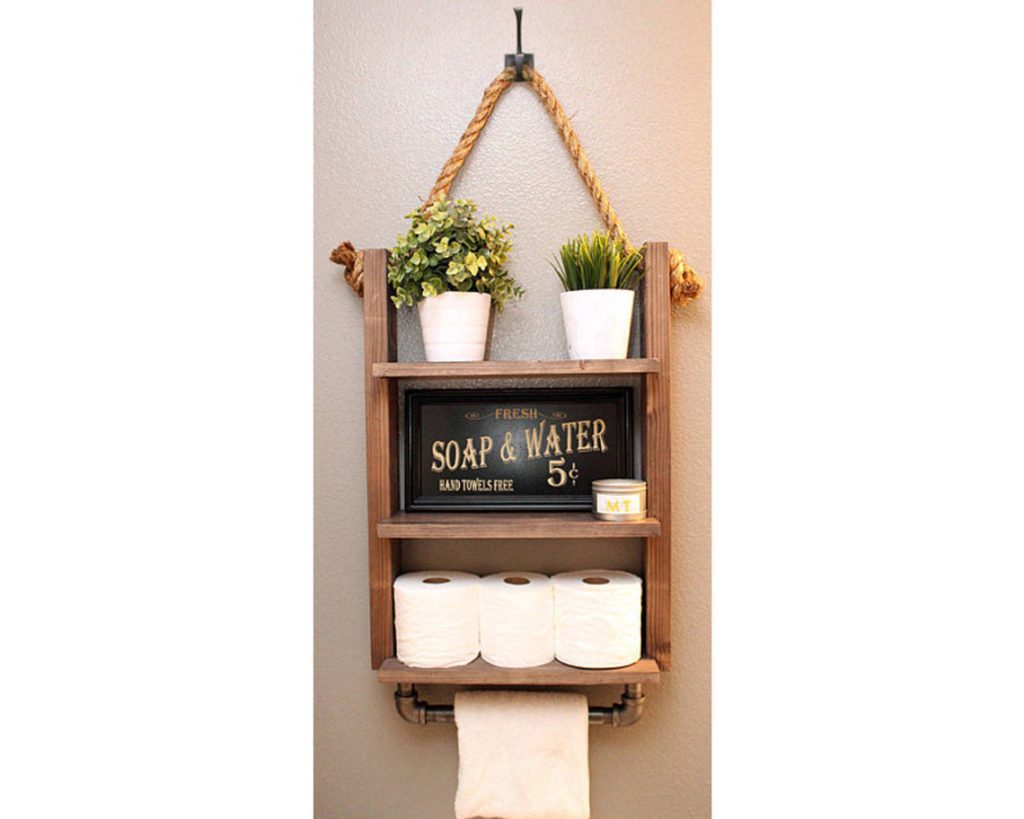 This wooden farmhouse bathroom storage shelf with an industrial towel bar and a rustic wood rope comes in lots of different finishes.
Perfect for storing bathroom toiletries and hanging a small towel. This farmhouse shelf measures: height: 30 Inches; width: 18 Inches; Depth: 5.5 Inches.
Where To Buy: Etsy
Rustic Wooden Get Naked Signs for Bathroom – relax, unwind, get naked arrow – 3 Piece Set, Rustic Decor, Farmhouse Bathroom Decor
These Rustic Wooden Signs are a unique piece for your bathroom or or home! This 3-piece set 'Relax, Unwind, Get naked' are hand painted on stained wood pieces.
The wood has been sanded smooth, stained, painted & distressed by hand for that perfect rustic touch.
The measurements of each wood piece is 12″ x 3.5."
Each arrow has a brass plated tooth hanger on the back for easy hanging!
Where To Buy: Etsy
If you are looking for a bathroom sign that is more rustic looking in appearance, then this Rustic Hot Bath Sign is very primitive looking. 
Rustic Hot Bath Sign Hook Farmhouse Primitive Wall Bathroom Decor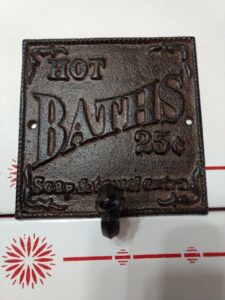 This Cast iron hot bath sign measures 5 1/4″ x 5 1/4″.  It is brown sealed with a clear poly protected coating.
Screws are not included.  
Where To Buy:  Etsy
DecorX 3-Tier Mini Whitewashed Wood Wall-Hanging Hand Towel Storage Ladder with Rope
This decorative rustic wood towel hanging unit with three rungs and a hanging rope features a shabby chic whitewashed finish which creates a farmhouse feel to your living space.
The hanging rope can be used to mount this towel storage ladder to any wall surface while the rungs will come in handy for hanging and displaying towels in your bathroom.
The approximate dimensions of this towel storage ladder are: 10.31 L x 2.28 W x 21.97 H (in inches).
LOVE this bathroom vintage sign. Perfect for hanging on your bathroom wall.
Bath House,hot baths,relax,soak,escape,soap and towels extra,bathroom decor,bath house,hot baths,bath signs,vintage signs,rustic signs
This vintage bath sign has been painted on a wood board and then framed with a handcrafted wood frame that has been painted black.
The background has been painted white with black font and a very -light distressing– has been used to give it that chic and shabby vintage look perfect for a bath decor in a home or farmhouse!
Where To Buy: Etsy
Rose Home Fashion RHF Rustic Shelves Bathroom Shelf Over Toilet Wood Wall Mounted Shelves for Bathroom Floating Shelves Wall Shelves 2 Hooks 2-Tier,Wall Hanging Shelf Organiser Rack (Brown, 2 Tier)
This rustic bathroom accent shelf would be great as an accent piece for your farmhouse bathroom but also practical for keeping all your essentials organized.
Perfect for using as a bathroom caddy for your lighter toiletry items like perfume, shampoo, deodorant, body wash, toothpaste, and toothbrush.
Easy to hang on anywhere with the screws on it, no assembly required. The overall dimensions of this shelf are: 16 H x 13 W x 5.5 D.
** Note: Maximum load weight supported: 15 lbs. **
Where To Buy: Amazon
To this shelf you could drape these wooden farmhouse beads to add additional rustic flair to your bathroom.
Wooden Bead Garland Farmhouse Rustic Country Tassle Prayer Beads Wall Hanging Decorations
These wooden prayer beads look great draped around plant pots, candle holders, mason jars, hung on a wall, on door knobs or styled on a tray to create a rustic chic feel anywhere in your home.
These farmhouse style white tassle beads are made from natural wood and would go perfectly in a farmhouse style decor, boho decor, shabby chic decor, as well as traditional home decor.
I think this next set of four farmhouse style bathroom signs that I found on Etsy would look great on a bathroom wall.
Wash Brush Floss Flush | Set of 4 | Wood Sign | Bathroom Sign | Bathroom Decor | Farmhouse Style | Farmhouse Sign | Farmhouse Bathroom
This set of four bathroom 'wash brush, floss, and flush signs would go perfectly in a farmhouse bathroom. These signs come in different sizes and color options
Each RELOVED LUMBER sign is handmade to order with high quality, 100% solid wood. Each piece has its own natural imperfections, such as holes, knots or other blemishes which we do not attempt to hide in any way.
This is what gives these bathroom signs their uniqueness and that farmhouse charm we all know and love.
Where To Buy: Etsy
Here is a cute print featuring a vintage delivery truck that you could hang on your bathroom wall.
Stupell Industries Toilet Paper Cotton Co Delivery Truck Bathroom Word Design Wall Plaque by Lettered and Lined
This bathroom wall plaque would add a POP of color in your bathroom. This piece of art is designed as a high quality lithograph print that is mounted on durable MDF wood.
This piece is hand finished and comes with a fresh layer of foil on the sides to give it a crisp clean look. It comes ready to hang.
Where To Buy:  Walmart
This bathroom sign for your wall is guaranteed to get A LOT of chuckles.
Honey Dew Gifts Home Decor, Bathroom Rules Gentlemen and Ladies, 5 x 10 inch Hanging Wood Sign, Bathroom Sign
This BATHROOM RULES Gentlemen and Ladies sign is sure to brighten your day every time you read it.  This sign is made from solid MDF wood fiberboard. The thickness of this sign measures 1/4 inch and twine is securely stapled to the back, ensuring durability and lasting hold.
It measures 5 inch x 10 inch sign is sure to be noticed by family and guests.
Where To Buy:  Amazon
Here is another bathroom sign that really gets the message across.
'If You Sprinkle…' Textual Art on Wood
This 'If You Sprinkle…' Textual Art on wood is made of sturdy wood and saw tooth hangers are installed ready to hang in any corner of your home.
This sign is available in two different sizes.
Here are some more rustic funny bathroom wall signs to choose from for your bathroom wall.
PXIYOU Colorful Sunflower Retro Vintage Tin Bar Sign Home Garden Wall Plaque Farmhouse Bathroom Decor 2Pcs-8X12Inch
These farmhouse sunflower bathroom metal sign would be suitable in a bathroom, laundry, pantry or office area. The colors in these vintage signs will add a POP of color to your bathroom wall.
These retro vintage metal signs measure 20cm x 30cmx 2Pcs or (7.8inch*11.8inch). Pre-drilled holes makes them easy to hang.
Where To Buy: Amazon
Another accessory that you could add to your farmhouse bathroom are these wooden shelves with pipe hardware.
SET OF 2 Bathroom Floating Shelves Wood Floating Shelf Set Farmhouse Decor Wooden Wall Shelves Towel Bar Shelf Pipe Shelves Towel Rack Set
This set of two farmhouse floating wall shelves offer the perfect storage solution for your kitchen or bathroom. The modern design balances a transitional space with warm, rustic elements of the distressed solid wood and industrial iron.
These shelves are available in different sizes to fit your space as well as wood colors. Different pipe colors are also available.
Where To Buy: Etsy
Another accent piece that you could add to your bathroom wall is this Rustic Framed Barn-door wall mirror. 
Kate and Laurel 

Cates 30-in L x 22-in W Rustic Brown Framed Wall Mirror

This wall-mounted, rustic farmhouse mirror has a barn door-like appearance with a rustic wood frame and a black iron bracket inspired by sliding barn doors. 
This rustic wall mirror would be perfect to hang over a bathroom vanity in a farmhouse inspired setting.  The distressed look of the frame adds to its farmhouse charm as well as the iron metal brackets. 
It measures 30.25″ high by 22″ wide by .75″, with a 17 inch by 22.5 inch wide mirror.  This farmhouse mirror installs in seconds with small screw holes on iron bracket and all necessary hardware included. 
Where To Buy:  Lowes
Vintage Bath Advertising Wall Art | Americana Collection | Bathroom Laundry Room Decor | 7 1/2 x 14 Inch Black
This vintage bathroom sign would be the perfect accent piece to punctuate your bathroom wall.  This vintage bath advertising sign is printed onto wood that has a beveled edge.
It features a saw tooth hanger for hanging and measures 13.9 x 7.5 x 0.7 inches.
I really like this cute farmhouse bathroom with the mason jar vanity lights over the sink and the rustic mirror and the metal shelf for hanging a hand towel.  Lots of farmhouse style accessories to hang on the wall to achieve the look.
A farmhouse vanity light is a light fixture that you could add to your bathroom to give it a vintage look and feel.
Progress Lighting P300047-020 Calhoun Three-Light Bath and Vanity, Antique Bronze
This Antique Bronze Three-Light Farmhouse Bath vanity light is stunning with thick glass shades that are held in place by mechanical latches reminiscent of antique spice jars, creating a gaze-grabbing apothecary vibe.
This farmhouse light fixture measures 21-5/8-inch width by 8-5/8-inch height by 6-7/8-inch depth (extends from wall). I think this fixture would make a beautiful addition to a farmhouse bathroom.
Where To Buy:  Amazon
I think that metal basket on the wall is really CUTE as an accent piece for a bathroom wall.
Home Traditions Rustic Metal Wall Mount Shelf with Towel Bar, Small – Gray
This rustic metal wall mounted shelf with a towel bar will definitely add some farmhouse charm to your bathroom. You could use it as part of your decor as well as a functional piece for hanging a hand towel.
The basket itself measures 8.25 x 5.5 x 4″, and the whole construction with the towel bar is 8.25 x 5.5 x 10″. This item has two hanging holes and all the necessary mounting hardware is included.
Here is another farmhouse bathroom wall decor idea that I found on Pinterest.  Really LOVE all the farmhouse accents that they added to their walls including the wooden shelves, the rustic bathroom mirror and overhead lighting.
A farmhouse bathroom vanity light over your mirror is a fixture that you could install on your wall. Here is one that I found online from Walmart if you like the look of a bronze finish.
Design House 520320 Kimball Industrial Farmhouse 3-Light Indoor Bathroom Vanity Light with Metal Shades for Over the Mirror, Coffee Bronze
The Design House 520320 Bathroom Vanity Light features a modern design and a textured, coffee bronze finish with metal shades. This vanity can be used for bathroom vanity lighting and offers reliable illumination with an industrial design.
Floating wooden shelves will always come in handy for storing bathroom essentials and displaying farmhouse accessories.
7.25" Deep Rustic Floating Shelves, Bathroom Storage, Kitchen Shelves, Living Room Decor, Farmhouse Decor, Pipe Shelf, Floating Shelf, Wall
This deep rustic floating shelf will bring some farmhouse flair to your bathroom. This wooden shelf is both decorative and functional for displaying accent pieces as well as storing smaller bathroom essentials.
This industrial shelf is constructed from wood and metal. The pipe supports are made from plumbing pipe and fittings. Your order can be customized to fit your space.
Many shelf sizes to choose from at the check out point.
Where To Buy: Etsy
A farmhouse bathroom vanity light fixture is a another accent piece that you could add as part of your bathroom remodel.
Bathroom Light Fixtures | Farmhouse Bathroom Vanity Light Fixtures 3 Light Wall Sconces | Rustic Bathroom Light fixtures
These vintage style farmhouse vanity lamp fixture combines the modern with a retro style. This farmhouse fixture would be perfect for a bathroom, as well as a wide variety of décor and would add retro appeal.
Where To Buy: Amazon
Depending on how much wall space you have, you could also add a farmhouse style wreath. Here are a couple to choose from.
Mini Lambs Ear Wreath-Mini Window Wreath-Lambs Ear Wreath-Small Wreath-Winter Wreath-Spring Wreath-Wall Decor-Home Decor-Housewarming Gift
This Scented Artificial Lambs Ear Wreath can be hung in your home all year long!! Lambs Ear is ARTIFICIAL-made of plastic with a soft fuzzy coating——It is NOT Silk.
This beautiful wreath is available in different sizes and you get to select your favorite scent.
Where To Buy: Etsy
Farmhouse Bathroom Wall Mirrors
A farmhouse mirror is another accessory that you could add to your bathroom decor.  There are SO many styles available to choose from to compliment your farmhouse theme.
This rustic style round metal mirror is very popular for hanging in a bathroom to add a touch of farmhouse flair. 
Rustic Round Metal Barrel Ring On Farmhouse Rope Pulley Decorative Wall Mirrorustic Round Metal Barrel Ring On Rope Pulley Decorative Wall Mirror
This rustic farmhouse round mirror consists of a metal frame with a mirrored glass insert which hangs on a natural fiber rope from a wood and metal decorative pulley.
Display it just as it is from a decorative hook, and you can decorate it with whatever you choose and give it a fresh new look that beautifully reflects your style.
A galvanized finish with worn edges gives this mirror a vintage look with a wonderfully weathered patina. Bring a rustic touch of farmhouse flair to your bathroom wall with this beautiful mirror.
Here is a rustic wall mirror that could be hung over a bathroom vanity to create a farmhouse look.
Wall Mounted Decorative Mirror, Rustic Wood Framed Rectangular Hanging Mirror for Farmhouse Bathroom, Entryway, Bedroom Decor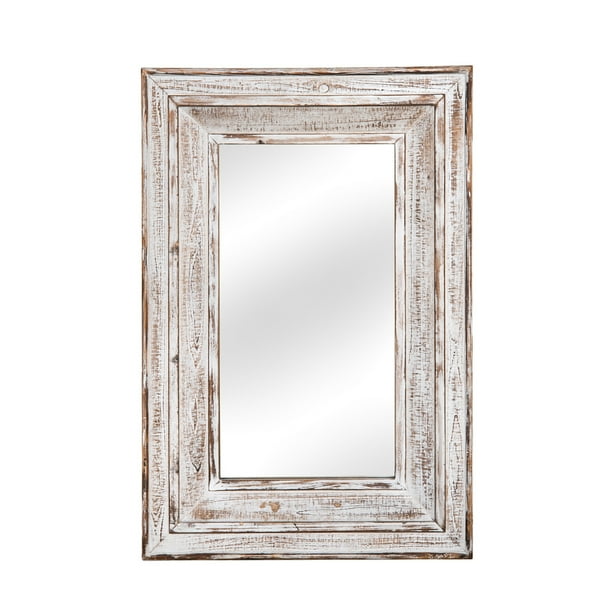 The mirror features a barn door-inspired design with a rustic brown finish and a black iron bracket inspired by sliding barn doors.  Perfect to hang in a farmhouse style bathroom.
This rustic farmhouse wall mirror could be hung over your vanity in your bathroom.  The decorative frame in an antique white will add a nice touch to your wall and make it visually appealing. 
The mirror will naturally reflect light that will in turn brighten your room and make your space appear bigger.
This dimensions of this wall mounted mirror are:  36.00 x 24.00 x 2.00 inches (L x W x H)
Where To Buy:  Walmart
Land and Sea Decorative Mirror, Rust
This Rust Land and Sea Decorative mirror presents classic style and simplicity in home decor.  Featuring a rope for easy wall hanging, this mirror introduces a nautical theme to your living space.
This rope mirror also makes a handsome addition to a home office, bathroom, hallway, cafe, restaurant or virtually any other area.
It features a metal, MDF, mirror and rope construction and comes with hanging hooks for easy installation.
The overall dimensions of this mirror are 38.50 x 20.50 x 3.25 Inches (L x W x H).
Where To Buy:  Walmart
Barnyard Designs Round Decorative Wall Hanging Mirror, Large Wooden Circle Frame, Rustic Distressed Wood Farmhouse Mirror for Bedroom, Bathroom or Living Room Wall Decor, 31.5"
Lend a vintage-inspired look to your home decor with this circular farmhouse mirror. The small details and versatile design of the round, distressed wood frame will complement many home decor styles such as mid-century modern, country farmhouse, and even the rustic nautical theme.
This decorative circular mirror is easy to hang with pre-installed hooks for hanging. This mirror would look great displayed over a bathroom vanity or dresser.
This wood framed round mirror measures 31.5" x 31.5" x 2". The mirror glass measures 21.85" inches across.
Where To Buy: Amazon
Some more farmhouse style mirrors to choose from.