Are Crystal Chandeliers Out Of Style?
Crystal chandeliers show no sign of going out of style any time soon, and remain a popular choice in lighting fixtures.  They are timeless in appearance and offer elegance and style to any space.
Crystal chandeliers have been used to decorate with for centuries and show no sign of going out of style.  This style of chandelier is available in a variety of styles and can be used in almost any setting including traditional, modern, farmhouse, shabby chic and more.
Here are some of the main reasons why crystal chandeliers are still in style and are ever popular as a lighting choice.
Why Crystal Chandeliers Are Still In Style
Crystal chandeliers are still VERY popular for decorating a room with because they offer timeless elegance and beauty to any space.  They feature intricate designs with hanging crystals that are breathtaking to look at.
A crystal chandelier will elevate the ambience in any room including a foyer, living room, dining room, kitchen, a bathroom, office or bedroom and will never lose its appeal.
They also provide excellent illumination and capture the eye when you walk into a room.
Crystal Chandeliers Provide A Sufficient Amount of Light

If you are looking for a lighting fixture that will provide sufficient lighting, then a crystal chandelier is an excellent choice.
The lights in a chandelier are captured and reflected in the crystals which in turn provides sufficient lighting to any space including a foyer with high ceilings.
In turn, a crystal chandelier will create an warm ambience and provide sufficient lighting to any room.  Another reason that crystal chandeliers are not out of style is because they are very stylish.
Crystal Chandeliers Are Very Stylish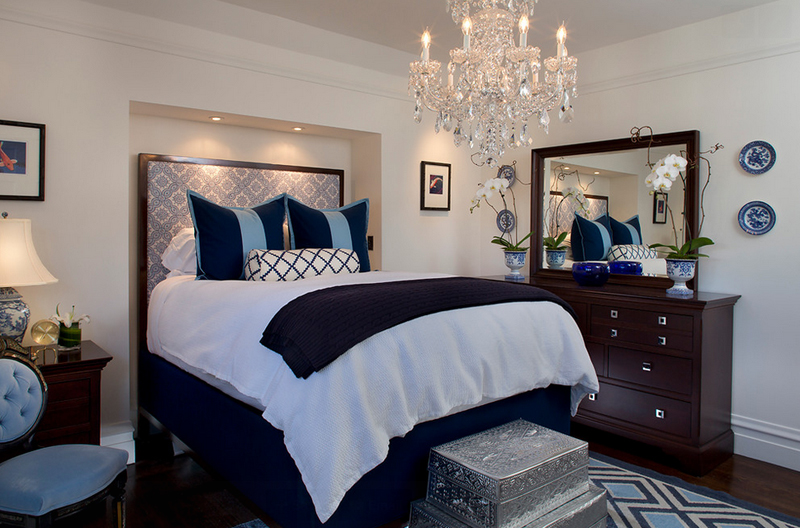 If you want to add elegance and style to any room in your home, then a crystal chandelier will punctuate the space and become the focal point of that room.
Whether you are looking for a crystal chandelier that is more traditional in style, or you want one that would fit into a modern space, then there are plenty of styles available to suit any decor style.
Lots Of Styles To Choose From

Crystal chandeliers have a wide application.  Because they come different styles and sizes, they work well in any setting.  Homeowners like to hang crystal chandeliers over their dining room table or in their foyer or entryway to light up the space.
This style of chandelier is also glamorous to hang in a bedroom or bathroom setting.  Smaller chandeliers can be used to hang over a kitchen island, in a small bathroom, in a nursery or closet to add a bit of elegance and light to the room.
Because crystal chandeliers are available in a wide range of designs, it is easy to select one that will reflect the style of your room.
Traditional Style Crystal Chandeliers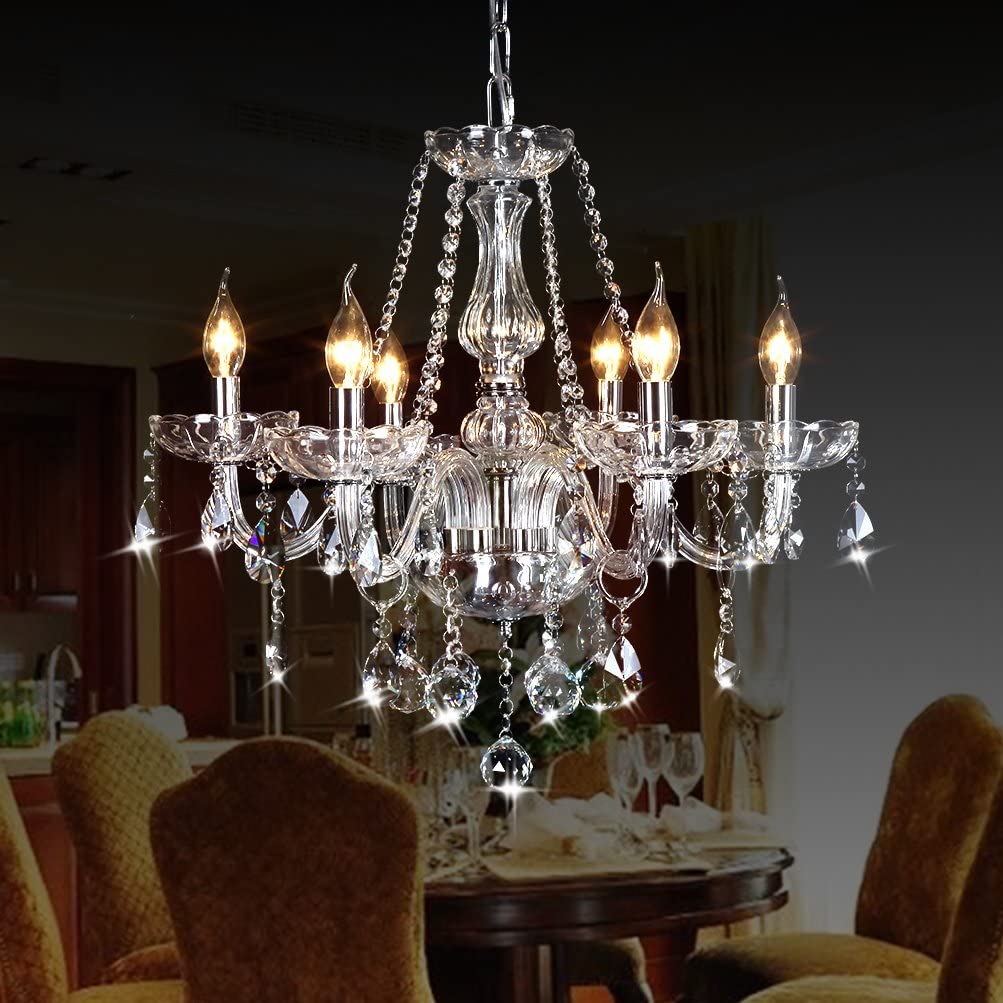 Traditional style crystal chandeliers have been around since the XVII century and are timeless in appearance.
They offer a wide application as they can be hung in a foyer, in a livingroom, over a kitchen island, over a dining room table, in a bathroom or in a bedroom.
A traditional style crystal chandelier consists of metal or glass arms that are covered in glass or lead crystals.  They typically hang from the ceiling and feature candelabra lights.
 Swarovski Crystal Chandeliers
Swarovski crystal chandeliers are another option when it comes to choosing the right chandelier for your space.
This style of chandelier is more expensive than other styles of chandeliers because the crystals come from the Austrian Alps.  The crystals are made from machine-cut glass that have been coated in a solution for extra durability and polished.
If you decide to buy a Swarovski crystal chandelier, be prepared to spend a lot more money.
Part of the reason for the increase in expense is the fact that they are manufactured in the Austrian Alps.  Also, you can get Swarovski crystals in a variety of colors.
Modern Crystal Chandeliers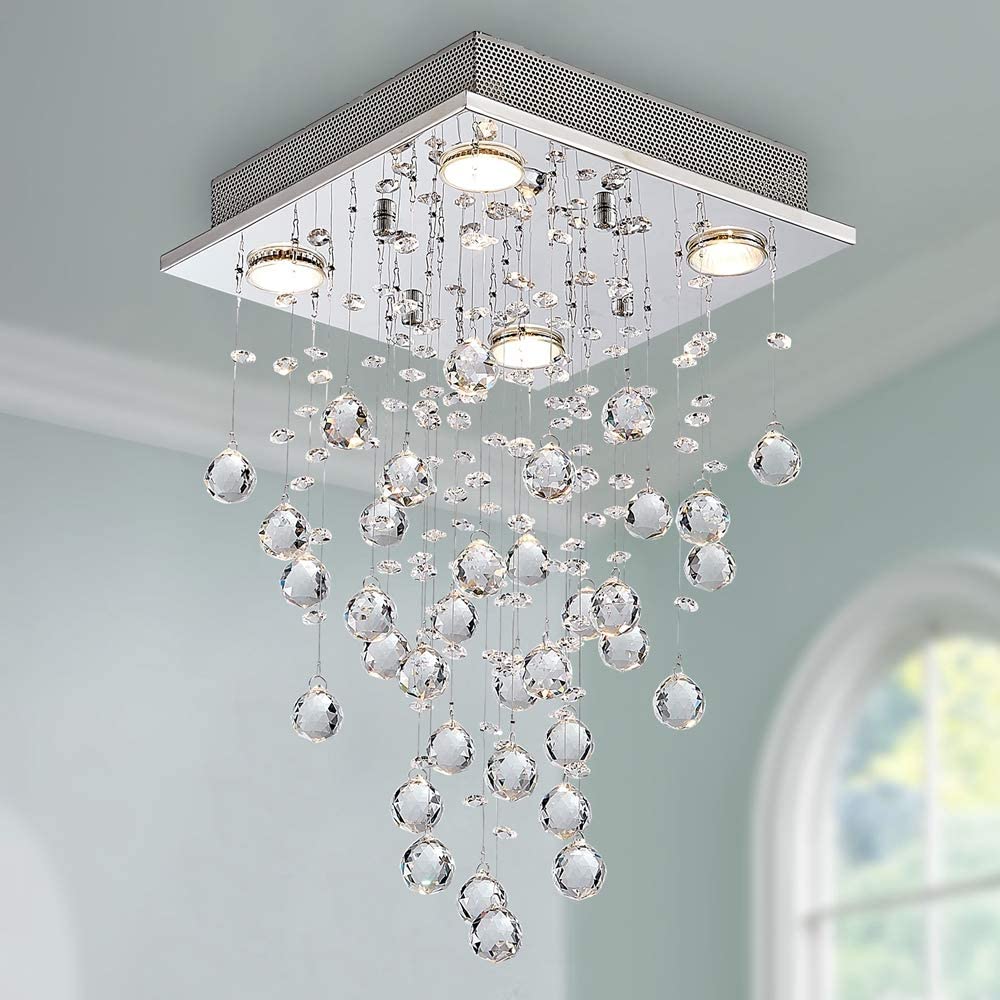 Modern crystal chandeliers offer a unique style that is distinct.  They are designed in geometric shapes and have crystals suspended from them.  Some modern chandeliers are quite elaborate.
Modern chandeliers combine elements of both classic and contemporary designs; some are also equipped with refractive crystal prisms or small mirrors.
Contemporary Style Crystal Chandeliers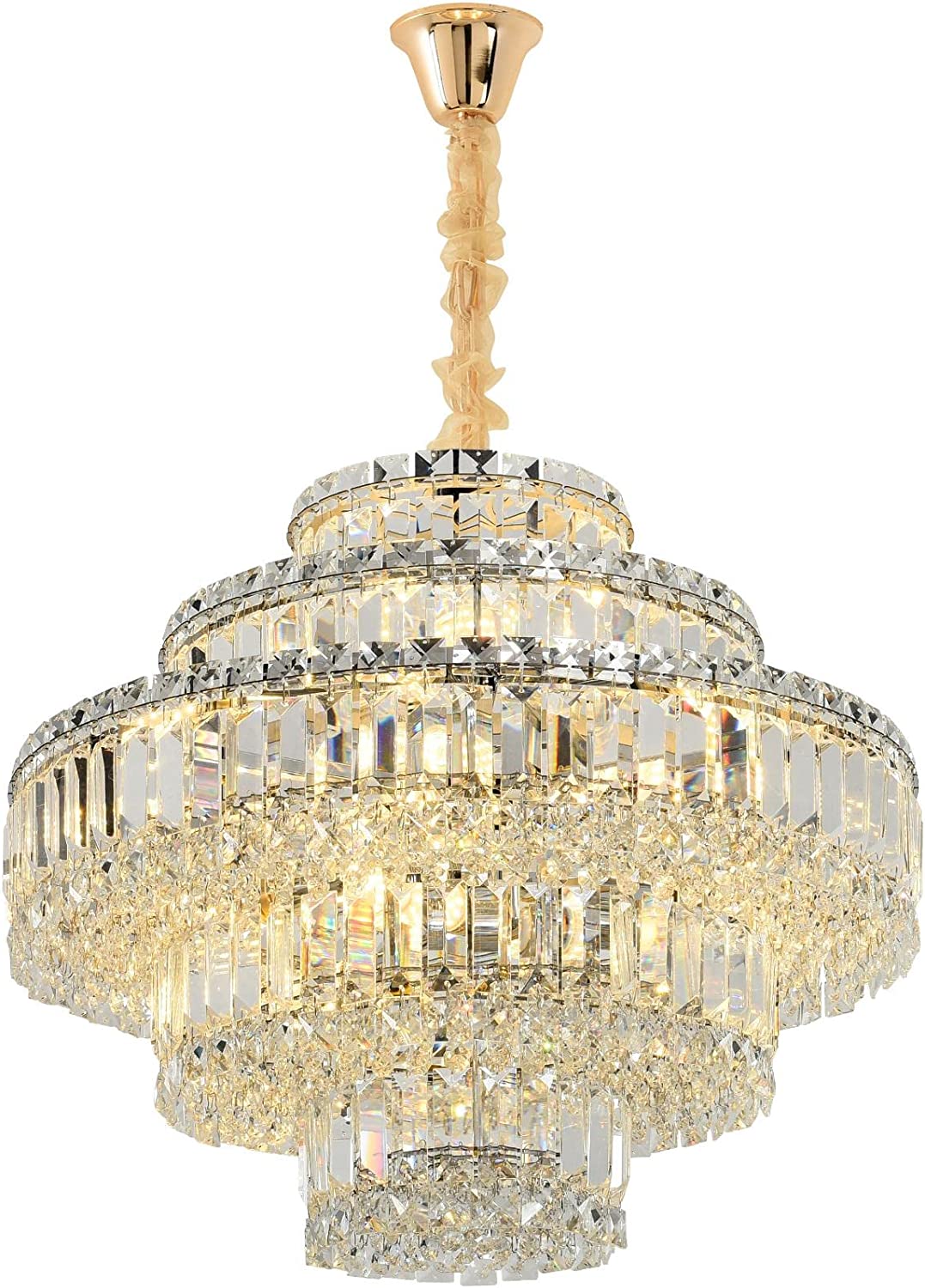 Contemporary style chandeliers come in different textures, shapes with great attention to detail.  They assume a more minimalist design that does not contain prisms but rather illuminate a room with direct light from the lamps.
Another style of crystal chandelier that is quite interesting is a drum style crystal chandelier.  It consists of a drum that is made out of metal, fabric or glass that surrounds the light fixture.
Cascading crystals are suspended from the hardware that supports the upward facing bulbs.
Drum Crystal Chandeliers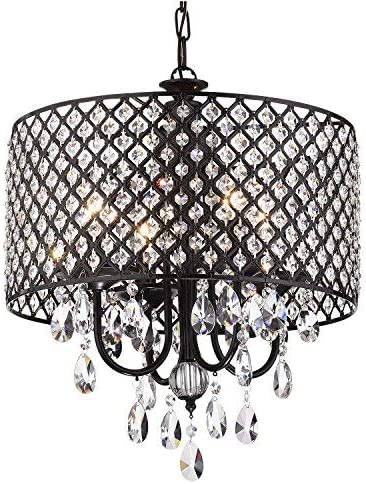 Drum crystal chandeliers are another style of chandelier that looks great in a living room, dining room or in a bedroom.
Great to hang in a modern setting.  This style of chandelier will add drama and warmth to any home space.
Luxury Crystal Chandeliers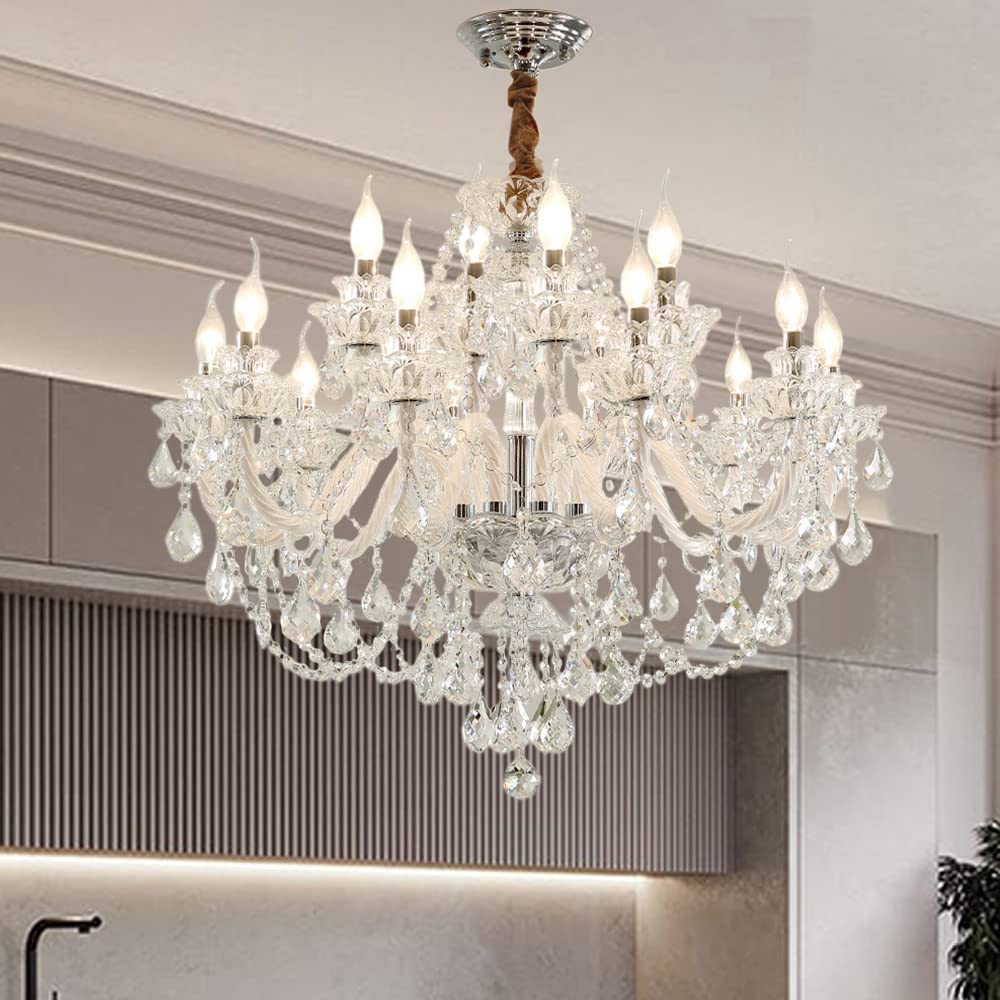 Luxury chandeliers with crystals make a bold statement without overpowering a room.  They are designed with intricate details that would immediately catch your eye when you walk into a room.
Made with high-end materials like crystal, gold or silver leaf, these chandeliers instantly become the focal point of any room.  This style of chandelier comes in different sizes and number of crystals used.
Mini Crystal Chandeliers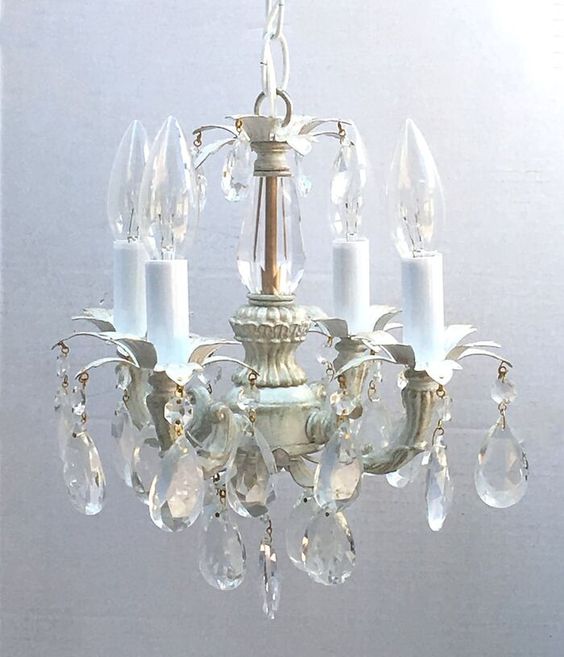 Mini crystal chandeliers are perfect for hanging in smaller rooms like a bathroom, nursery or closet.
Homeowners also like to hang these gorgeous chandeliers over the kitchen island for a dramatic effect.
Sputnik Style Chandeliers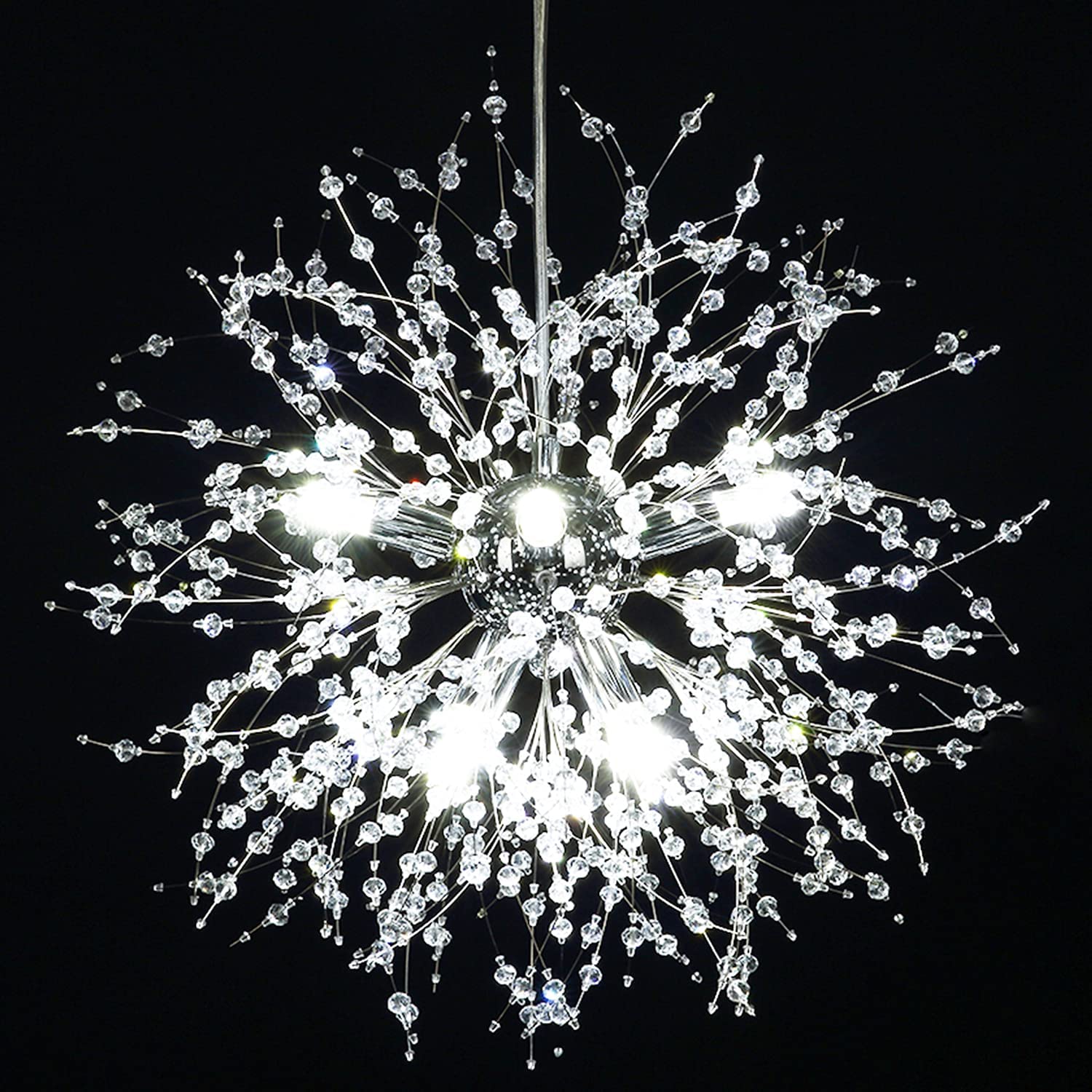 Sputnik style chandeliers are designed after the mid-century modern era.  It gets it name from They consist of a number of arms or branches that extend out from a center globe in the form of a circle.
This style of chandelier looks gorgeous in an entryway, living or dining room, a hallway or kitchen.
Tips For Buying The Right Chandelier
Here are some tips for buying the right chandelier for any room in your home.
Crystal Chandeliers FAQ
Here are some answers to some frequently asked questions about crystal chandeliers.
Are Crystal Chandelier Making A Comeback?
I wouldn't go as far as to say that crystal chandeliers are making a comeback, but their designs have evolved with the changing times.  I would say that a crystal chandelier is as popular as ever.
Crystal chandeliers continue to take center stage as a popular choice for decorating a room with because of the multitude of designs available to the consumer.
The popularity of a crystal chandelier for decorating a room with has not waned as they compliment any interior space.  This style of lighting fixture continues to evolve design.
There are many options available for consumers when it comes to different styles of crystal chandeliers.  Everything from, traditional to modern.  The sky is the limit.
The difference between a glass chandelier and a crystal chandelier is that glass crystals are made up of melted sand that don't contain leaded elements.
Whereas, chandeliers made with crystals, are infused with 5%-30% lead.  The lead creates the light refraction in the crystals that equals thousands of colors sparkling as light passes through the glass.
The K9 crystal is one of the most popular crystals used to make crystal chandeliers. It is about 15% lighter than leaded crystal.  This type of crystal used to make chandeliers, is also durable so you don't have to worry about them cracking when you clean them.
Another fun fact about K9 crystals is that they have a high refractive index meaning that they give off more shimmer then other types of crystals.  This type of crystal also has a high clarity so it reflects light better.
What Is The Best Way To Clean A Crystal Chandelier?
In doing some research online, I discovered that there are several ways of cleaning a crystal chandelier.
One of the best ways to clean a crystal chandelier is by carefully wiping down each crystal with a microfiber cloth sprayed with a cleaning solution made with a 1:4 ratio of isopropyl alcohol to distilled water.
Also, make sure you wear a pair of cotton gloves to keep your fingerprints off the prisms.
Watch this short video to learn more.
Easy Chandelier Cleaning Tips From Lamps Plus
Can You use Vinegar and Water to Clean a Crystal Chandelier?
Watch this video to learn how to clean a crystal chandelier with apple cider vinegar and water using a spray bottle.  The best part about this cleaning method, is that you don't have to remove any of the crystals in order to clean the chandelier.
My Final Thoughts
Crystal chandeliers
will
never go out of style
because they epitomize elegance and class.  No matter which room you decide to hang your crystal chandelier in, it will become the focal point of that room and will make a dramatic statement.
Crystal chandeliers come in many different styles as well as shapes and sizes.  Whether you choose a chandelier that is more traditional in style or you want a more modern version, a crystal chandelier will elevate the
aesthetic
of any room and will add a touch of opulence to the space.
Related Reading
Gorgeous Crystal Chandeliers For The Dining Room – Transitional Lighting You'll Love