Are you looking for a selection of small indoor decorative Christmas wreath ideas that you could use to decorate your home with for the holiday season?
Small indoor Christmas wreaths are perfect for adding some festive cheer to any room in your home.  These decorative Christmas wreaths could be displayed in a window, over the fireplace, in the foyer or hung on any wall in your home.
These wreaths will definitely add some Christmas cheer and be the perfect accent to your holiday decor.
The Christmas wreaths that are featured on this page come in many different sizes and are decorated with items like pine cones, red berries, pine needles, apples, evergreens and more.
If you are in a hurry…..
==>> See a selection of small indoor decorative Christmas wreath ideas Here >>
Otherwise, stay on this page and see a selection that I found online.
The first Christmas wreath that I found online is SO cute and will definitely bring some Christmas cheer to your home no matter where you hang it.
Snowman and Berries 22″ Silk Wreath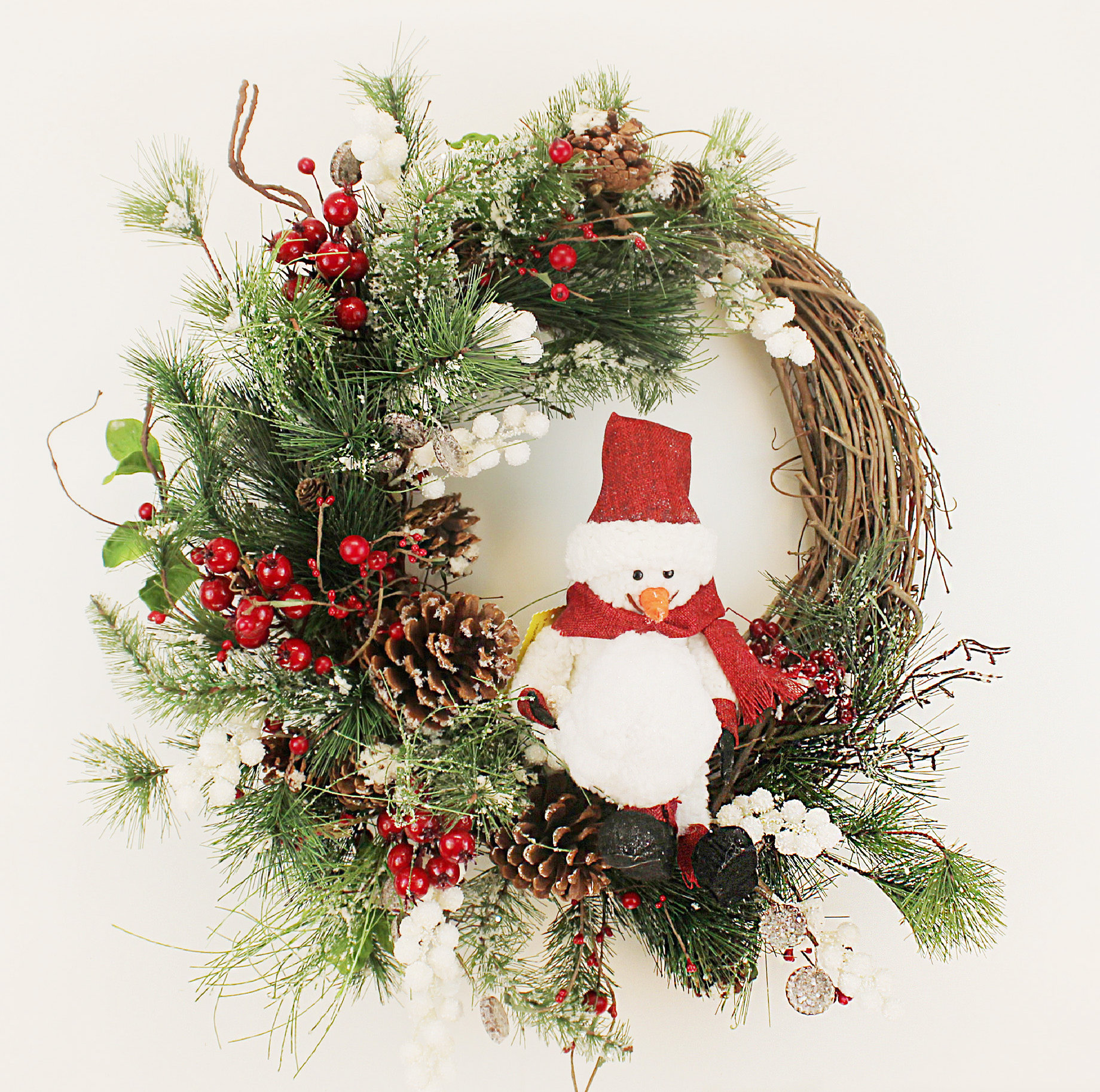 This Christmas wreath features a mix of red berries, snowballs, frosted pine needles, and a stuffed snowman.   This wreath is great for your front door (cover and shaded), backdoor, or use as a centerpiece.
This colorful wreath will make your home pop whether you hang it indoor or out.  It measures 22" H x 22" W x 4" D.
Where To Buy:  Wayfair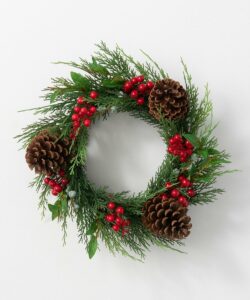 This juniper and red berry wreath boasts vibrant red berries and pine cones that exude cheerful holiday vibes.  This charming wreath is bound to elevate your festive decor no matter where you display it in your home.
The dimensions of this holiday wreath are 5" W x 16" H x 16" D.
Where To Buy:  Zulily
Artificial Winter Magnolia Pine Red Apple & Berries Front Door Wreath, Christmas Wall Decoration – 15 Inches
Add a magical touch to your home decor this holiday season with this cheerful artificial Christmas wreath featuring traditional winter seasonal elements in rich green and red tones.
This Christmas wreath features a sturdy natural grapevine base adorned with a cascade of pine cones and pine needles, magnolia leaves, glossy red apples, and vivid red berries. 
This festive wreath would look delightful on any front door, entryway, porch, patio, fireplace mantel, window or wall of your home.  A beautiful decorative accent that could be used on its own or as a centerpiece to compliment exisitng décor.
These wreath measures 15 – 16″ diameter (outside measurements) 10″diameter (inner vine ring).
Where To Buy:  Amazon
19 Inch Artificial Wreath Front Door Wreath with Bow Pine Cones Christmas Wreath Winter Garland Christmas Decorations for Farmhouse Home Decor
This 19″ artificial Christmas wreath is made from vine and artificial plants, including the bright-colored berry clusters, pine cone and pine needle branch.
This Christmas wreath will transform any wall in your home into a a vibrant, attractive display that welcomes your closest family and friends into your home all winter long, not just for Xmas.
The Christmas wreath is a great decoration for the upcoming Christmas holidays and and sure to increase the festive atmosphere of your home.
Where To Buy:  Amazon
LCI Set of 2 Faux Kitchen Cabinet Wreaths 11″ W x 21″ L Each (Black & White Plaid)
This set of two (2) faux kitchen cabinet wreaths would be perfect to hang on your kitchen cabinet doors for the holiday season.
This set of two (2) faux greenery wreaths are trimmed with a plaid bow and a length of ribbon for hanging.  Comes with the fabric-magic tape you need to hang it.
Each hangs from a plaid ribbon hanger and measures 11″W x 21″L.
Where To Buy:  Amazon
Buffalo Plaid Rustic wreath, buffalo plaid winter wreath, farmhouse wreath, Christmas rustic wreath, rustic wreath, Christmas buffalo plaid

This woodland winter wreath was decorated on an 18 inch grapevine wreath.  It is tastefully decorated with an assortment of pines, cedar, berries, eucalyptus, and fern.
A handcrafted red and black buffalo plaid bow was added to give this wreath a woodland, rustic old time Christmas charm for the holiday season.
The overall decorated size is approximately 22 inches.  This wreath is ideal for interior walls and doors. This wreath can be used outside also as long as the wreath is sheltered from wind, rain, and snow.
Where To Buy:  Etsy
Red Berry Wreath 20″ Hawthorn Twig Berries Holiday Decorative Winter Christmas Wreath for Front Door, Fireplace, Mantel, Xmas Décor

Add a versatile touch of elegance to your holiday home décor with the vibrant, glossy red berries with our faux Rosehip Berry Hawthorn Wreath.
This holiday wreath will and a pop of lively and luscious color to any space.  The Larksilk 20″ Rosehip Berry Hawthorn Wreath is a perfect design accouterment to your Christmas seasonal decor, weddings, baby showers, bridal parties, holidays, or any festive occasion that calls for elegant embellishment.
Our premium 20″ Rosehip Berry Hawthorn Wreath is studded with realistic rosehip berries on splayed branches spiraling outward to form a full, lush, and life-like touch of nature.
Approved for covered outdoor use, the wreath can be displayed all winter long on a front door, wall, or over the mantel.
This beautiful berry wreath offers a wintery, rustic appeal and joyous accent for Christmas home decor.
Where To Buy:  Etsy
Welcome guests with the festive appeal of this colorful wreath showcasing lively pine cone and berry elements to provide your décor with a dash of lasting greenery.
This pine cone berry ribbon wreath measures 7" W x 24" H x 24" D.
Where To Buy:  Zulily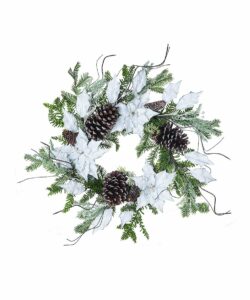 Start the festive decorating with the first thing friends and family see when they enter your home. This holiday-inspired wreath adorns your door with cheer.
This wreath measures 22″ in diameter.
Where To Buy:  Zulily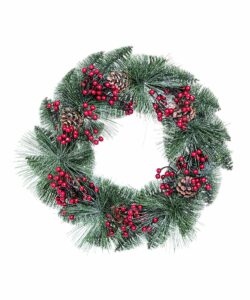 Spruce up your home décor this holiday season with this charming Christmas wreath sporting pine cones and berry accents for festive flair.  This wreath would be great to hang on a door, wall or window to bring some Christmas cheer to your home.
This red and green wreath measures 15.75" W x 15.75" H x 15.75" D.
Where To Buy:  Zulily
22″ Artificial Pine Cone Red Berry and Pine Sprig Christmas Wreath, Unlit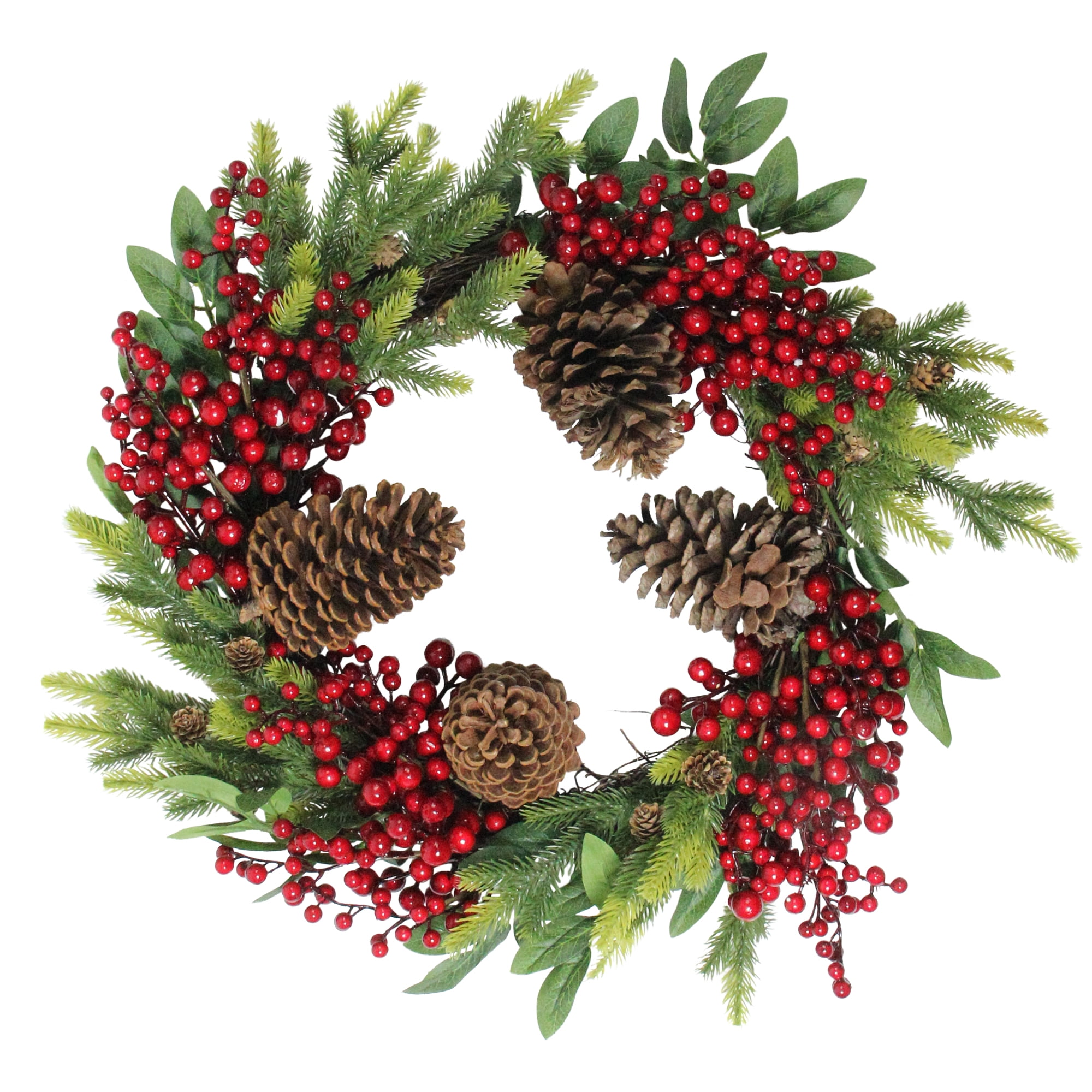 This beautiful pine cone and red berry Christmas wreath will be the perfect accent to your holiday decor.  This wreath features rich, red berries with large and small pine cones surrounded by pine sprigs and leaves.
A sturdy grapevine ring base makes this wreath easy to hang.  It measures W 22″ / D 6″ / H 22″.
For indoor use only.
Where To Buy:  Houzz
Pine, Magnolia, Cone, & Apple 17″ Plastic Wreath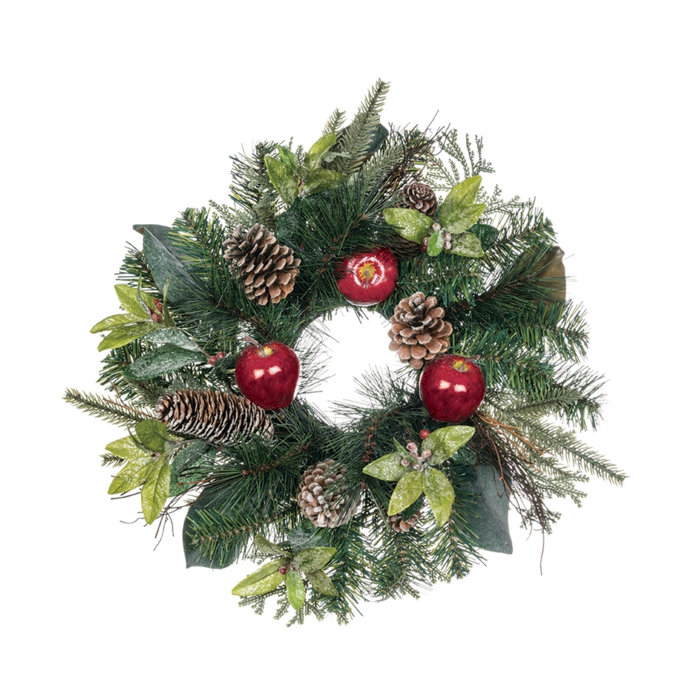 This small indoor Christmas wreath features classic evergreen species with magnificent magnolia leaves, perfect pinecones, and fabulous fruit.  This unique wreath makes for a great conversation piece during the holidays.
Giving designs a natural outdoorsy appeal, mixing any number of these pieces into your décor is sure to add a joyous touch to this particular season.
This wreath is for indoor decorative use only.  It measures 17" H x 17" W x 6.5" D.
Where To Buy:  Wayfair
Flocked Pine with Cones 17″ Wreath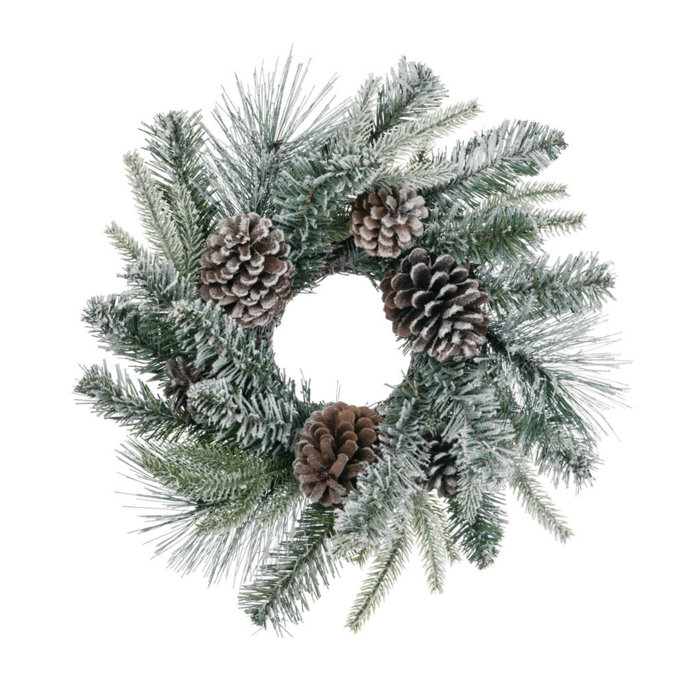 This flocked pine wreath features a sophisticated mix of pine branches, dusted with a generous amount of faux frost, wrapped together and accented with cones to create a snowy sensation.
This wreath is for indoor use only and measures 17" H x 17" W x 7" D.
Where To Buy:  Wayfair
National Tree 16″ Frosted Berry Grapevine Wreath

This 16″ Frosted Berry wreath would be a delightful addition to any front door or window display.  It features 40 individually crafted branch tips adorned with frosted pine cones and berries.

Built to endure many holidays, this wreath measures 16 inches in diameter.
Where To Buy:  Walmart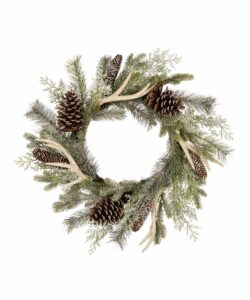 Deck the halls with this flocked wreath that features rustic pinecone and antler accents.  This Flocked Pinecone & Antler wreath measures 24" W x 6" H x 24" D.
Where To Buy:  Zulily
D-FantiX Swedish Gnome Christmas Wreath for Front Door, 14 Inch Small Santa Scandinavian Tomte Gnomes Ornaments Christmas Door Wreaths Window Home Door Christmas Decorations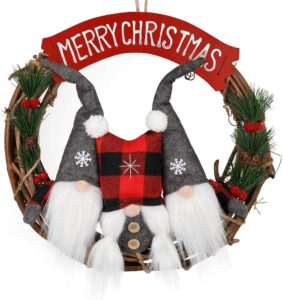 This cute door wreath features three plush Swedish Gnomes on a sturdy natural rattan base; With pine cones, red PVC berries and wording "MERRY CHRISTMAS" in a red board.
Perfect for front door décor. It also fits hanging on the wall or window to add a special touch to your holiday decor for years to come.
Add some fun and excitement to your holiday or greet holiday guests in style with this festive entry decor. Perfect addition to your holiday decoration.