Adding a decorative large farmhouse accent wall mirror to any room in your home will create a touch of farmhouse charm and will also add depth, style and functionality to any given room.
A farmhouse country style accent mirror will also give your room some added character and the illusion of more space and depth.
Farmhouse country style accent mirrors come in many different styles and sizes.  Some are designed in the shape of an arched window frame with a distressed finish which is reminiscent of an arched cathedral window that you would see in a church.
Other farmhouse style mirrors are rectangular, round or square in shape with some distressing on the frame with metal accents to give these mirrors a rustic look and feel.
The nice thing about these large decorative farmhouse style accent mirrors is that there are so many places where you could display them in your home.
A vintage farmhouse style mirror would go perfectly over a console table in an entryway, over a dresser in a bedroom, above a mantel piece, over a couch as part of a display, in a hallway or over a buffet or sideboard.
You could also lean one of these country style accent mirrors up against a wall on a mantel piece instead of securing it to the wall.
Here are some large decorative farmhouse style accent wall mirrors to consider getting for your home.  The first wall mirror is designed in an arched shape with distressing on the frame.
Arched Window Pane Mirrors In White
Distressed Cream Sadie Arch Mirror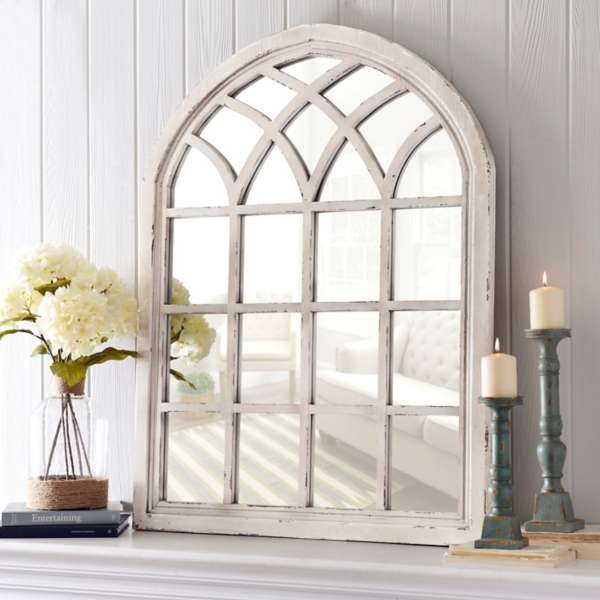 This Sadie arched mirror in a distressed cream finish with its striking design is reminiscent of an arched cathedral window.  Crafted from wood composite, this mirror comes ready to hang and measures 35L x 1.25W x 45.5 H in. from the arch's peak.
According to customer reviews, this mirror has more of a distressed white finish to it.
There are so many places where this beautiful mirror could be displayed like on top of a mantel or over a console table to add some farmhouse flair and character to your space.
Here is another arched shaped window pane mirror with a weathered look to it.
Parisloft Distressed White Arched Window Pane Wood Framed Wall Mirror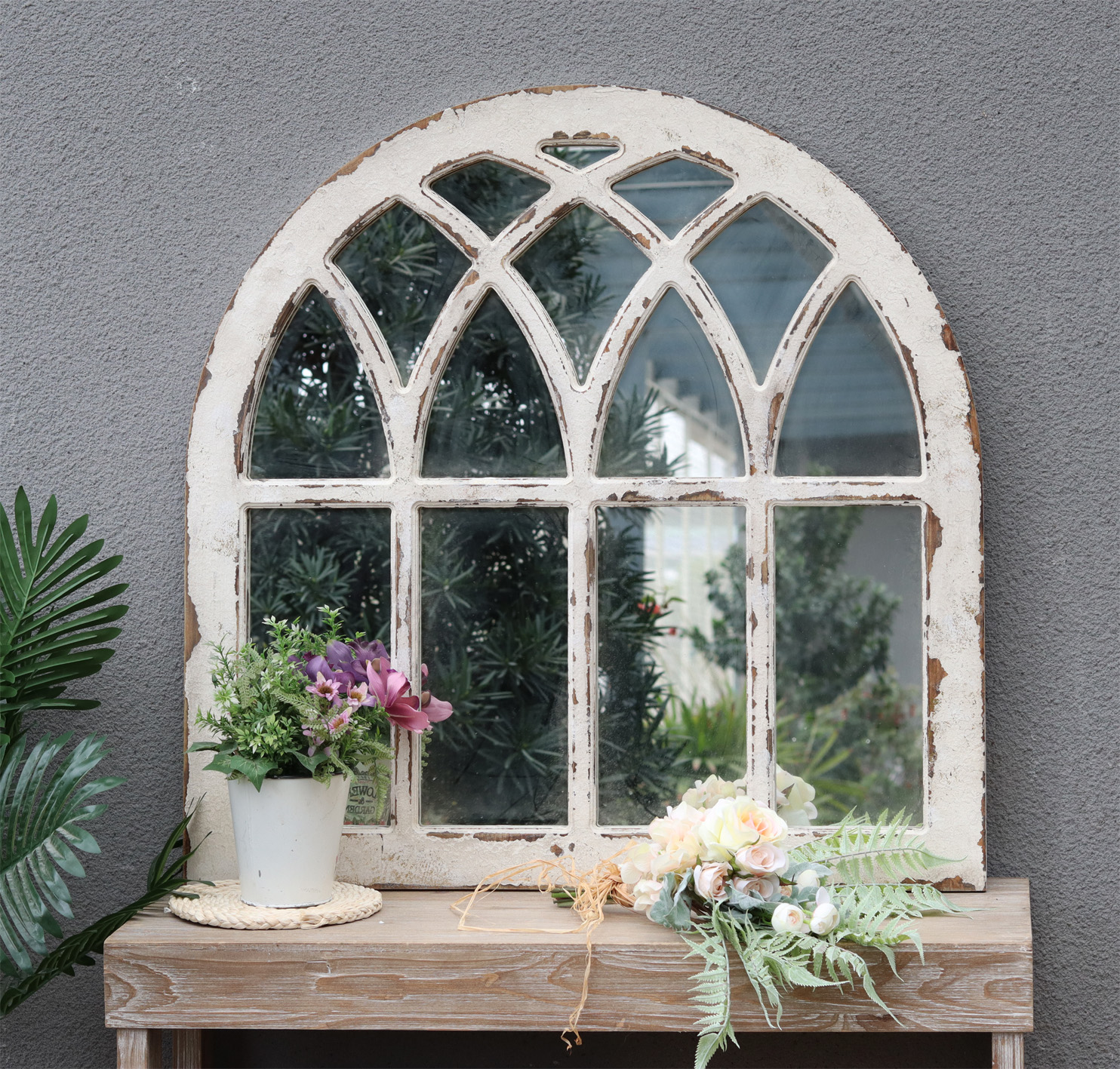 This distressed white arched window pane is made of fir wood, glass and MDF wood.  Its cathedral inspired arched design will brighten up any room and create the illusion of a larger space.
The distressed white painted finish gives it an authentic rustic look and charming feel.  This oversized rustic wall mirror with an elegant rustic farmhouse touch will be the perfect focal point to compliment any existing decor.
Comes ready to hang with 2 pre-installed D-ring hangers, this beautiful wall mirror measures 31.875″W x 1″D x 31.875″H.
I think this distressed arched window pane mirror would be perfect to hang in an entryway over a console table, in a hallway, in a dining room over a sideboard or in a bedroom over a dresser.
Where To Buy:  Walmart
Jolene Arch Window Pane Mirrors Off-White 27″ x 15″ (Set of 2) by Aspire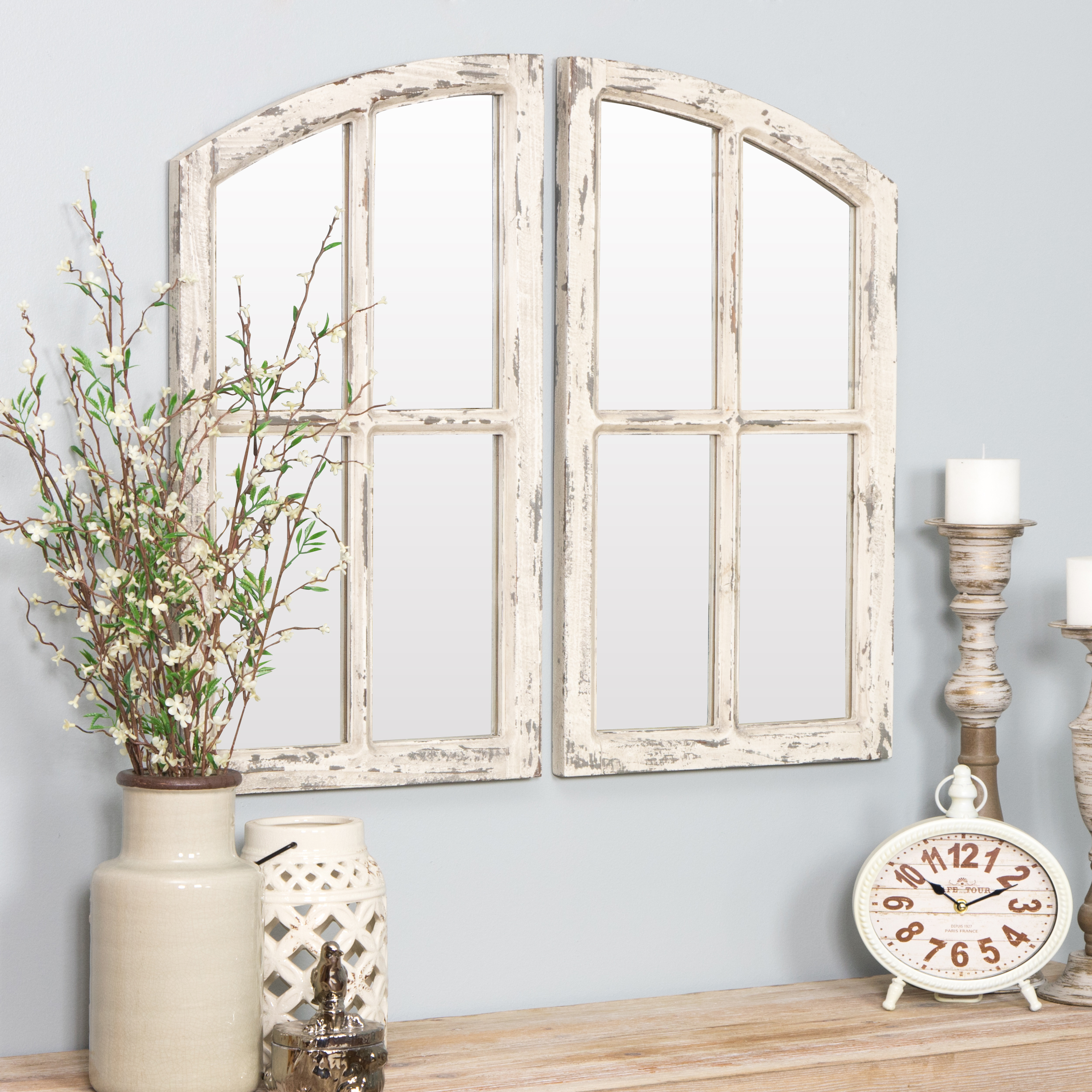 Enhance the look of your foyer or other living space with this lovely set of two window pane mirrors by Aspire.  These mirrors are crafted from wood with a heavily yet stylishly distressed off-white finish.
Each pane is a reflective surface for giving the surrounding room an expanded feel. These window mirrors are easy to mount using screws or nails, with each piece hanging separately.
ace them next to each other on opposite sides of a wall or in another configuration.
Personally, I like the two of these mirrors side by side to create a rustic look over a console table in a hallway or entryway.
Where To Buy:  Walmart
Large Irregular White Classic Mirror (46 in. H x 26 in. W)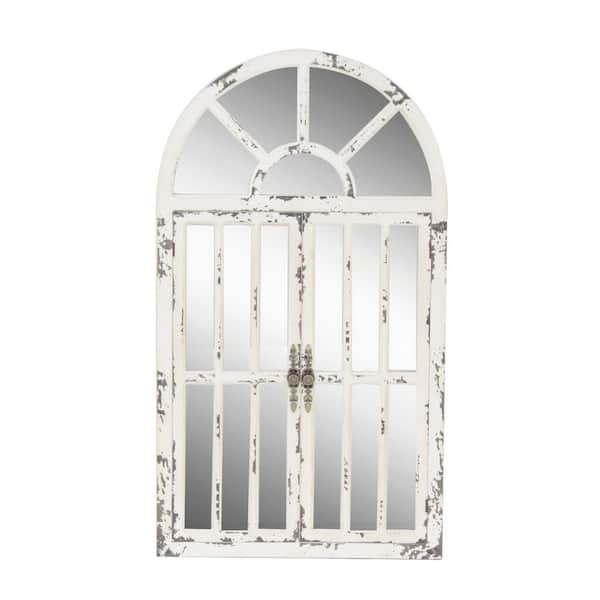 This arched window-shaped wall panel features two window doors adorned with a Victorian-detail knob in a distressed white finish.  It is is constructed from Chinese fir wood and Chinese red pinewood.
This fancy wood and mirror panel is easy to hang on most walls and will perfectly accentuate rustic or farmhouse-themed interiors.
This arched shaped mirror measures 46 in. H x 26 in. W.
Farmhouse Country Accent Mirrors
Kate and Laurel Millbrook Windmill Rustic Farmhouse Distressed Metal Wall Mirror, 32″ Diameter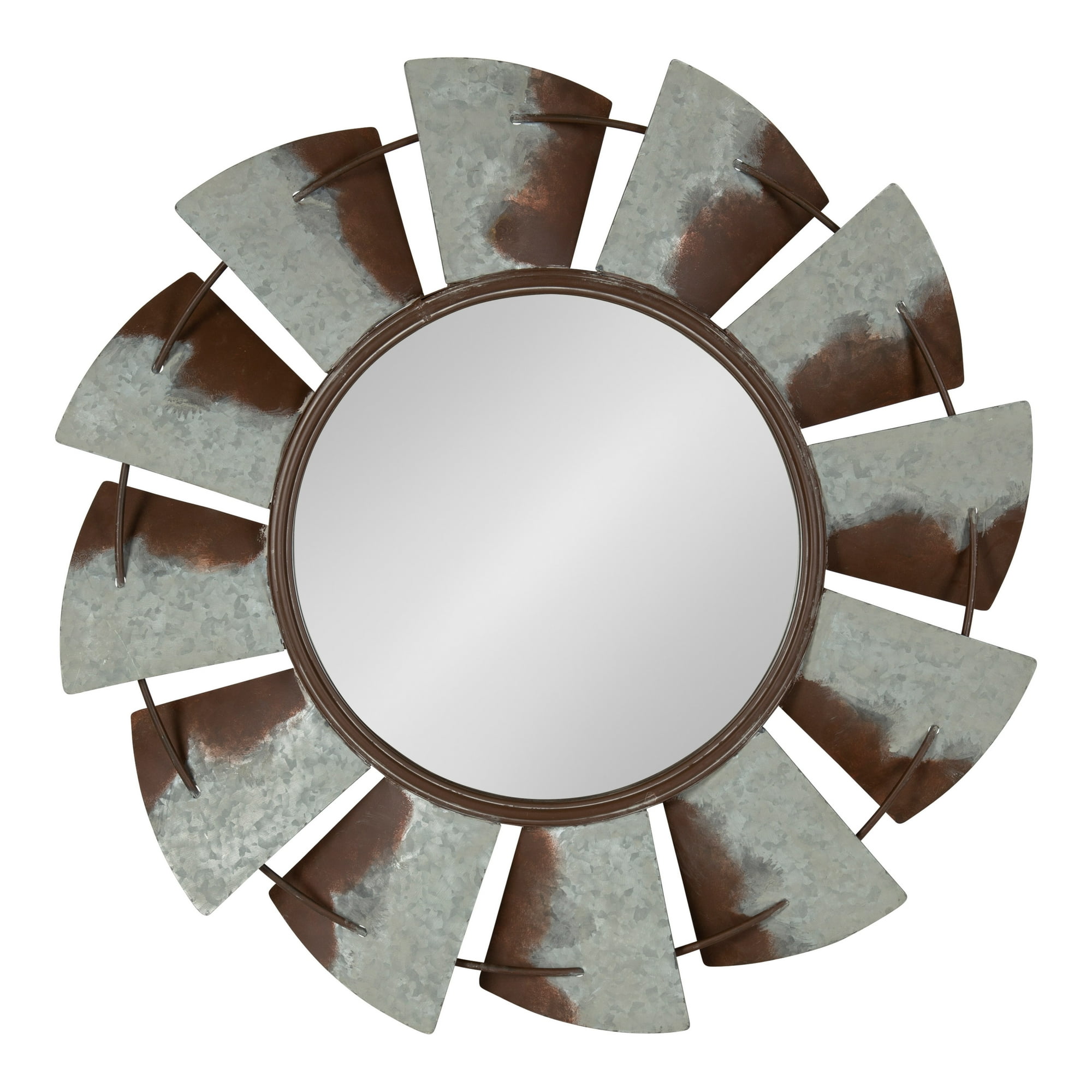 This Kate and Laurel windmill wall mirror will add a touch of dimension and rustic charm to any room in your home.  Constructed entirely of metal, the Millbrook mirror has a unique, antique feel that will add a touch of one-of-a-kind decor to your home.
Place this windmill mirror above an entryway console table, as part of a grouping in your living room, or as a trendy alternative to a bathroom vanity mirror, to create a beautiful addition to your home decor.
The galvanized metal finish along with the distressed rustic accents of this wall mirror will be stunning in a living room, over a fireplace, in the kitchen, or even as part of a cozy, rustic bedroom.
The round mirror has a 16.25 inch diameter and the overall outside dimensions are a 32 inch diameter.
Where To Buy:  Walmart
Somerset Window Pane Wood Rustic Mirror 31″ x 22″ by Aspire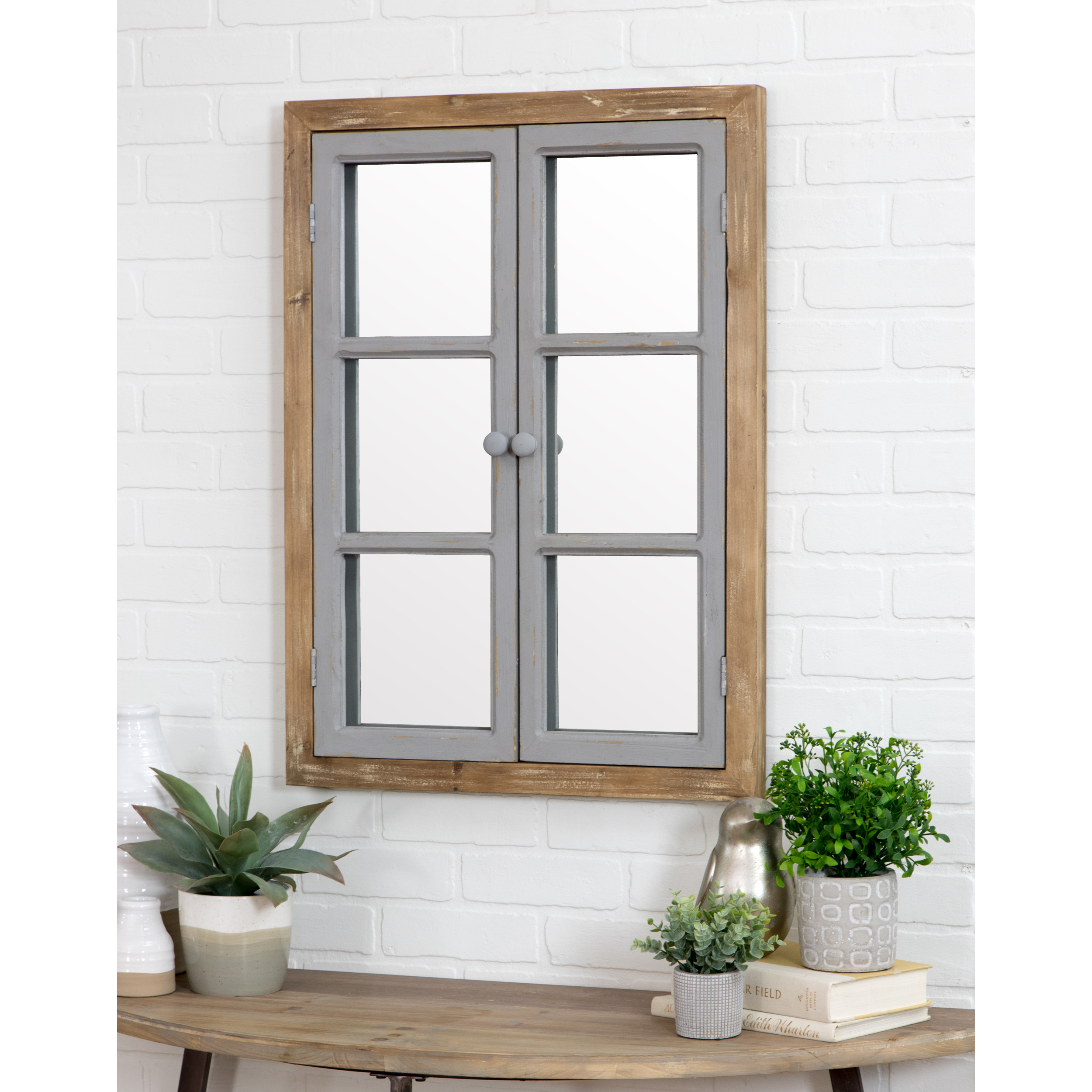 The Somerset window pane wood rustic mirror 31 x 22 by aspire showcases a distinct design and a weathered finish.  The mirror frame is crafted from solid wood and features a distressed two-tone finish of medium brown and blue-gray.
The doors on this rustic mirror swing open and closed so you have the option of how you want to display this mirror. 
This windowpane wall mirror would make a great accent for your foyer centered over a console table or anywhere else in your home where you want to make a statement on your wall.
Where To Buy:  Walmart
Natural Sadie Arch Mirror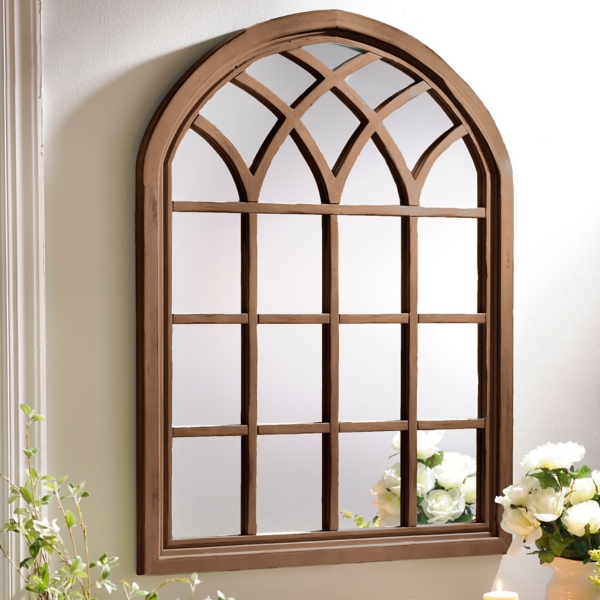 The striking design of this Natural Sadie Arch mirror is reminiscent of arched cathedral windows that you would find in a church.  This large decorative accent mirror is made from wood and glass and with its natural brown finish, would go perfectly with other farmhouse decor.
The overall dimensions of this gorgeous mirror are 35.25 L x 1.5 W x 46.25 H inc.
HN Home Asbury Modern Farmhouse Round Wood Mirror – 34W x 34H in.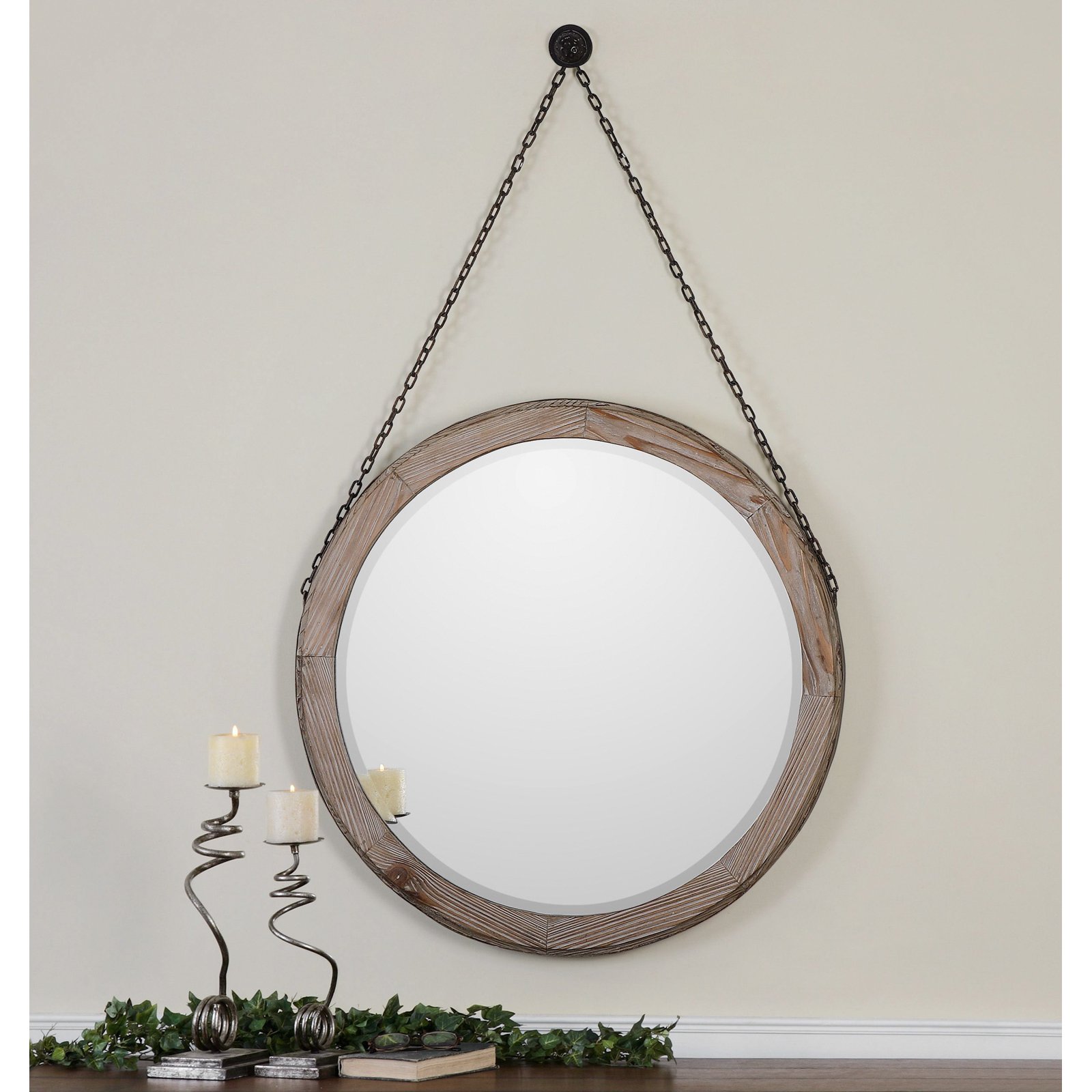 This large modern farmhouse round wooden mirror features a lightly stained wooden frame accented by a rustic bronze chain and decorative wall hook.
The mirror itself features a 1.25-inch beveled edge and measures 34W x 34H inches.
Where To Buy:  Walmart
DecMode 34″W, 31″H Square Accent Mirror, Brown, Set of 1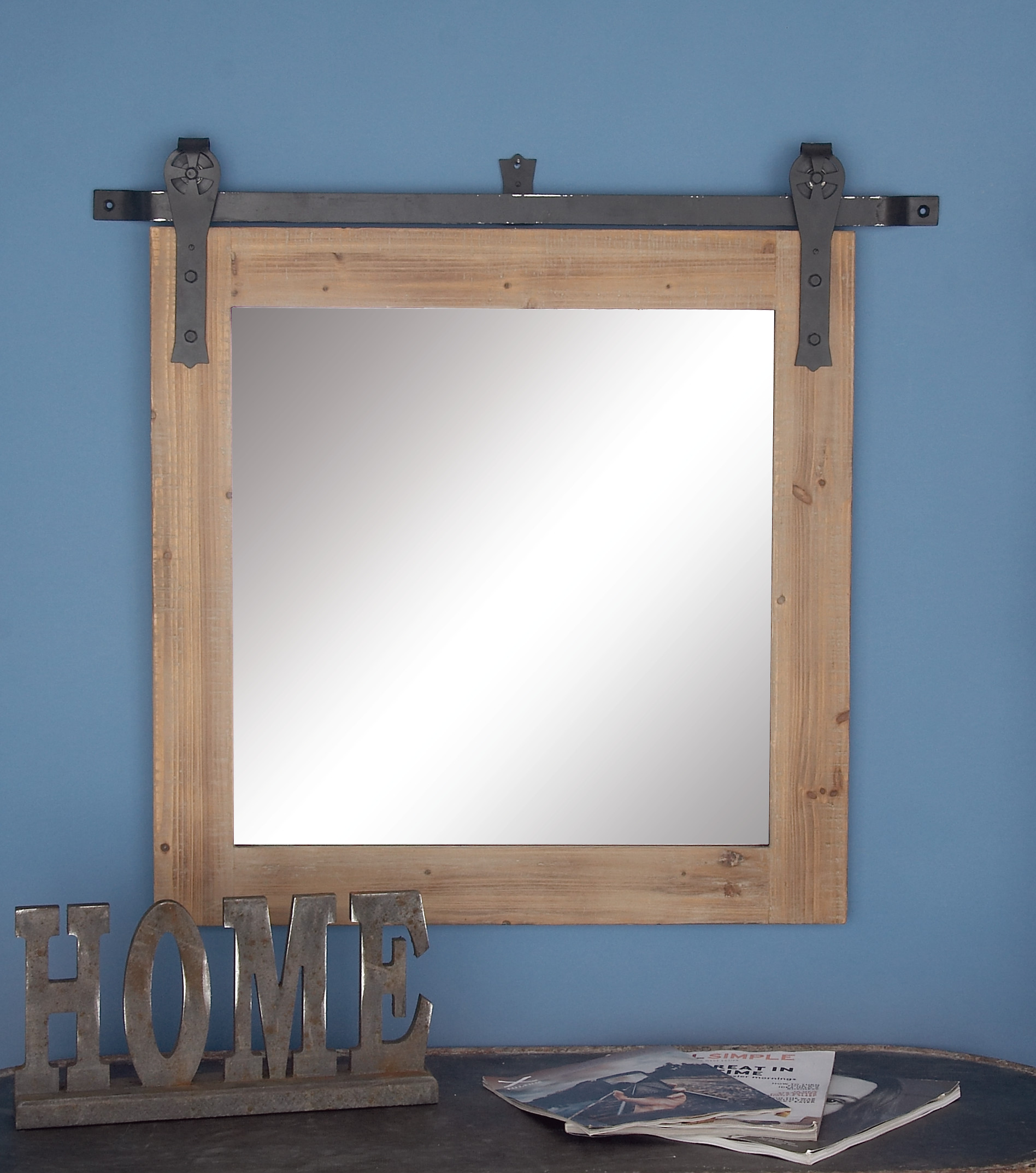 This farmhouse style accent mirror features a brown wooden square frame and center mirror that is attached to a black metal top bracket.
This accent mirror is made from fir wood, iron, and glass.  This style of mirror would suit any industrial or farmhouse interior concept.
The overall dimensions of this rustic looking wall mirror are 34″L x 31″W.  It screws onto wall via the iron bracket.
Where To Buy:  Walmart
Another farmhouse accent mirror by Aspire is this Serenad Farmhouse wall mirror.
Serenad Farmhouse Wall Mirror White 30″ x 22″ by Aspire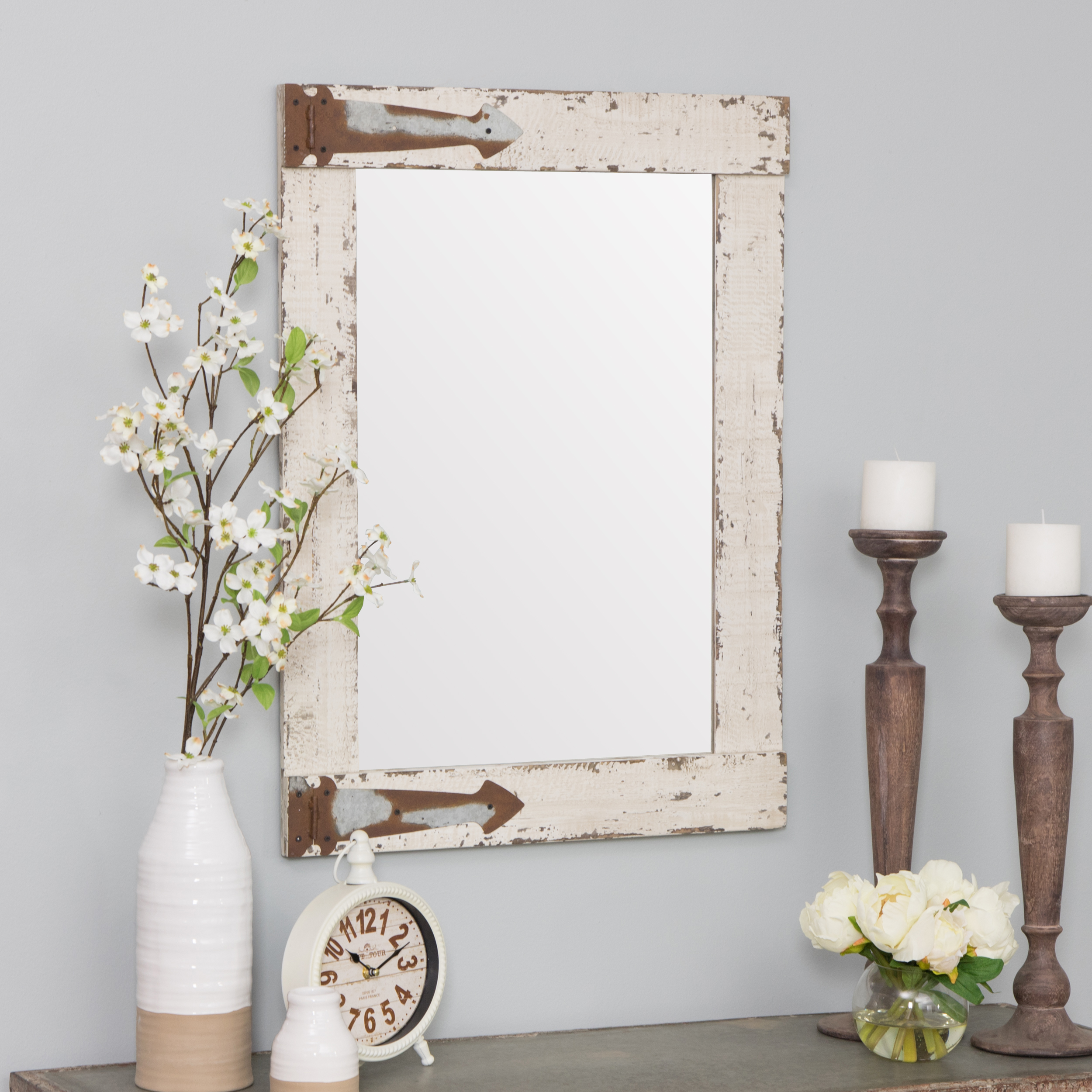 Add a rustic style accent mirror to your farmhouse living-space with the Serenad Farmhouse Wall Mirror in white.
This Aspire wall mirror features rustic metal arrow hinges that add character to the wooden frame. It also has a distressed finish.
This white wall mirror would work well as a bathroom vanity mirror or simply as an accent mirror for your living space.  It measures 30″ x 22."
Where To Buy:  Walmart
Medium Rectangle Wood & Metal Antiqued Farmhouse Accent Mirror (39 in. H x 29 in. W)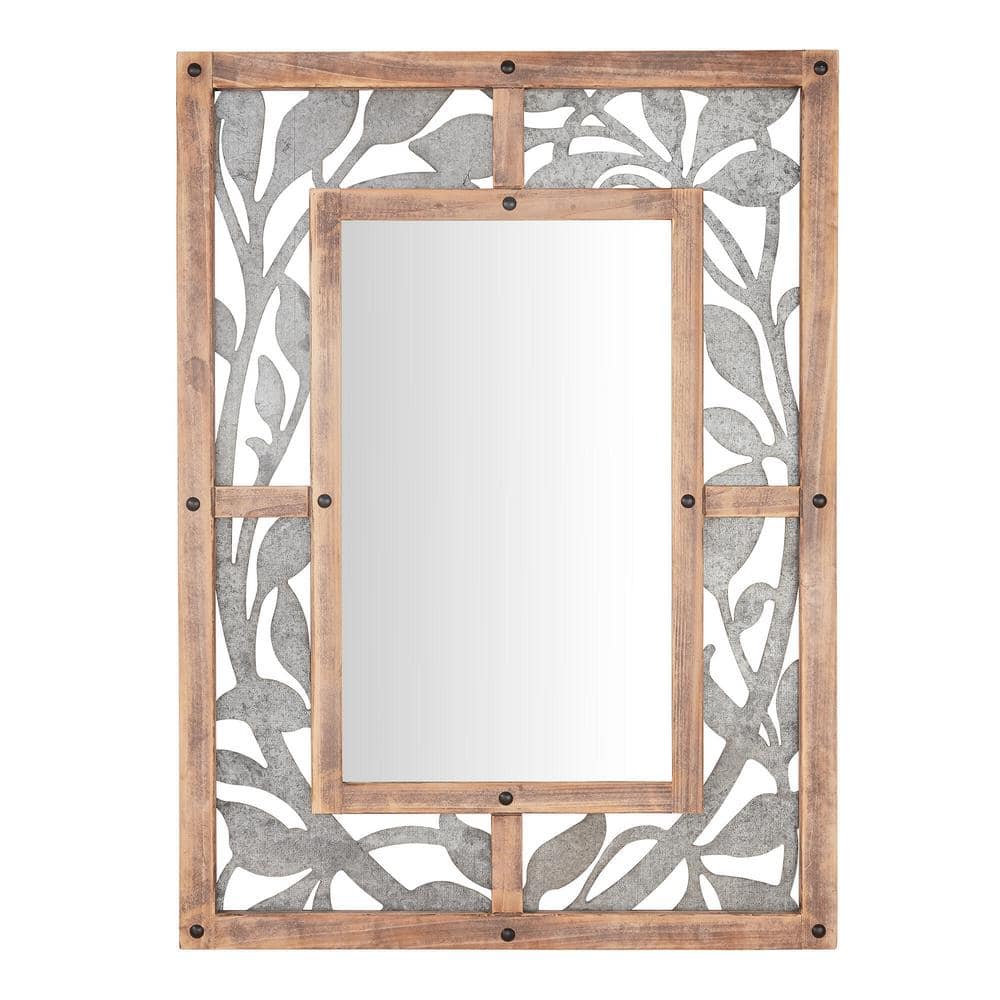 This Antiqued Farmhouse Accent mirror is made of durable wood with galvanized metal accents.  It features a sturdy wooden frame with a distressed finish that will go well with a farmhouse-style decor.
The artistic leaf design is created using galvanized metal to ensure that its visual appeal does not diminish over time.
This decorative mirror comes with two D-rings at the back that allow for easy hanging and secure placement.  The overall dimensions of this mirror are 39.25 in. H X 29 in. W X 1.25 in. D.
This mirror will create a focal point on your wall and will go well with other rustic/farmhouse decor in your home.
Distressed Windowpane Accent Mirrors
Athena Farmhouse Arch Window Mirror 43″ x 28″ by Aspire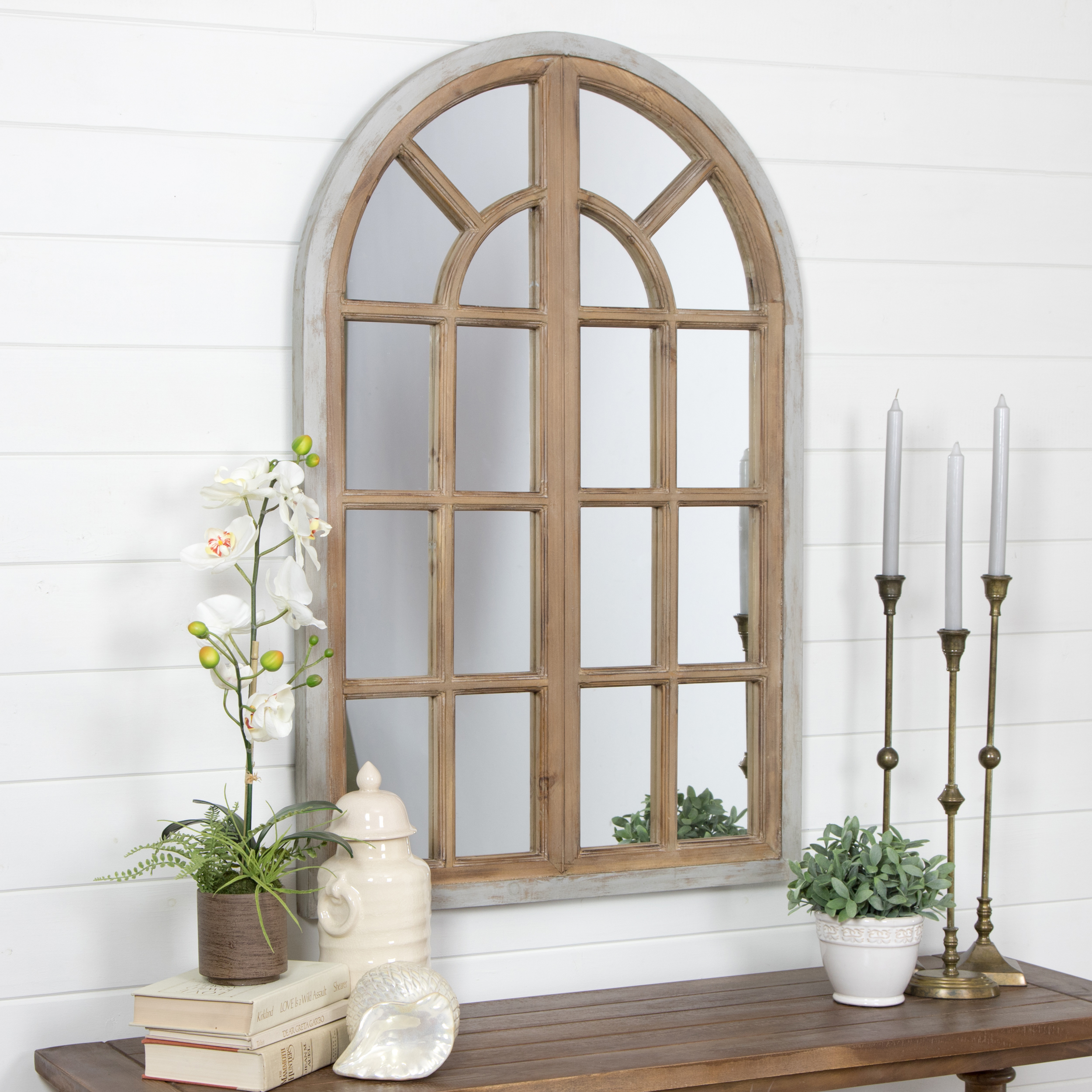 This stylish farmhouse arch window wall mirror features a two-tone distressed wood finish and showcases a dramatic arch windowpane design that can easily fit into both modern and rustic farmhouse-inspired home decor.
The solid wood frame of this decorative arch mirror offers a subtle blend of chestnut and blue-gray matte finishes.
The design of this mirror will coordinate well with existing room styles, but will also be an elegant focal point for any room in your home.
Strategic placement of this mirror will help the room to appear brighter and more light-filled, easily transforming the entire feel of the space.
Where To Buy:  Walmart
Here is another decorative farmhouse style accent wall mirror with deliberate distressing on the frame.
DecMode 30″W, 48″H Arch Wall Mirror, Brown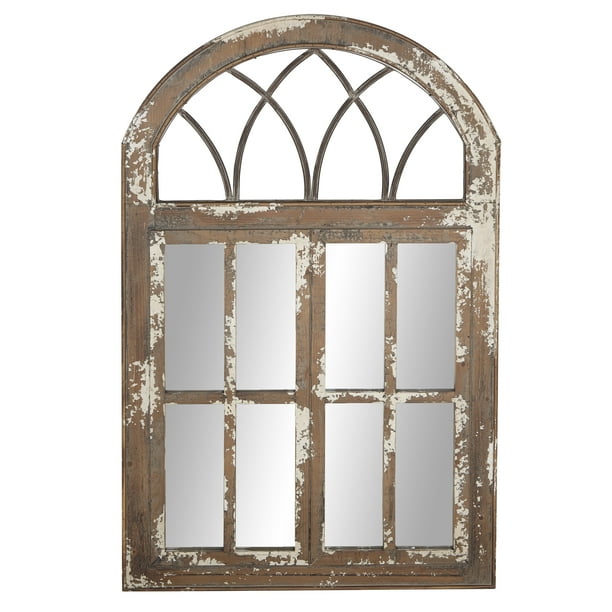 Add some style to your entryway, lobby, living room, or bedroom with this striking windowpane wall mirror. This accent piece features an arched windowpane top mirror with black curves overlay design and a distressed brown frame with white highlights.
With its impressive look, this distressed brown wall mirror will  suit any home with rustic or farmhouse interior. It is constructed from robust and lasting fir wood, iron, and glass.
It measures 30.00 x 2.00 x 48.00 inches.
Where To Buy:  Walmart
If you are looking for distressed window pane mirror that is in the shape of an actual window, then this one is available in three different rustic finishes.
Distressed Wood Windowpane Mirror – Rustic Home Decoration
This distressed window pane mirror will add some country flair to your wall while remaining functional at the same time.  It features a pane of glass that's divided into nine (9) sections by genuinely distressed wood.
A decorative handle completes the look of this rustic looking mirror.  This window pane mirror comes complete with hanging hardware on the back for mounting to the wall.
Another option for displaying this type of mirror would be to  lean it against a wall instead of displaying it on a wall.  It is constructed from wood and glass and measures 15″W x 20″L.
Colors Available:  White, Black or Natural
Where To Buy:  Walmart
Here is another decorative window pane wall mirror in a distressed teal finish that would be great in a bathroom or over a vanity.
American Art Decor Window Pane Wall Vanity Mirror (Teal) – Multi – A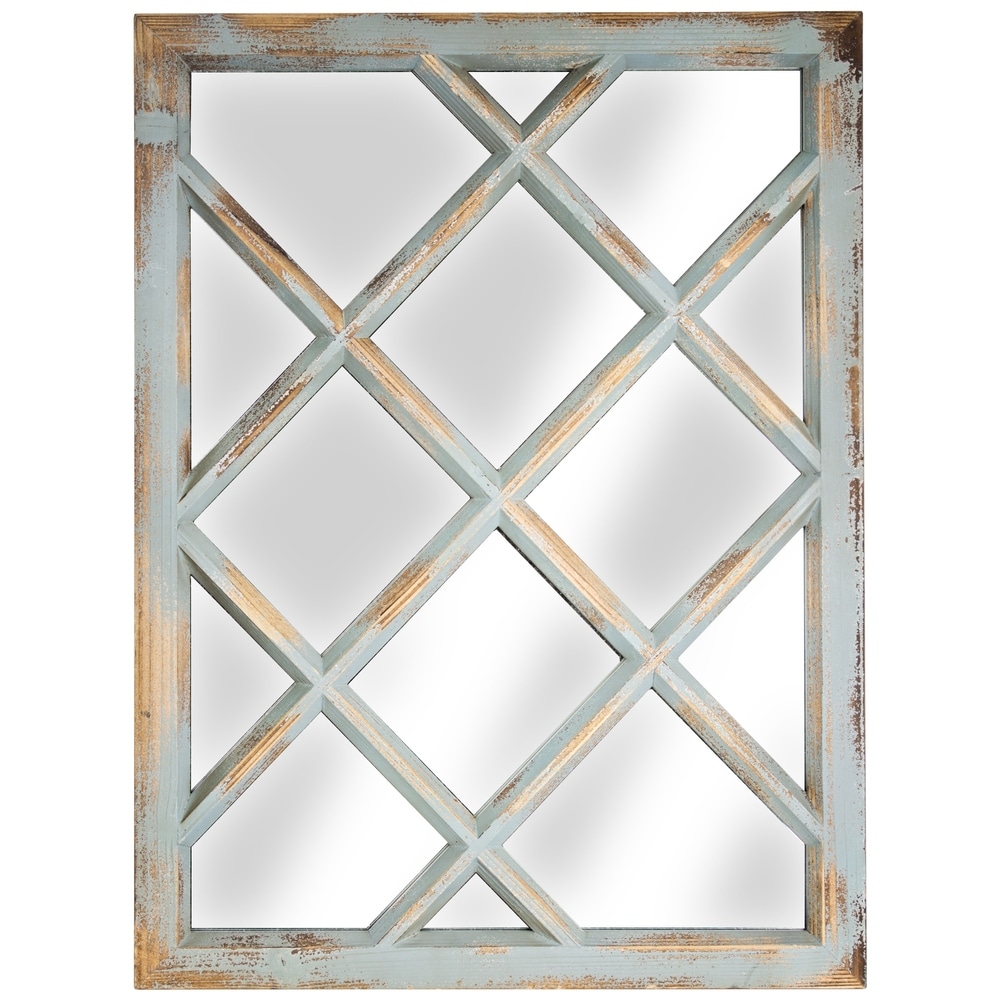 This farmhouse-inspired decorative window pane mirror will add a bit of rustic charm to your living space.  Constructed from natural wood materials and weathered, distressed, shabby-chic teal highlights throughout the piece, this mirror truly embodies the farmhouse aesthetic.
It has a dated, vintage and antique look to it and offers unique detail with its criss-crossing wooden beams that create a pleasing diamond shape pattern that pulls focus and attention.
This bold accent mirror could be displayed in a hallway or foyer, a bedroom, a bathroom or living room.  It would also be suitable on top of a dresser-drawer or desk in a bedroom, or propped up against a wall at the end of a long hallway.
This vintage-inspired piece would blend in perfectly with rustic or farmhouse decor.  It has two triangle hooks on the back for easy hanging.
Here is another arched wall accent mirror in a tone-tone finish that I really like.
Vail Two-Tone Arch Wall Mirror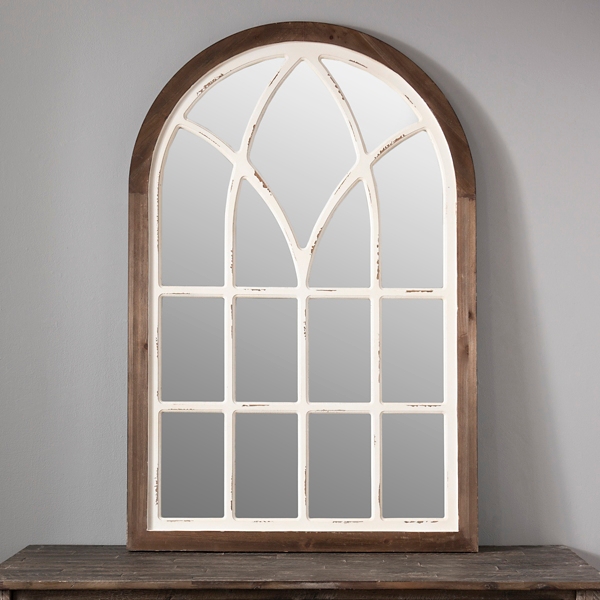 This two-tone arch wall accent mirror is sure to make a statement on your wall with its dark wood finish and cream accent design that creates classic farmhouse charm and a unique style.
The cream wood accents create an ornate windowpane style as well as the dark wood frame that surrounds it.  This mirror comes ready to hang with no additional hardware required.
This country style arched window mirror measures 32.35L x 1.25W x 47.75H. in.
Barnyard Designs Rustic Wood Window Mirror Decorative Window Frame Wall Mirror, Country Farmhouse Wall Decor, 40″ x 24″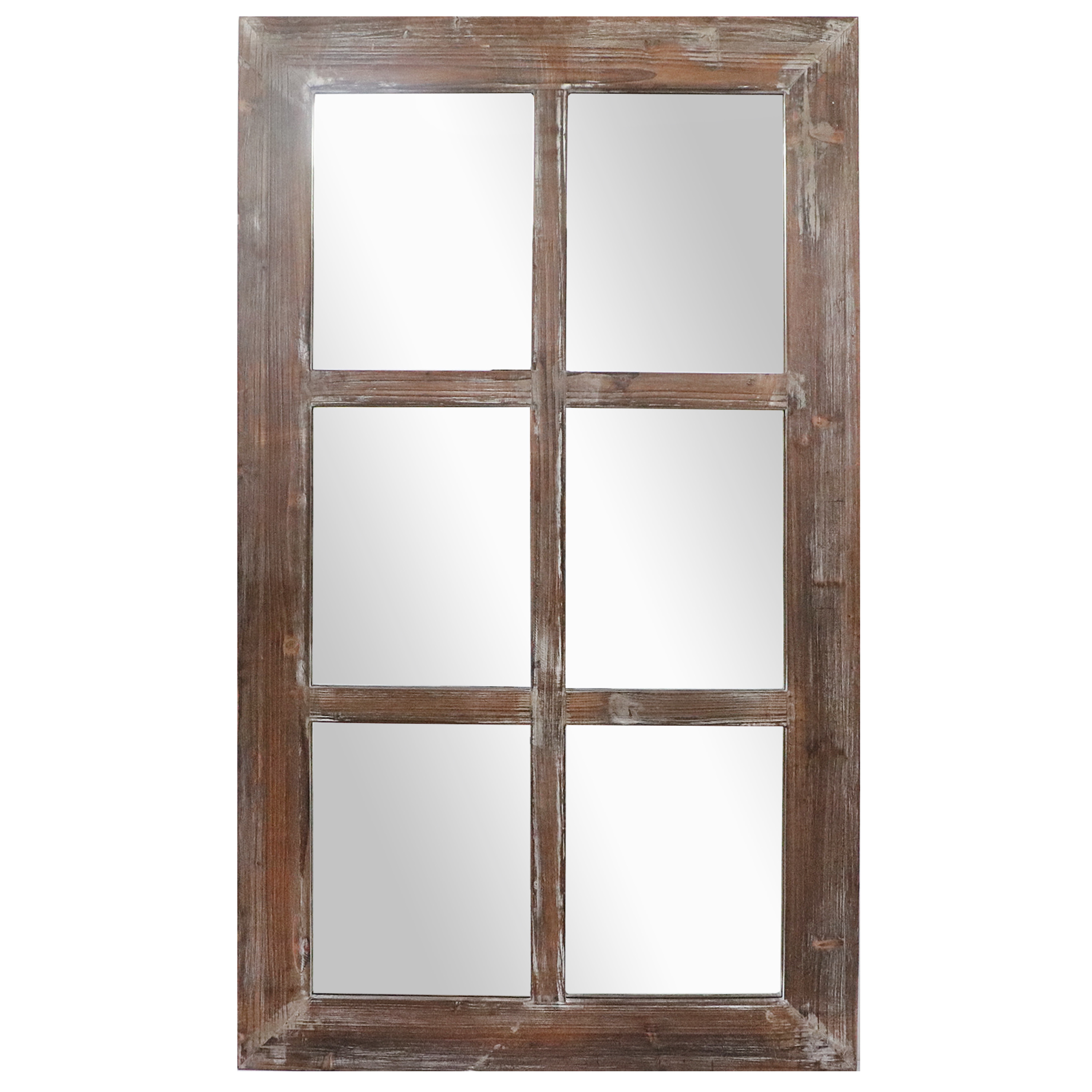 This decorative window frame wall mirror is reminiscent of a classic windowpane silhouette.  This wooden window frame mirror would be perfect to decorate your home with other farmhouse, country decor.
It would make a stunning wall decor for your living room, dining room, kitchen, hallway or entryway. This eye-catching statement piece will create an illusion of space and be the focal point of any room.
This rustic window frame mirror is constructed from natural wood and has six (6) grids.  Easy to hang, this window frame mirror comes with pre-installed hooks.
This framed mirror measures 40″ x 24″ x 0.75″. Crafted from wood, it's unfinished for a charming rustic look.
The large size of this framed window mirror is what gives it character and will make an elegant wall accent for any room in your home.
Where To Buy:  Walmart
Ivory Window Frame Beveled Mirror, 33×52 in.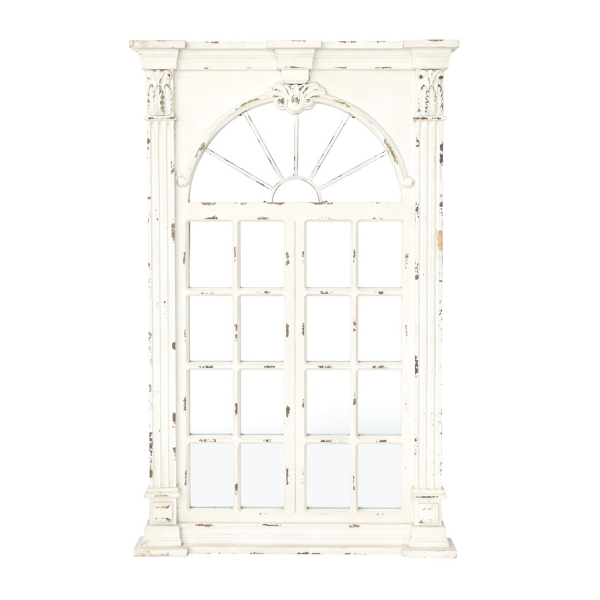 Add an inspiring piece to your charming farmhouse decor with this Ivory Window Frame Beveled mirror.  The arched crown and distressed ivory finish make for the perfect accent for any wall in your home.
This window frame mirror is made from a combination of wood and glass and features an arched windowpane style in an ivory distressed finish.
The glass also has a unique beveled edge to it.  The overall dimensions of this mirror are 33L x 3W x 52H in.
Sliding Barn Door Mirror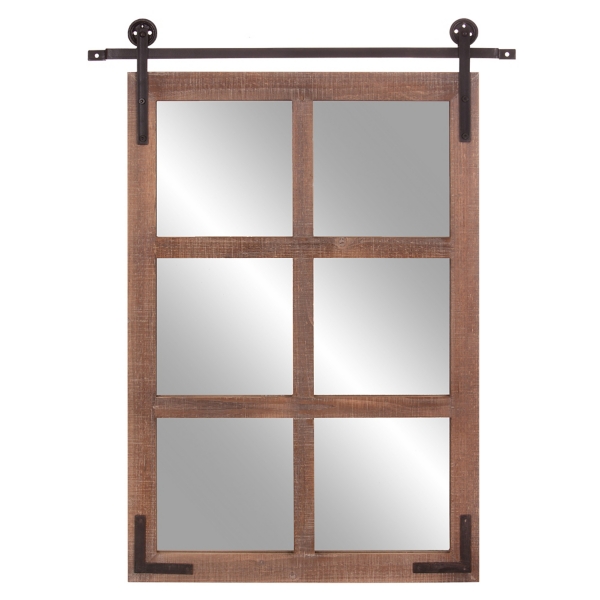 This rustic sliding barn door mirror is crafted of wood and metal in distressed brown finish.  This farmhouse style mirror features a sliding barn door design with windowpane accents.
It includes two (2) industrial strength hangers on the back.  The overall dimensions of this wall mirror are 29.75L x1.25W x 36.5H in.
Cathedral Style Wall Mirrors
Cathedral style wall mirrors are another type of wall mirror that would fit right into a farmhouse setting.  These accent wall mirrors have a distressed finish and are reminiscent of cathedral style window in a church.
Large Distressed Silver Wood Arch Wall Mirror 36 in Cathedral Antique Style

This large distressed cathedral style wall mirror is meticulously hand crafted with a distressed silver finish making it a perfect accent piece for your wall.
This stunning wooden antique style wall mirror is expertly hand crafted and hand finished.   It measures 36″H; 23.5″L x 1″ deep.
It is easy to hang securely on the wall with an attached heavy wire.  It will most certainly stand out and make a statement in your home.
Where To Buy:  Houzz
Farmhouse Arched Frames with Mirror set of two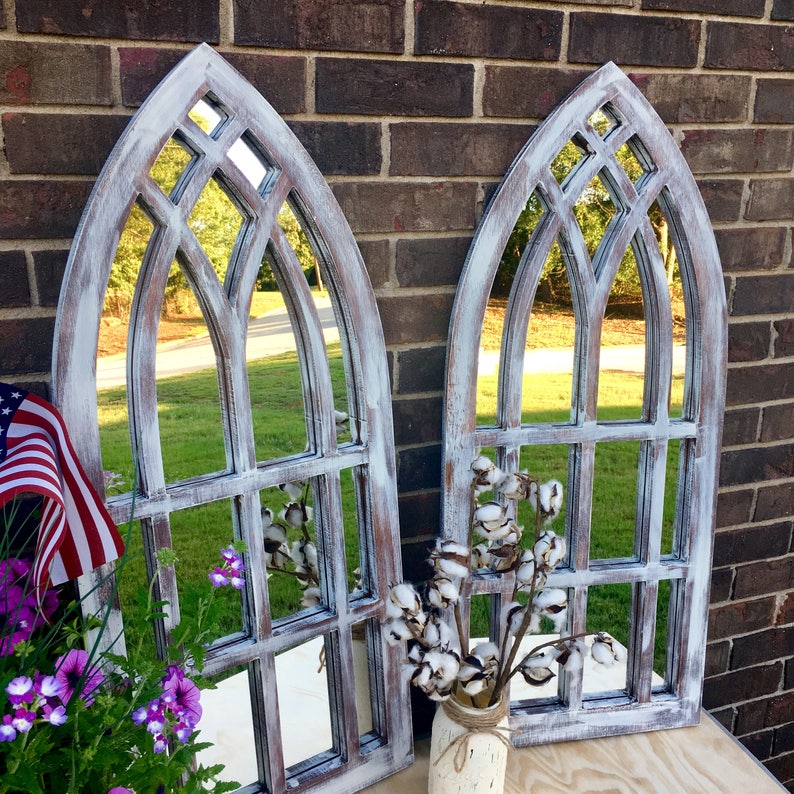 This set of two arched farmhouse framed mirrors are made from hefty 3/4 inch AC pine plywood. The thicker plywood provides sturdiness so it will not be flimsy.
The plywood we use has a thick outside ply of nearly 1/8 inch, much thicker than the veneers on other plywood's. We will stain or either distress with chalk paint to provide a shabby chic look.
The mirror is 1/8″ thick glass.  The dimensions are 16″ wide x 36″ tall (nominal) x total of 7/8″ thick.
Where To Buy:  Etsy
40.16″H Gothic styled Window Frame Wall Mirror Decor, Natural
This Gothic style cathedral wall mirror is inspired by the old churches, resulting in a wall accent that brings a sense of comfort and light to your room. The mirror has a wood frame and slats with a distressed finish in gray and natural wood.  The mirror is fashioned in the arched style of a cathedral windowpane.
This mirror features a fir wood frame with a glass mirror.  A metal hoist hanger is attached on the back of the mirror for easy wall display in any area of your home.
This mirror with it eye-catching design and vintage farmhouse style would be the perfect accent piece for any room where you want to open up your space and reflect light in the room.
Perfect accent piece to add to a foyer, entryway, bedroom, living room, bathroom and more.
Where To Buy:  Houzz