Galvanized 3-tiered serving stands in a farmhouse style are the perfect accent piece for a farmhouse kitchen and can be used for many purposes.
They are great for displaying on your kitchen counter, on a coffee table in your living room or on a sideboard in your dining room as part of your farmhouse decor.
They are perfect for serving appetizers, cupcakes, fruits, and more when family and friends come to call.

Galvanized 3-tiered serving stands are also a favorite for storing items that you use everyday, or for storing fruit or other food items.
These metal tiered serving stands are very sturdy in construction and would also be great for displaying your favorite trinkets.
These stands are also a VERY POPULAR choice for use on a coffee serving station.  Perfect for storing items like cream & sugar containers, salt & pepper shakers, a coffee canister and more.
The best part about these 3-tiered stands is that you can decorate them according to the season, i.e., Thanksgiving, Christmas, Easter, spring, fall and the winter season.
Some of these stands are designed for serving food while others are for decorative purposes only.
Here is a selection of galvanized 3-tiered serving stands that would look great in a farmhouse style setting.
Balsa Circle 17″ Round Metal 3 – Tier Wedding Cupcake Stand , Silver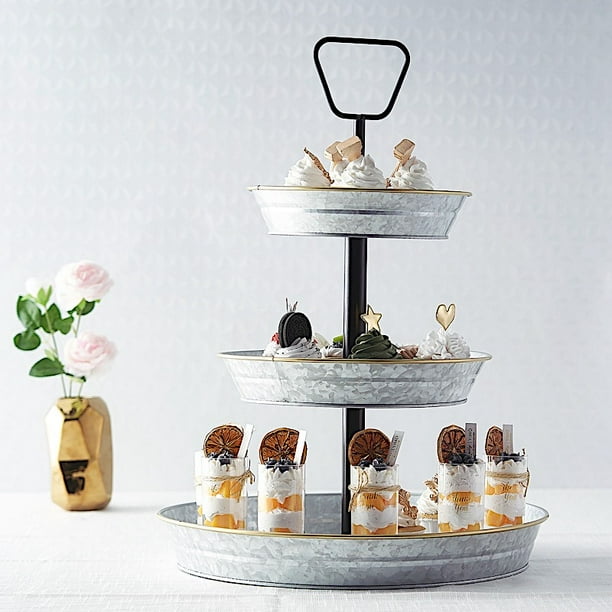 This 3-tiered galvanized metal serving tray will come in handy for serving appetizers, desserts, favors and sweet treats for special occasions including birthday parties, weddings, family get-together and more.
The handle on top makes it easy to transport from place to place if you were planning to use it to serve appetizers to guests.  With three serving trays, there is plenty of space to hold multiple goodies. 

This versatile tray could also be decorated with candles, a floral arrangement and miniature plants to create a rustic farmhouse style for your home.

This 20″ galvanized metal cupcake stand will most certainly elevate the look of your party setting.
Where To Buy:  Walmart
Woven Paths 3 Tier Galvanized Iron Tray with Handle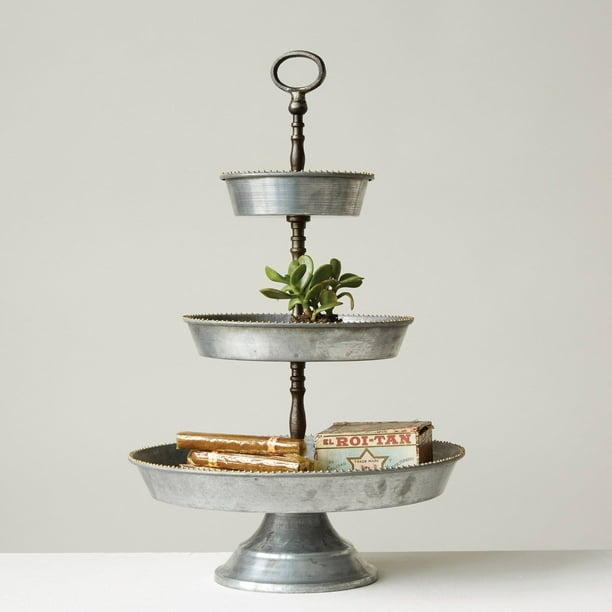 This decorative 3-tiered tray is made from galvanized iron with a handle on top.  This tray comes in three sizes 13.75 inches, 9.5 inches, and 6.25 inches.
Perfect for displaying a variety of items for an attractive display.  The accessible handle on top makes it easy for transporting from place to place.
This tray is for decorative use only; not food safe.
Where To Buy:  Walmart
Member's Mark 3-Tier Galvanized Stand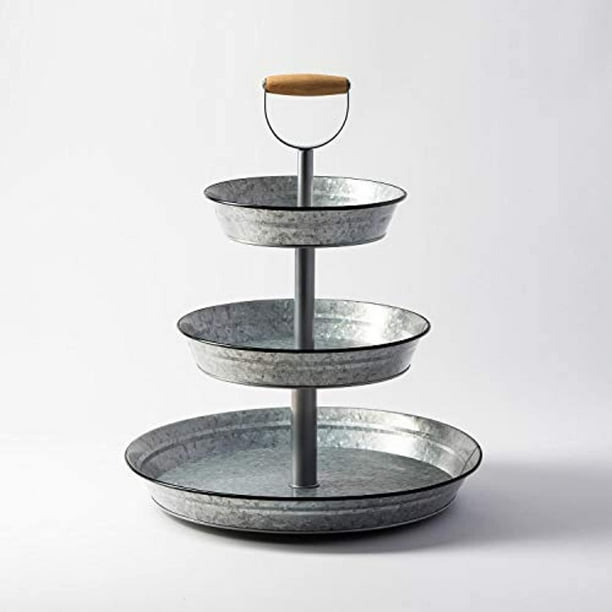 The 3-tier round metal stand is made of galvanized steel with a wooden handle. This tray features three tiers for small, medium, and large items.
This tall, rustic serving tray is designed for food display, appetizers, coffee, kitchen and dining room decor.  Perfect addition to use for parties, holidays and more.
The wooden handle makes it easy to move this tray from place to place.  This 3-tiered serving tray is very sturdy in construction and rust resistant.
This galvanized tiered tray would look great in a farmhouse themed kitchen.

Here is another farmhouse 3-tiered tray that would be the perfect accent piece for a country setting.
Decmode Farmhouse 24 x 15 inch Three-Tiered Galvanized Metal Tray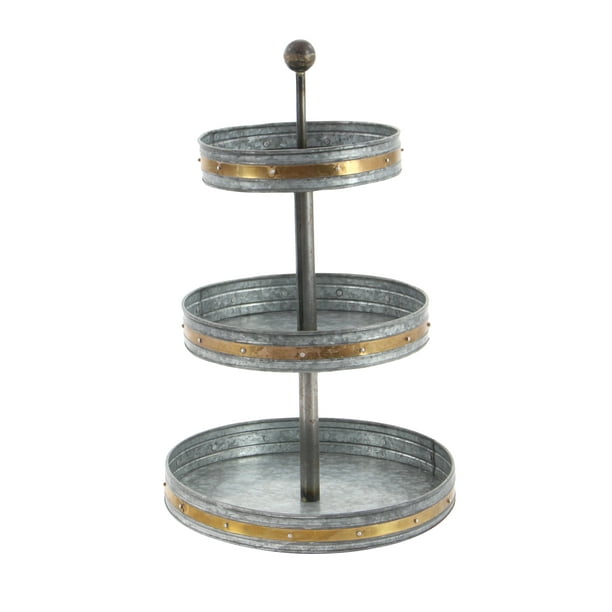 This textural galvanized metal, 3 tier tray stand features large round serving trays stacked beneath a large ball finial handle and held in place by an iron baluster column in the center.
A dimensional galvanized finish adds metallic depth while the metallic brass strip trim around each round tray completes a solid farmhouse look for this tray stand.
The large ball finial handle makes it easy to transport.
The neutral tones of this serving tray are versatile and will work with your other farmhouse decor.
Where To Buy:  Walmart
3 Tier Serving Tray Vintage Galvanized Metal Stand Kitchen Tiered Home Farmhouse Style Decor Rustic Country Cupcake Stand Bar Accessories for Indoor Outdoor Use (Silver)
This 3-tiered serving tray is made from galvanized metal with welded rivets and seams, and stabilizing disks between tiered trays.   The galvanized metal is what protects it from rusting.  This serving tray can be used indoor or outdoors.
This serving stand and is very durable and sturdy which makes it ideal for family gatherings inside or out.  Also easy to assemble.
Where To Buy:  Amazon
Mind Reader Round, Dessert Handle, Rustic Design Appetizer Serving Tray Tower, Tiered Cupcake Stand, 3, Silver
Use this elegant galvanized steel multi-level riser to beautifully display desserts, hors d'oeuvres, fruit arrangements, and more when you entertain friends and family over the holidays and other special occasions.

The sturdy steel handle allows you to transport your food creations or any other items with ease.  The durable steel construction can handle up to 11.7 lbs., so you can easily stack your favorite fruits or desserts.

Each spacious tray offers ample room to place and position your cupcakes, petit fours, brownies, fruit arrangements, and other goodies in a decorative fashion. 
Where To Buy:  Amazon
DecMode 13″W, 22″H Solid Iron Kitchen Décor, Grey, 1-Piece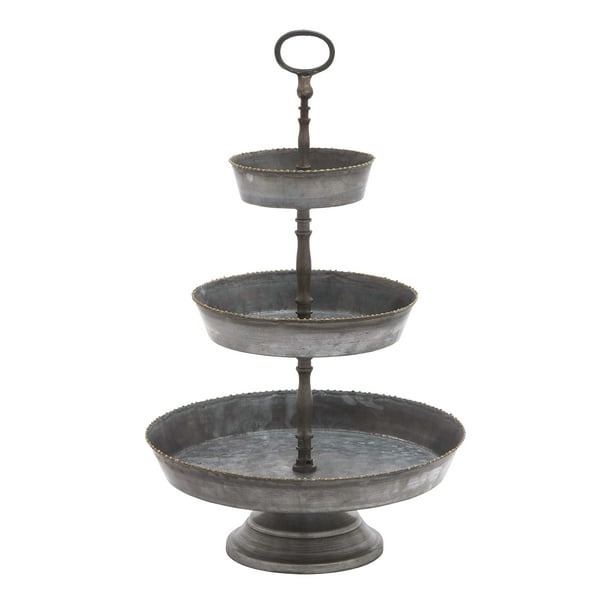 Designed with a farmhouse style in mind, this 3-tiered metal serving stand is a great decorative piece for coffee and side tables, the dining area, and the kitchen.

This farmhouse tiered metal basket stand features a galvanized gray exterior design with 3 layers of metal tray baskets in small, medium, and large. 
The stacked metal trays are made from solid iron with iron frame and handle.  Perfect for displaying fruit, napkins, bread and more.  Also great for showcasing your favorite things.

The decorative serving tray stand measures 13″L x 13″W x 22″H.  
Where To Buy:  Walmart
This next galvanized tray has 3 tiers and would be perfect for serving goodies when you have guests over.
3 Tier Serving Tray – Galvanized, Rustic Metal Stand. Dessert, Cupcake, Fruit & Party Three Tiered Platter. Country Farmhouse Vintage Decor for The Kitchen, Home, Farm & Outdoor by Hallops
This 3-tiered farmhouse serving stand is crafted from premium galvanized metal with a premium coating for a rust-free shine.  Each tiered tray ranges 8″-12″ in diameter for small to large spaces. 
This versatile serving tray is perfect for using to host family gatherings and parties for serving food.  Can be used inside or out.
The overall dimensions of this tray are 13.5 x 13.31 x 3.9 inches.
Where To Buy:  Amazon
Here is another 3-tiered serving tray that is quite interesting with the little bird on top.
DecMode 16″W, 29″H Metal Farmhouse Tiered Server, Silver, 1 – Piece

This metal 3-tiered server is designed in a farmhouse style which gives it a country look and feel.  It is made of a solid iron material which makes it durable and sturdy.

This 3 tier server features a silver base with distressed dark brown frame.  It would be great for storing small decorative goods, trinkets or even jewelry in your dining room, living room or bedroom.
Let this tiered server provide a sense of style and function to your home by displaying fruit, napkins, bread, or even keeping clutter under control. 
The galvanized finish prevents it from rusting.  Suitable for indoor use only.
This decorative server measures 16″L x 16″W x 25″H and weighs 5 lbs.

Where To Buy:  Walmart