Are you looking for a decorative farmhouse style accent cabinet for your home?  Would you like a cabinet that could be used for storing items but also serve as an accent piece for any room?  If so, then you have arrived on the right page.
The farmhouse style accent cabinets that are featured on this page offer plenty of storage and organization options with drawers and shelves for storing items that you want to keep tucked away but handy when you need them.
These farmhouse style accent cabinets are versatile in nature in that you can use them for storage but they also serve as a decorative piece of furniture for any room in your home.  These cabinets are also great for displaying items on top.  Some customers have even turned some of these farmhouse style accent cabinets into a bathroom vanity.  How creative!
On this page, you will find a selection of decorative farmhouse style accent cabinets offering storage solutions for every room in your home.
The first farmhouse style storage cabinet features a sliding barn door with drawers and a hidden shelf.
Cape Charles Barn Door Wood Storage Cabinet – White
This decorative barn door storage cabinet could be used for storage in a kitchen, a dining area or media room.  It is made from reclaimed pine in a vintage white finish with a contrasting barn wood top.
Three generously sized drawers with an adjustable shelf that is hidden behind a sliding barn door, offers plenty of storage space no matter which room you decide to display it in.
This attractive cabinet blends rustic and natural style while lending a unique feel to your home.  All reclaimed wood contains natural distressing and marks that add to the character of the piece.
This farmhouse wood storage cabinet measures 32″L x 17″W x 34″H.
Miller Windowpane Cabinet with Antique Hardware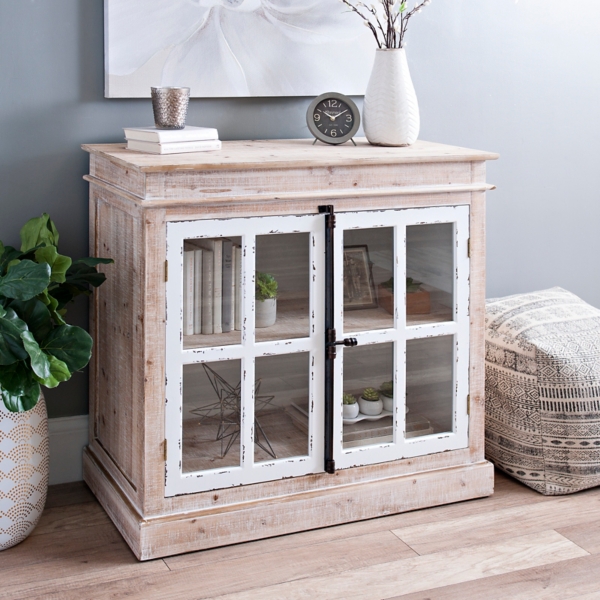 This vintage style farmhouse cabinet in a distressed finish features two hinged windowpane doors and one interior shelf for storage.  This decorative cabinet also features antique bronze hardware which gives it that vintage look.
Crafted from a combination of wood, glass and metal, this cabinet measures 41″ in length x 18″ wide, x 37″ high.
The Miller Windowpane cabinet in a heavily distressed finish will add farmhouse flair to your home decor and offer you simple storage solutions.
Alaterre Country Cottage Accent Cabinet, Blue Antique Finish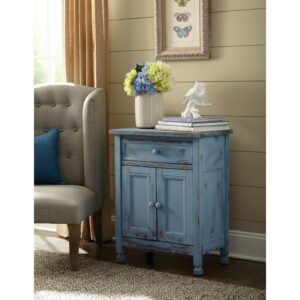 This Farmhouse style accent cabinet in a blue antique finish will be a charming addition to your home's decor.  This cabinet features detailed dental work, square, turned legs in a reclaimed wood construction.
This cabinet table in a distressed finish offers helpful storage with its drawer and double door storage space. The overall dimensions of this cottage style cabinet are 24.00 x 13.00 x 30.00 inches (L x W x H).  This cabinet would be perfect in a living room or bedroom setting as an end table.
Where To Buy:  Walmart
Another farmhouse accent cabinet that you may want to consider getting for your home is this 3 Door Accent cabinet.  I think this one would be nice for storing dishware.
Hardrick 3 Door Accent Cabinet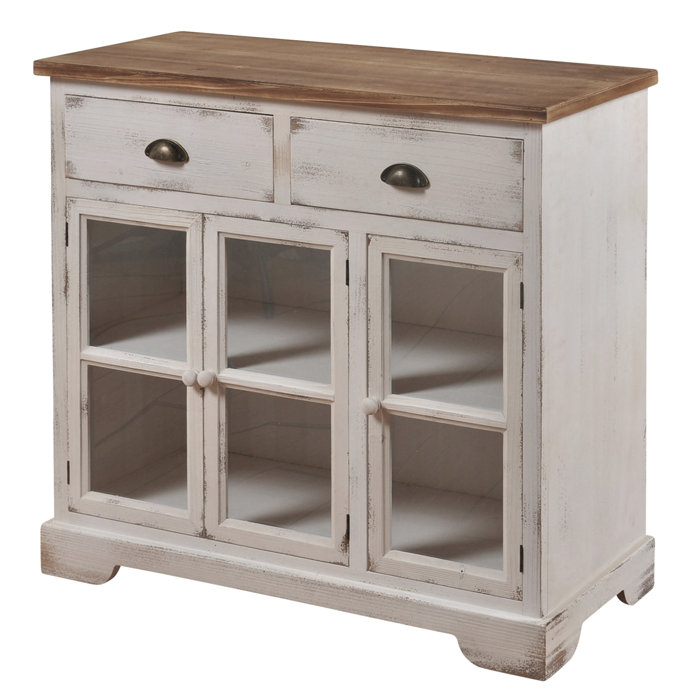 This decorative 3 door accent cabinet would be the perfect choice as a storage solution as well as a decorative piece of furniture for your home decor.  It is constructed from solid wood and features a contrasting brown top paired with a rustic, distressed white base for cottage appeal.
Two drawers with metal cup pulls and three glass cabinet doors reveal an interior shelf that would be ideal for stashing items that you need on hand but want out of sight.
Where to Buy:  Wayfair
Another accent cabinet in a farmhouse style is this Westhoff 1 Door Accent cabinet.
Westhoff 1 Door Accent Cabinet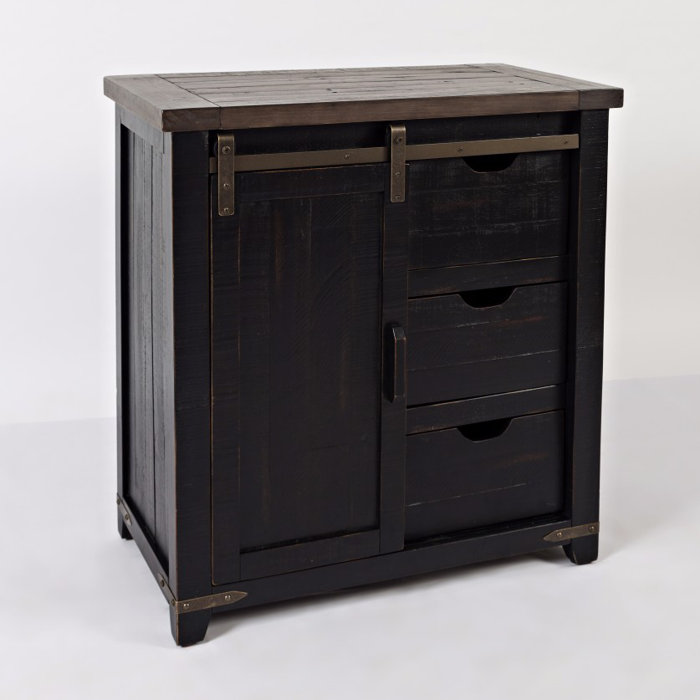 This Farmhouse accent cabinet is crafted from solid wood and features a gliding barn door with three drawers and two interior shelves that are adjustable.  The metal accents and the reclaimed pine gives this piece of furniture its farmhouse charm.  This beautiful accent cabinet offers plenty of storage space options for any room in your home.
This 3 Drawer Accent Cabinet will not only provide you with a storage solution but brings a unique and exceptional feel to your home.
Where To Buy:  Wayfair
Magnus 3 Drawer Accent Cabinet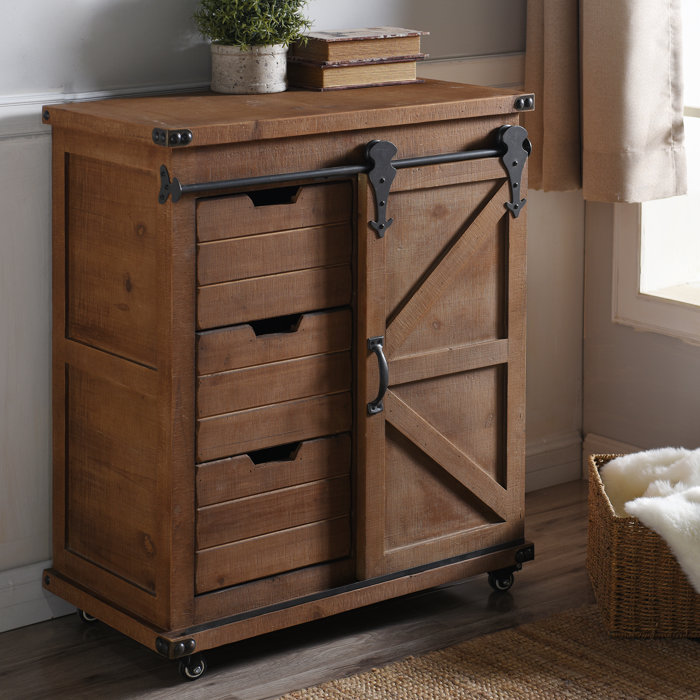 This farmhouse style accent cabinet will lend your living space a bit of country-chic charm with this charming cabinet!  Crafted from solid wood, this barn-style design stands atop four non-locking caster wheels and uses distressed planked details and metal accents to draw the eye.
Three slide-out drawers offer plenty of space for you to stash your small-scale must-haves that you want to have hand.  A sliding cabinet barn door reveals even more room to hold items to keep your room clutter free.
The overall dimensions of this 3 drawer accent cabinet are 32.5" H x 26.5" W x 14.5" D.
WAMPAT Farmhouse Sliding Barn Door Accent Cabinet, Buffet Cabinet Storage Table for Bathroom and home kitchen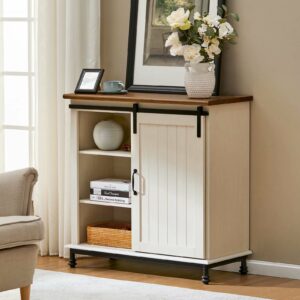 This Farmhouse Sliding Barn Door Accent cabinet with adjustable shelves could be placed in your bathroom, laundry room, pantry, living room, corridor or any other space in your home where you require a storage solution.
The rustic wood white-washed finish and sliding barn door adds a touch of farmhouse flair to your home decor, adding a touch of unadorned elegance to your space.
The 2-tier storage shelves inside offers you ample storage space and these shelves can be adjusted to meet your storage height requirements.  Iron feet are easy to install, firm and reliable.
Th dimensions of this farmhouse accent cabinet are 35L*15.7W*35H."
Where To Buy:  Walmart
Kayla 2 Door Accent Cabinet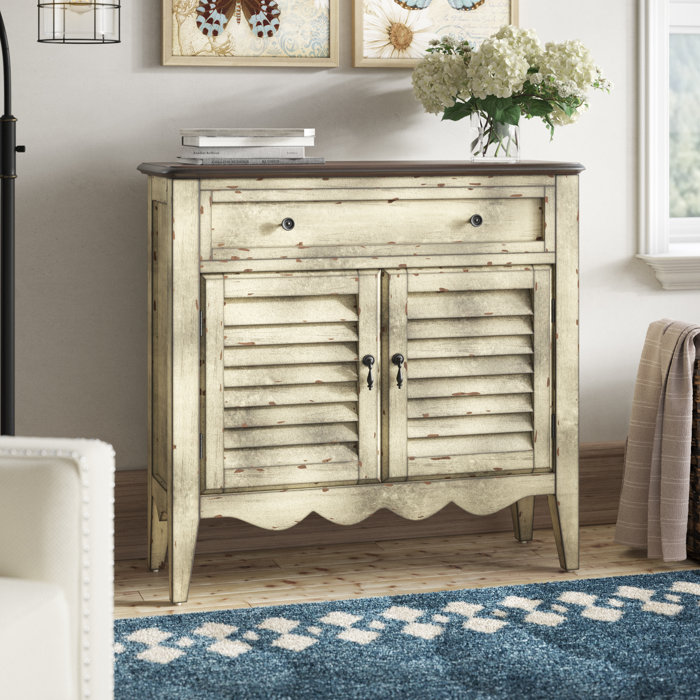 This gorgeous 2 door accent cabinet will add a vintage touch to your living space. This accent cabinet showcases a charming profile, with its decorative apron and louver design cabinet fronts.  The finish on this cabinet has been distressed to give it a worn look.
Two shelves and a drawer above offer ample room for storage and organization. This vintage inspired cabinet has been finished in antique brown.  It would be perfect to place in a bedroom, bathroom or anywhere else where storage is required in your home.
Where To Buy:  Wayfair
Brown Cabinet With 2 Shutter Style Doors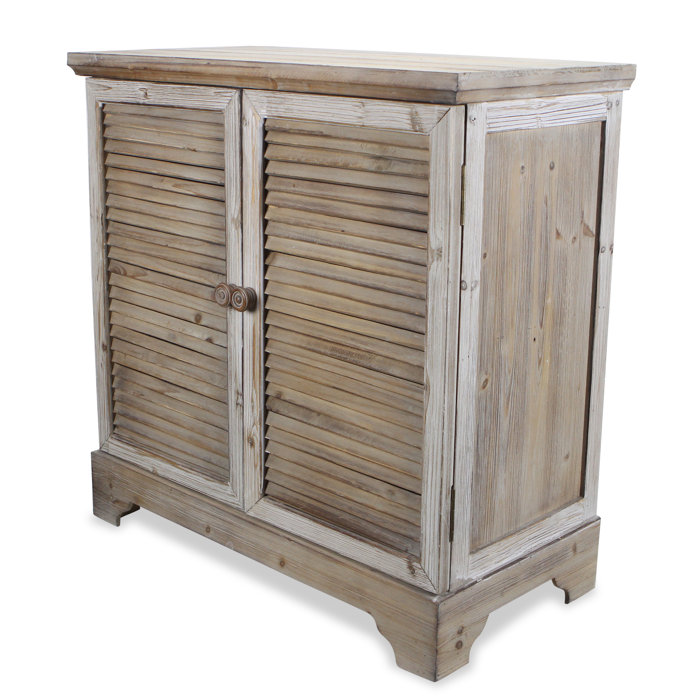 This rustic, gray wash wooden cabinet features 2 shutter style cabinet doors and a versatile storage compartment making this piece perfect for a range of themes.  This farmhouse style cabinet has one interior shelf and measures W 15.75″ / D 31.5″ / H 31.5."
It is both rustic and beautiful in appearance and would fit into any farmhouse setting.
Where To Buy:  Houzz
Talbet 3 Drawer Accent Chest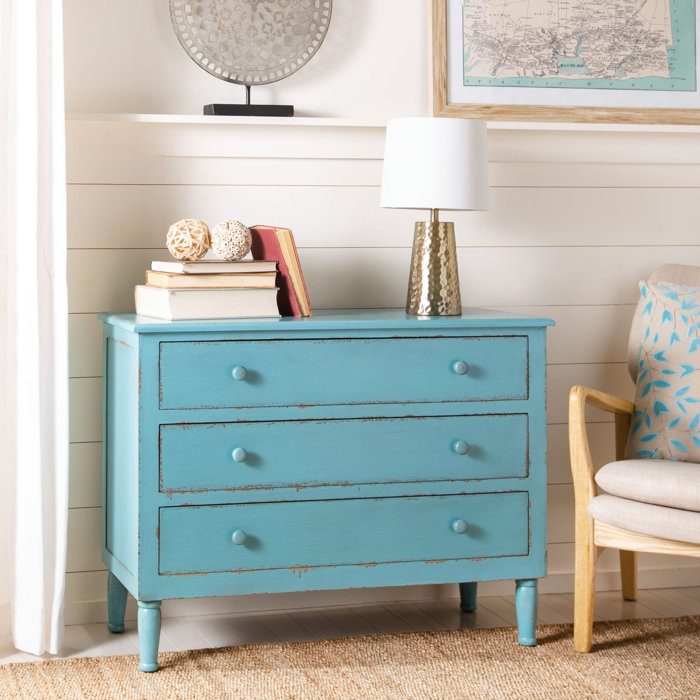 This 3 drawer accent chest in a distressed blue color is sure to punctuate any room that you place this cabinet in.  With all the charm of a vintage country piece, the Talbot three-drawer chest is artfully crafted of fir wood with a blue finish.
Great for storage in the living room or bedroom, this chest has the makings of a family heirloom.
Where To Buy:  Wayfair
Vonda 2 Door Accent Cabinet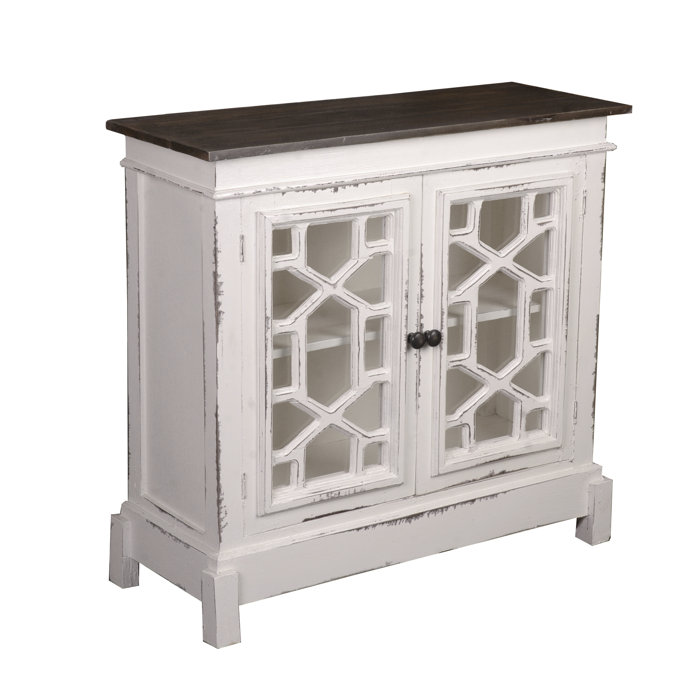 This gorgeous 2 door accent cabinet features glass panel doors with a contemporary matrix face that opens to reveal two levels of storage space.  This gorgeous accent cabinet is sure to add eye appeal to a bathroom, hall, entryway or anywhere else you decide to place it where you have items to store.
This cabinet is made from mahogany and is equipped with one stationary shelf.  It also features elegant curved wooden designs that traverse the glass doors.  It is finished in a distressed white wash finish.
Where To Buy:  Wayfair
Manos 4 Drawer Accent Chest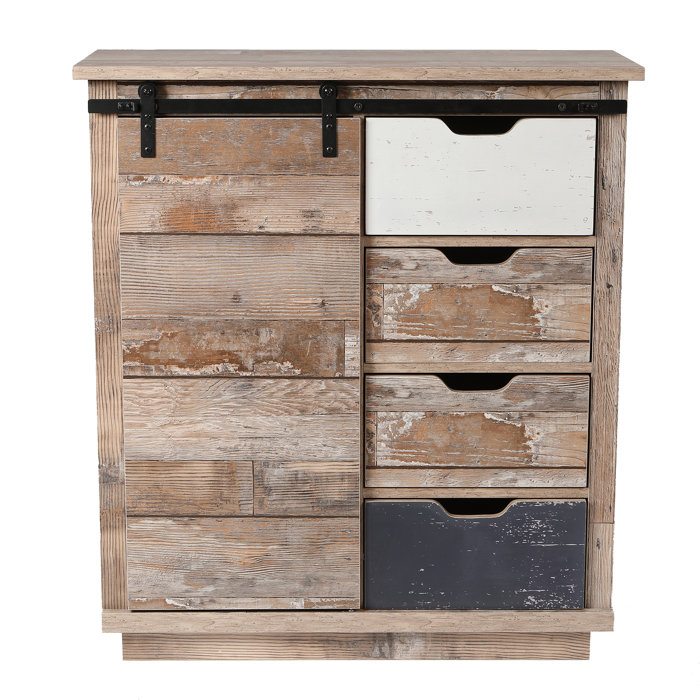 This charming 4 drawer accent chest offers storage, enhanced by the weathered wood that gives it an authentically rustic look. The face of the sliding door has a distressed wood finish in a plank style.
This farmhouse accent chest has four (4) drawers and three (3) interior shelves offering plenty of space to organize and store items in your home.
Iron hardware accents the natural and rustic feel of the furniture. This cabinet could be placed in your living room, dining room, or any other room in need of storage space that will add charming character to your room.
The overall dimensions of this accent cabinet are 34.8" H x 31.5" W x 13.4" D.
Farmhouse Storage Accent Cabinet with Drawer and Metal Insert Door, Large, Brown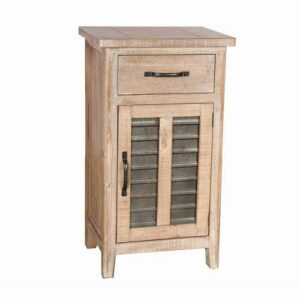 This single drawer accent storage cabinet will bring farmhouse appeal to your living space.  It is sturdily constructed from a combination of fir wood and MDF in the hue of natural brown.
It is incorporated with a metal inserted door complemented with a smooth gliding drawer. The natural grain details with distressed mark a striking appearance, while the chamfered legs round off the overall design, offering stability to the cabinet.
Where To Buy:  Walmart