Have you begun your search for some scary front porch Halloween decorating ideas that the kids will LOVE?  Decorating your front porch for Halloween can be LOTS of FUN if you decorate with scary decorations that will leave a lasting impression on your trick-or-treaters.
You know, the kind of decorations that might make kids think twice about approaching your house for candy.
Full size skeletons are a good choice for decorating a front porch with.  They will definitely make your porch more scary as well as decorations like cob webs, spiders and more.
Take for example, this house below has been decorated for Halloween with hanging ghosts that float in the breeze, some ghoulish looking pumpkins and a string of lights wrapped around a heavy rope.
As dusk approaches, all of these Halloween decorations come alive to create some spooky effects for this front porch.
To make your porch look extra scary for this Halloween season, here are some unique front porch Halloween decorating ideas that will make your house the most interesting and scariest of all.
Some of these Halloween decorations could be hung by a hook on your porch so they would flap in the breeze creating an eerie display.  They could also be displayed on a bench or chair to welcome trick-or-treaters to your home.
This first Halloween decoration features a set of two cat pumpkin holders with green LED eyes that glow in the dark.
Halloween Cat Pumpkin Holders with Green LED Eyes, Set of 2 – Cat
Turn your plain pumpkins into scary creatures with these Halloween Cat Pumpkin holders.  Green LED eyes add a great look to this seasonal display without the mess of carving.
These metal cat pumpkin holders feature push-in tails and heads with glowing green LED eyes for a spooky display; button batteries included.
Where To Buy:  Plow & Hearth
This Halloween glowing luminary globe will light up your porch with a scary scene for trick-or-treaters.
Halloween Glowing Luminary Globe
Shop On Plow & Hearth
This magical and mystical luminary ball with a detailed Halloween scene features a witch in flight, bats, a graveyard, a haunted mansion and more.
One or more of these globes could be used to line stairs, a path or a walkway.  Auto-timer turns it on to glow for 6 hours, off for 18.  Perfect to light the way for your trick-or-treaters.
To create a scary scene for your front porch, life-size skeletons are always an good choice.  At night, they will create an eerie scene for your trick-or-treaters.  They might even scare them away. 🙂
This front porch has been decorated with life-size skeletons that have been decked out with chains and a black witches hat.
Other Halloween decorations include black cob webs draped across the front window and a large HAIRY spider attached to the pillar of the porch.
Now here is a life size realistic full body Halloween skeleton that will make the kids think twice about coming up to your porch for candy!
Costway 5.4ft Halloween Skeleton Life Size Realistic Full Body Hanging w/ Movable Joints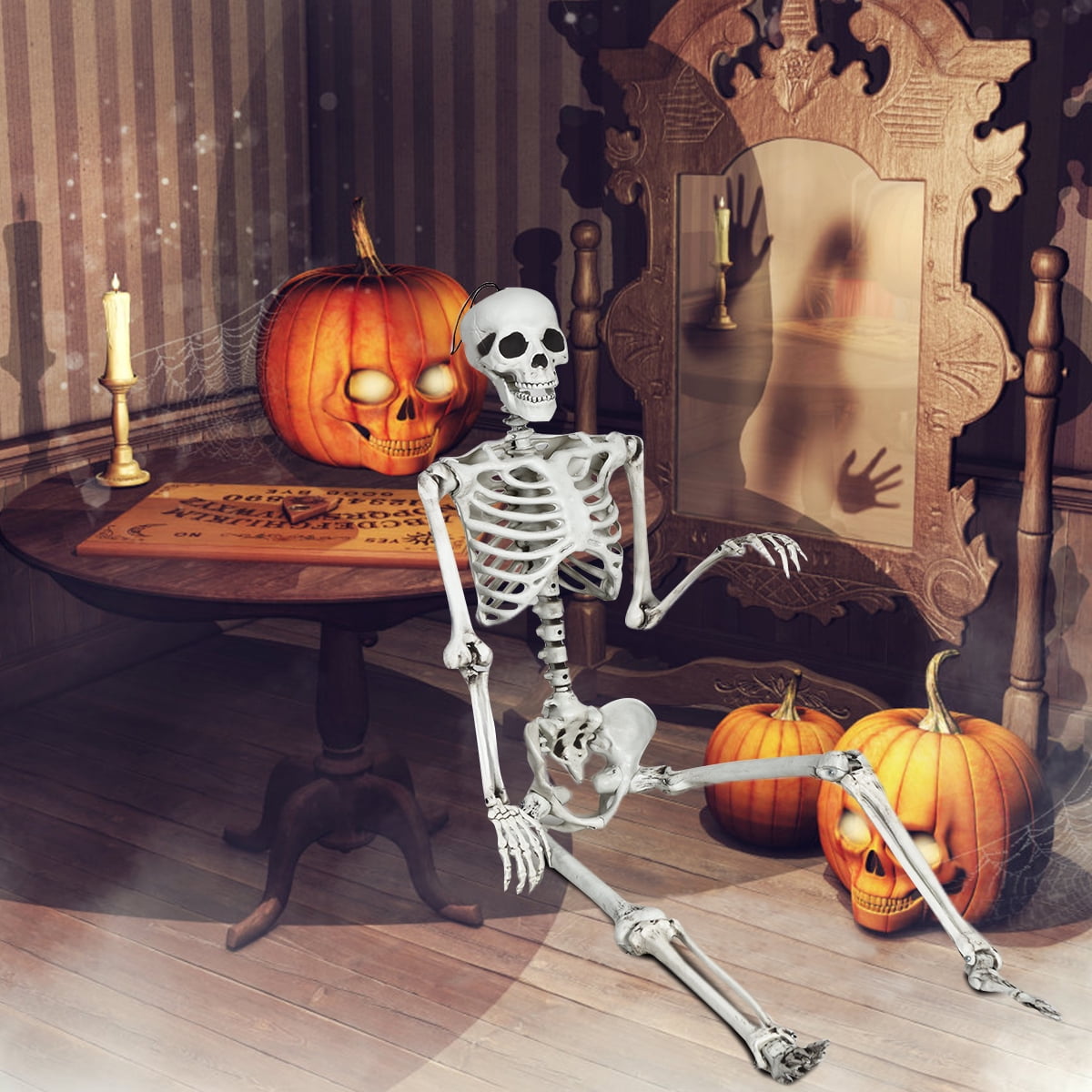 Shop On Walmart
This amazing Halloween skeleton is sure to be the talk of the street.  Measuring 63″ high, this full size skeleton will be the first thing your trick-or-treaters see when they approach your porch.  It is lightweight and is easy to move.
There is a rope at the top of the skull to hang this full-size skeleton on your porch or ceiling to create a scary display for Halloween.
The chin, shoulder, elbow, wrist, thigh, knee and ankle of the skeleton can be adjusted.  The flexible design allows you to change its posture according to how you would like to display this skeleton on your porch for Halloween.
Made of several PP bones and connected with screws, this festival skeleton is durable for long time use.
Decorate your front door for Halloween with this ghoulish skeleton wreath.
Skeleton 24″ Wreath
This skeleton wreath is all dressed up for Halloween with top hat-wearing skull dressed with patterned necktie ribbons. Bone arms and hands embrace tangle of black branches trimmed with black leaves and orange berries.
Perfect for indoor or outdoor covered display.
Where To Buy:  Wayfair
This scary pair of hanging Halloween skeletons are bound to scare a few trick-or-treaters while the night is still young.
Hanging Halloween Skeletons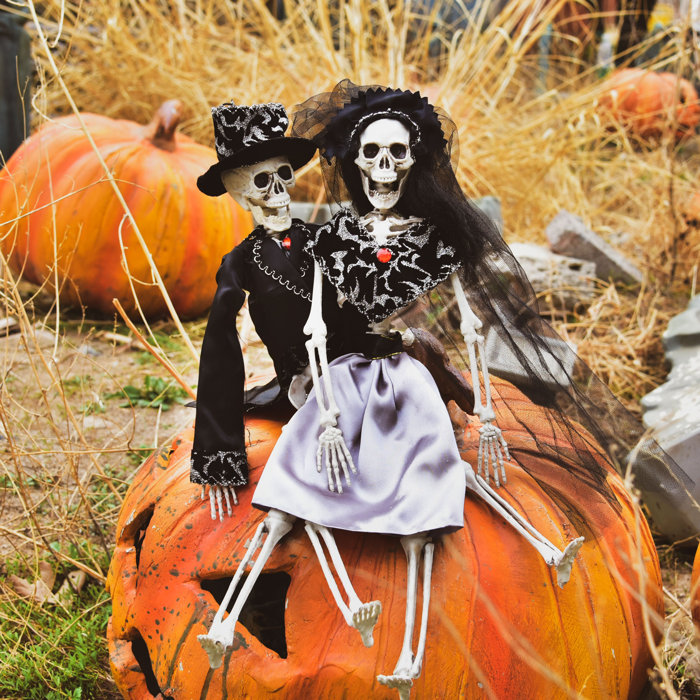 Shop On Wayfair
This Halloween Bride & Groom Skeleton are bound to elicit fright and delight to your front porch.  Hang these Halloween skeletons on your porch or set them on a bench for spooky effects.
These freaky friends will light up the night and appear like they are floating in the night.  The overall dimensions of this wedding couple are 1′ 4 1/8" H x 3 15/16" W x 2 3/8" D.
Here is another set of two hanging skeletons dressed as ghosts in creepy attire.
2pcs 50 Inch Hanging Skeleton Ghost Halloween Decorations for Door Porch Yard Tree Halloween Hanging Decorations Outdoor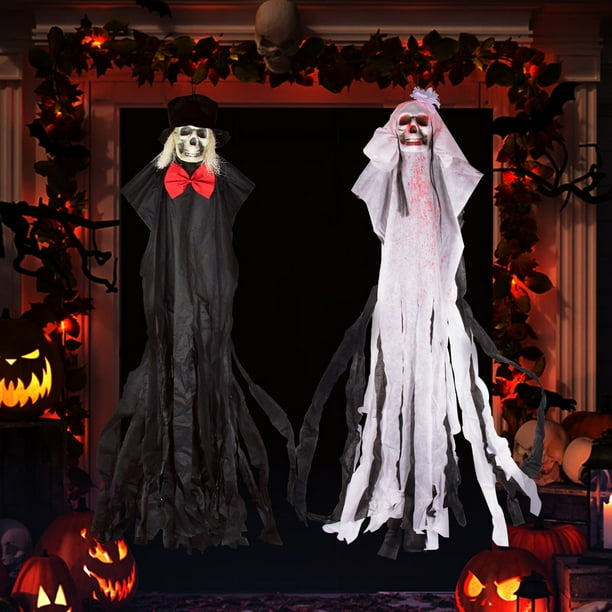 This set of two hanging Halloween skeleton ghosts would be perfect to hang on your front porch to greet trick-or-treaters to your home.
These grim reapers with their flowing robes, creepy skull heads and white hair and hands are sure to make your front porch look SCARY.
There are elastic ropes on the heads to hang these skeleton ghosts from.
Where To Buy:  Walmart
Looks like this witch is caught in a flower pot and can't get out!  YIKES!  Help!
Halloween Witch Leg Figurine (Set of 2)
Shop On Wayfair
Place these whimsical disembodied witch legs upside down in a planter or coming out from your home's foundation wall.  The possibilities are endless and you'll things of a clever new spot to showcase them every Halloween.
Perfect to display on your front porch.  Trick-or-treaters will be wondering how this witch ended up in the flower pot.
Hang this Witch's cat spell-casting sign on your front porch as part of your Halloween decor.
Witch's Cat Spell-Casting Sign
Charming companions for any witch's wall, our black cat and faux gem-embellished spider let trick-or-treaters know there's magic afoot!  This spooky sign measures 7" H x 7" W x 1" D.
Where To Buy:  Wayfair
This metal witch bobble statue is sure to stand out on your front porch with its unique design.
Gloria Vanderboo Metal Witch Bobble Statue
Shop On Design Toscano
The mysterious magic mistress is a yard-tall, hand-painted, hand-crafted metal sculpture that bewitchingly casts a sorceress spell over your home or garden decor.
She features glittery witch hat with a plumply pleasing pumpkin skirt that hides a spring so that she bobbles back and forth in a Halloween dance.
This willowy wizardess is a true statement piece and will welcome or scare children when they come to call.
Make your pumpkin come alive with these creepy pumpkin vine arms and legs.  Place your pumpkin on top of a hay stack or bench on your porch for a spooky display.
Pumpkin Vine Arms and Legs
These Pumpkin Vine Arms and Legs will bring an eerie touch to your Halloween decor!  2 Arms and 2 legs feature prods that easily stick into produce.
Bend at the knuckles, wrists and knees to give your pumpkin life and create different poses.  The metal prong ends  stick into pumpkin.  The top stem is NOT included.
Great for a tabletop or front porch, this unique decoration is sure to get a few scares from passerby s.  Use in a covered outdoor area for longest life.
Where To Buy:  Wayfair
Another Halloween decoration that would be scary looking for a front porch is Best Choice products 5 ft. standing witch with LED eyes.
Best Choice Products 5ft Standing Witch, Wicked Wanda Poseable Halloween Animatronic w/ Pre-Recorded Phrases, LED Eyes
Make your porch come alive with this 5 ft. standing witch.  Wicked Wanda stands on her own and has adjustable arms and a motorized head.  She responds to touch and sound around her with glowing LED eyes, creepy pre-recorded phrases, and movement.
Trick-or-treaters will be taken by surprise by her glowing LED eyes, creepy phrases and movement as they approach her.
Wrapped in a purple & black robe, complete with her broom, this wicked witch is sure to put the scare in your trick-or-treaters.

Where To Buy:  Walmart
Here is another creepy Halloween decoration that you could decorate your porch with.  This animated Halloween skull lights up and will make your porch more scary for visitors.
Animated Halloween Decorations (33in. Skull with Animated Eyes), Light Up Skull, Skulls Halloween Decor, Halloween Porch Decor, Scary Halloween Decorations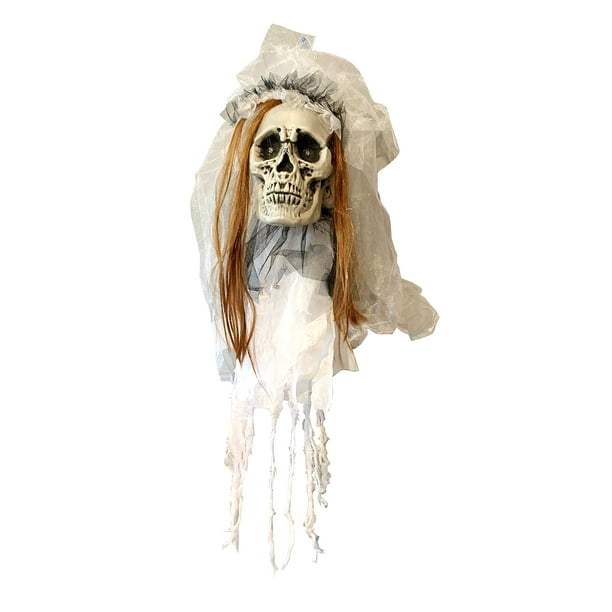 Shop On Walmart
Made from high quality materials, this scary bride skull head with animated eyes comes with an attached string for easy hanging on the ceiling of your front porch.
This skull will rotate and eyes will light This skull is sound activated and will rotate and the eyes will light up when it senses that something is near.  
This spooky skull head is sure to scare your guests and trick-or-treaters in an instant!
This animated scary talking clown is sure to give the kids a scare with its flashing red eyes and spooky attire.
Haunted Hill Farm 5-Ft. Animated Scary Talking Clown Prop w/ Flashing Red Eyes for Indoor or Outdoor Halloween Decoration, Battery-Operated, HHCLOWN-1FLA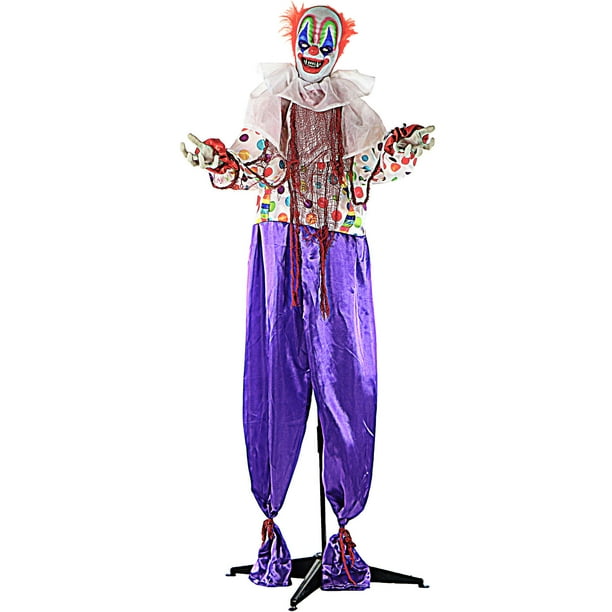 This Scary Talking Clown is another prop that you could decorate your porch with for Halloween.  With his gruesome face and vampire teeth, this creepy clown is dressed to haunt in his polka dot shirt, purple satin pants, and red cobweb shroud.
His flashing red eyes, rotating head, moving arms, and sinister voice will startle even your most stoic visitors as he lures them into his nightmare.
Perfect to display for your indoor or (covered) outdoor decor.
Where To Buy:  Walmart
You can't go wrong with a scary black spider as part of your Halloween decor for your porch.  This creepy guy is available in different sizes.
Halloween Decoration 2.5FT Giant Spider, Realistic Hairy Spider Haunted House Scary Party Props Outdoor Decor, Black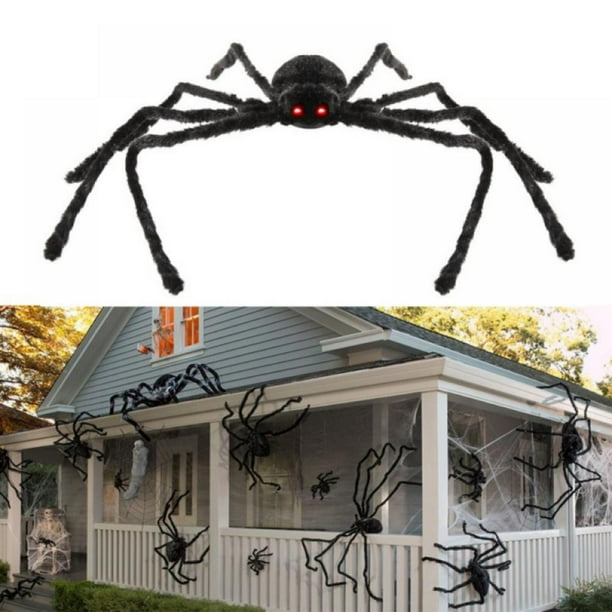 This 2.5ft Giant Black spider will make your Halloween theme extra scary for your porch area.  This hairy spider features long legs that can be stretched or bent to hold whatever position your want to display your spider in.
The vivid creepy design of this spider with its realistic black hair and red eyes will create a SCARY atmosphere for your front porch.
This creepy spider is available in different sizes.
Where To Buy:  Walmart
To sum it up,
I hope you enjoyed my article on scary front porch Halloween decorating ideas.
As you can seen there are lots of creepy Halloween decorations available to make your front porch look extra SCARY for this Halloween season.
If you want to create a scary atmosphere for your front porch, then decorations like spiders, cob webs, skeletons, witches and other props will work well to decorate your porch for Halloween and put the scare in young trick-or-treaters.
More Fall Decorating Ideas For The Front Porch
If you are looking for more ideas for decorating your front porch for fall, then check out this page 'Front Porch Fall Decorating Ideas for Autumn, for great ideas that incorporate lots of fall color ideas.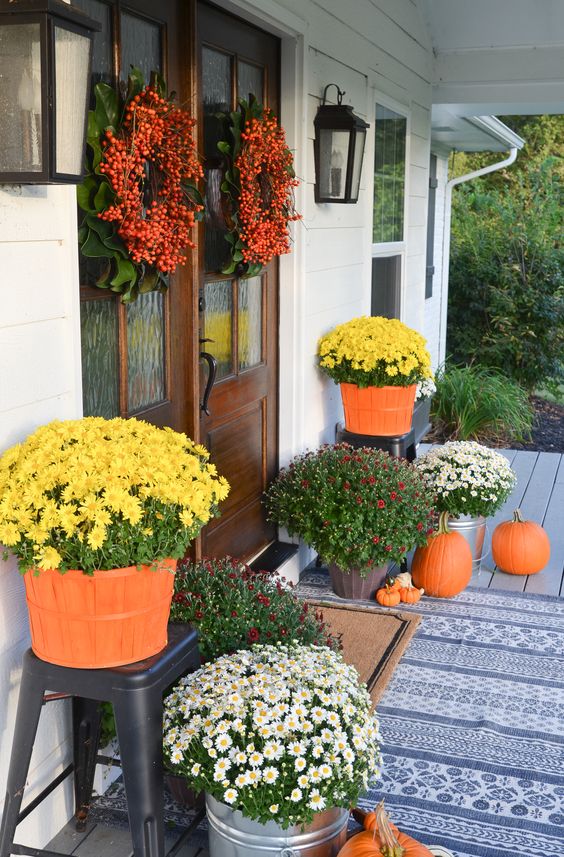 Front Porch Fall Decorating Ideas For Autumn