Are you looking for some creative farmhouse kitchen wall decor ideas that you could display in your farmhouse themed kitchen?  If you would like to add some country touches to your kitchen walls then you will LOVE a selection farmhouse decor that I found online.
Farmhouse kitchen signs for example, are VERY popular for decorating a kitchen wall with.  They come in a distressed finish to give them a vintage look, and they are either made out of wood or metal.  This adds to the character of these farmhouse signs.
Some of these signs depict farmhouse animals like cows, chickens or roosters as their theme.  Other styles of signs feature words like 'EAT' or 'Gather' that would be associated with activities or foods that you would find in a country kitchen.
There are of course, other country style accent pieces that you could hang on your kitchen wall to add some country flair to your kitchen.
In this article, I have written reviews on products that would be perfect to hang in a farmhouse kitchen.  These farmhouse kitchen wall decor ideas are inexpensive and will give your kitchen a country look and feel.
Here are some adorable farmhouse kitchen signs that would be great to hang on a wall in a farmhouse kitchen.
FARMHOUSE KITCHEN SIGNS | Farmhouse Decor | Cow | Pig | Rooster | Rustic Kitchen Decor | Farmhouse Animals | Kitchen Decor | French Country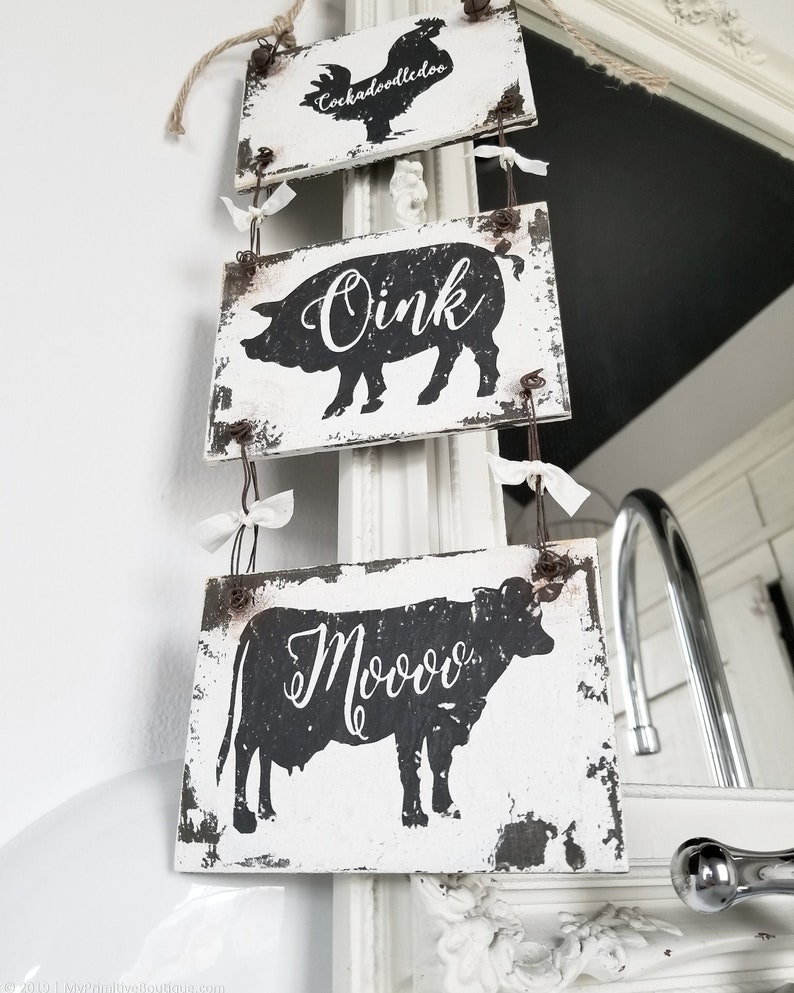 This set of (3) three farmhouse kitchen signs feature a cow, a pig and a rooster with the words Oink! Moooo! Cockadoodledoo!!
Each sign is hand painted in our distressed ivory finish with black silhouette farm animals.  Theses signs are also embellished with rusty wire, rusty bells, twine hanger and a sweet ivory bow to give this set a rustic appearance.
The overall dimensions of each sign are 5″ wide x 3.5″ tall x 1/4″ thick.
This next wooden farmhouse sign reminds me of something you would typically see on a farm that sells local honey.
Honey Bee Sign: Honey for Sale, Farmhouse Style Wooden Wall Decor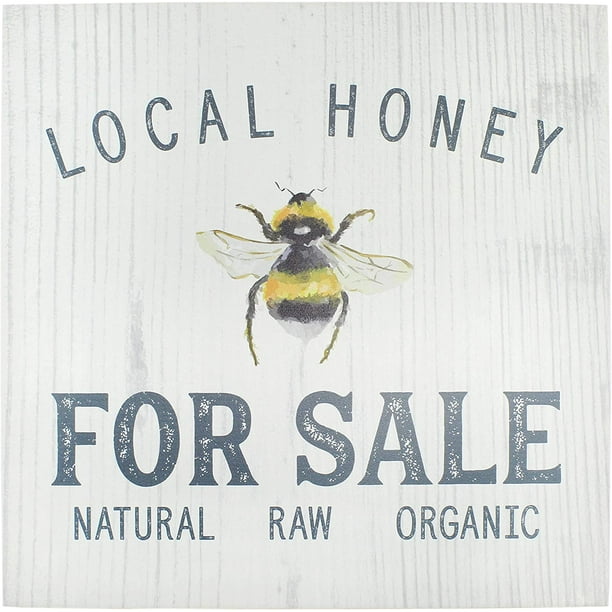 This bumblebee square sign is made in a wood block style with a distressed whitewashed fence/wall background.  The light gray weathered board style coupled with distressed black print and yellow, black & white honey bee gives this sign a retro look.
This sign evokes memories of the old general store and measures approximately 12 x 12 inches.
Where To Buy:  Walmart
LOVE this farmhouse gallery of wall decor ideas that this gal put together in her kitchen.  SO creative!  If you have a blank wall in your kitchen you could create something similar with a collection of your favorite farmhouse decor for your wall.
I also noticed that practically everything that is displayed on this wall is related to the kitchen.  A very creative idea.
Another piece of metal wall art that you could hang in your kitchen is this
Here are some more farmhouse kitchen wall decor ideas that you could add to create rustic charm for your country kitchen. 
A "Gather" wall sign with rustic touches would be perfect to hang over the dining table in a farmhouse kitchen.
"Gather" Wall Plaque with Farmhouse Embellishments – Sentiment Word Art Sign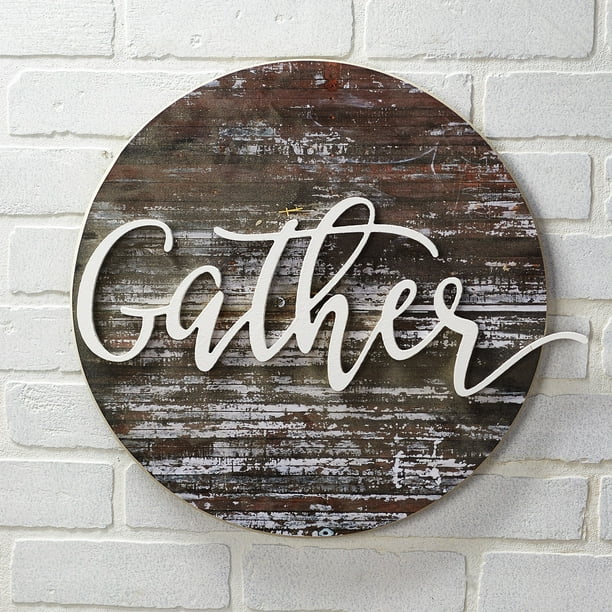 This farmhouse inspired sign will add rustic charm to your wall space.  The distressed wooden circle is overlaid with a die-cut word, which is positioned slightly askew so that it extends beyond the edge.
Made from MDF, this rustic sign measures 15-1/2″W x 15″L and is ready to hang. 
Here is another farmhouse accent piece that would go great in a kitchen.
Fresh baked pies sign, glass framed sign, farmhouse, country style, kitchen sign, small sign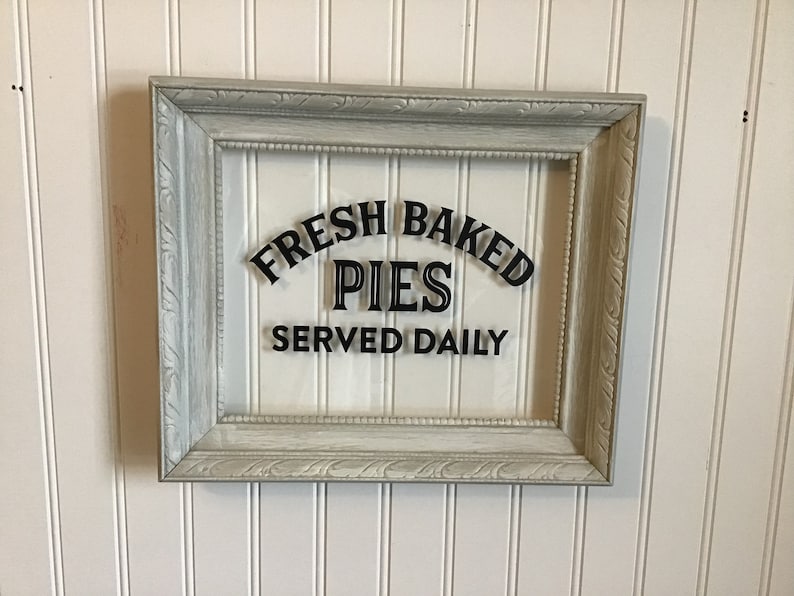 Shop On Etsy
This farmhouse sign is perfect to finish off a space on a wall or shelf in your country kitchen. The colors are neutral enough to fit all color decor and would make a cute little gift for someone.
This handmade 'Fresh Baked Pies' sign measures 13 inches across.
Complete your culinary space with this vintage style 'EAT' wall plaque sign.  It measures 7 x 0.5 x 17 inches.
Stupell Industries EAT Typography Vintage Sign Wall Plaque Art, 7 x 0.5 x 17, Proudly Made in USA
Here another country wall decor piece that you could add to any wall in your kitchen to compliment your farmhouse decor. 

Cow Country Kitchen Farmhouse Wall Décor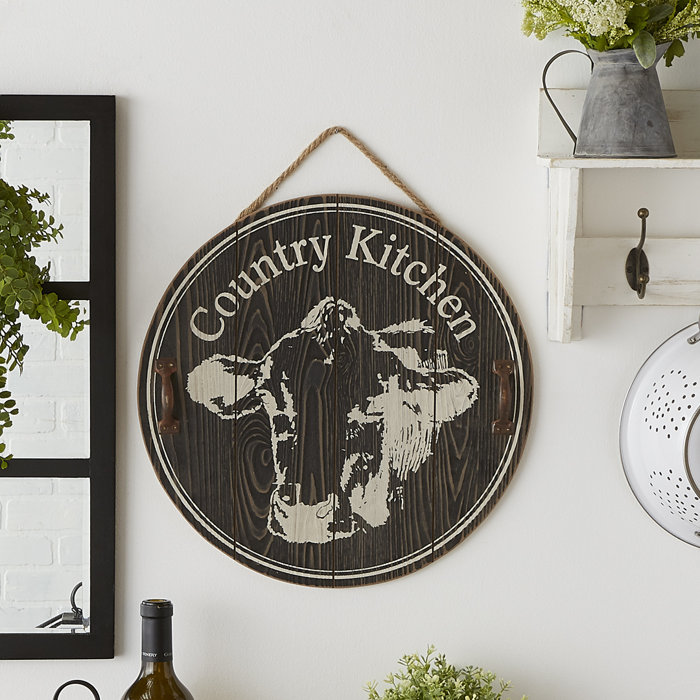 This rustic sign with a picture of a cow measures 15. 5 x 15. 5″.  It is made of MDF and can be wiped clean quickly with a damp cloth.  Hanging hardware is attached to the back of this sign for easy mounting on the wall.
Rooster prints are very popular farmhouse decor for hanging on a wall in a kitchen.  This set of two rooster prints have a vintage look to them.
Gango Home Decor Blue and Red Country Fresh Eggs Rooster Kitchen Set; 2-11″x14″ Unframed Prints

Printed on high-quality paper, this set of blue and red country fresh eggs rooster kitchen prints would be a fabulous addition to a farmhouse kitchen.  These prints can be framed or mounted on the wall.
I think this sign would be really CUTE to display on a wall in a farmhouse kitchen.
3 Piece Farm Designs Wall Decor Set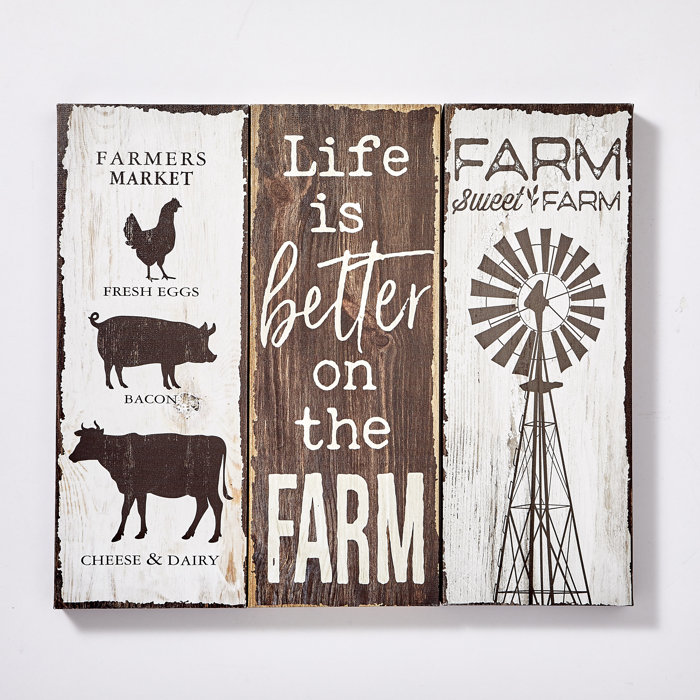 The set of 3 farm-themed wall hangings are made from canvas and wood.  They have a vintage look farm design with a rustic wood bark finish.
The 3 designs feature – farmers market – life is better on the farm – farm sweet farm.  Hang this set individually or as a set of three.  Each piece comes with a hook for easy hanging on a wall.
The overall dimensions of this set are 15.75" H x 17.25" W.
Where To Buy:  Wayfair
Farmhouse kitchen Decor, Breakfast bar decor, Cow, Pig, Chicken, wood sign, wall hanger, rustic decor, breakfast sign, farm animals, beef,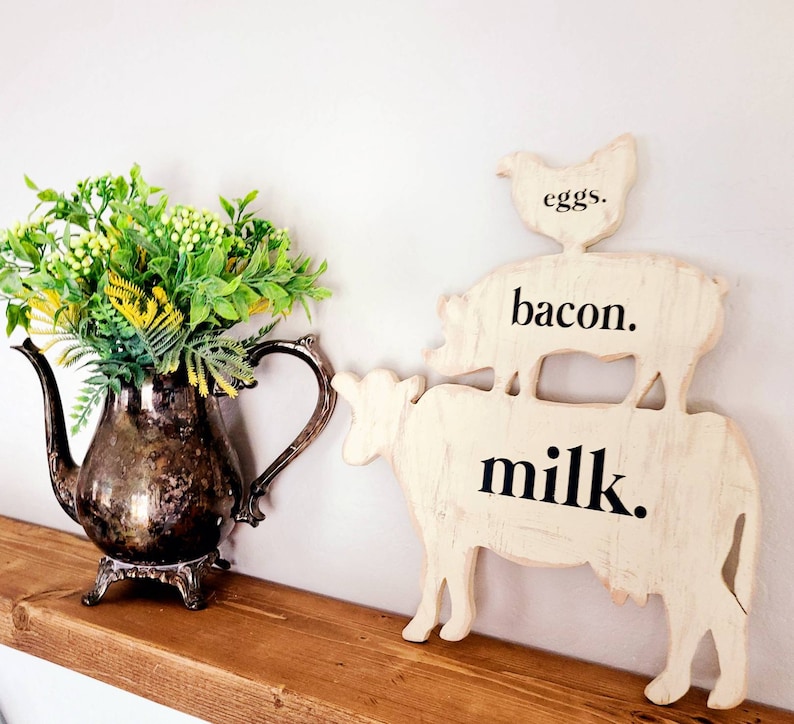 This Farm Animal Kitchen sign is a nice addition to your kitchen or dining area and measures 13 inches in height x 11 inches wide.  It could be hung on your kitchen wall or leaned up against a wall on a shelf in your kitchen.
This farmhouse wall hanger is hand crafted and made from wood.
Where To Buy:  Etsy
Another accent piece that you could add to a wall in your kitchen is this decorative rooster wall clock.  A rooster motif is VERY popular for decorating a farmhouse kitchen with.
Telisha Retro Design Large Clock Rooster Chicken Cafe Home Decorative Wall Clock Wood 34CM 14″ Non-Ticking Silent Quiet
This retro style large rooster clock would be ideal to hang in a farmhouse kitchen and for keeping track of time.  It is made from Eco- friendly wood that is covered by colorful film printing paper.  It is anti-oxidation, waterproof, with durable and vivid colors.
This clock measures 14 inches in diameter and has large Arabic numerals that can be easily seen from across the room.  It is unframed and has no glass cover.
It also features a non-ticking silent design that is quiet and accurate.
Where To Buy:  Amazon
For your wall, here is a farmhouse sign that features a cute saying 'Rise & Shine Mother Cluckers.'  SO cute!

Putuo Decor Chicken Coop Sign, Rustic Farm Decor for Kitchen, Country Cottage, Yard, 10×5 Inches Hanging Wall Plaque – Rise & Shine Mother Cluckers
This chicken sign would be the perfect accent piece as part of your rustic decor for your kitchen.  This adorable chicken sign can be stand against the wall freely on your counter top, hang on your wall or door knob.
This sign features an original Putuo Decor design print on MDF with a rope hanger.  It measures 10 x 5 inches, and 1/5 inches in thickness.

Here is another rustic country kitchen sign that is REALLY cute!
Chicken Coop Signs, Farm Decor for Country Cottage, Kitchen, 12×8 Inches Aluminum Metal Wall Sign – The Fluffy Butt Hut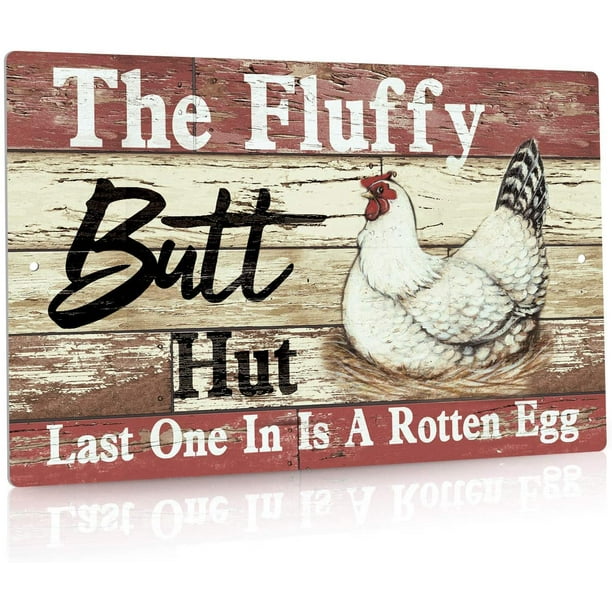 This metal wall sign is made from aluminum with rounded corners and can be used both indoors and outdoors,.  It will never rust. 
This country cottage sign will add character and style to your farmhouse kitchen.  This sign is easy to hang with two screw holes.  This metal sign measures 12″ x 8."
Here is a set of three (3) farmhouse kitchen signs that you could hang on your kitchen wall.
Jetec 3 Pieces Farmhouse Kitchen Signs Cow Rooster and Pig Decors 5.5 x 3.9 Inch Rustic Wooden Signs Country Wall Decorations for Kitchen Wall Decor and Home Decor (Distressed Colors)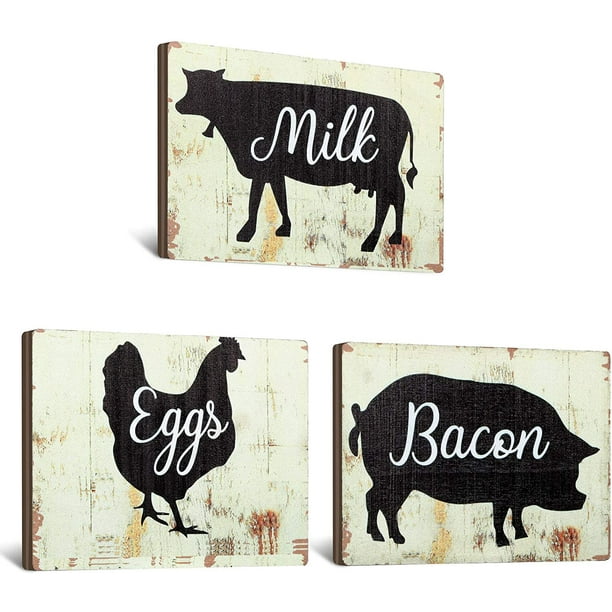 This set of three farmhouse wooden kitchen signs feature a cow, pig and rooster patterns, representing milk, bacon and eggs.  Each farmhouse kitchen sign has a triangular hook on the back for hanging on the wall.
Each adorable sign measures about 5.5 x 3.9 inches respectively.  You could also lean these farmhouse signs against a wall on your kitchen counter.
This set of four farmhouse wall signs could be hung together to create a display or hung separately.
FlowerBeads Farmhouse Sign Funny Wall Signs Chicken Coop Country Decor for Home, Farm & Kitchen
This set of 4 (four) farmhouse chicken signs will add a country touch to your farmhouse kitchen.  Made of strong aluminum, these rustic signs measure 8 x 12 inches and are sure to add a farmhouse vibe to your kitchen wall.
Where To Buy:  Amazon
This metal kitchen sign would add a country touch to your kitchen wall and would also bring a smile to everyone's face.
In This Kitchen, We Lick the Spoon Metal Sign – 7×10 inch – Vintage Look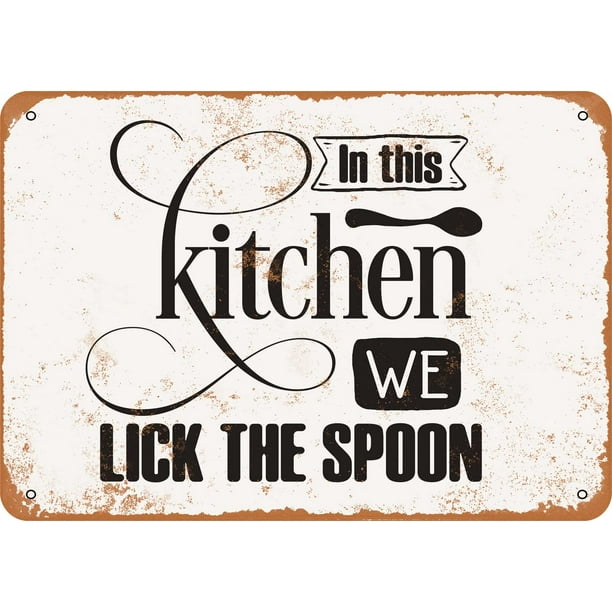 This vintage style kitchen sign is made of sturdy and durable aluminum.  Simulated aging gives the effect of rusty edges and scratched and faded paint.
This sign is weatherproof and suitable for both indoor and outdoor use.  This adorable sign is available in three (3) different sizes to fit your space.
Where To Buy:  Walmart
No farmhouse kitchen would be complete without this EAT sign + fork and spoon set.  Perfect farmhouse decor to hang on your wall in your kitchen.
LOSOUR Farmhouse Kitchen Wall Decor, Farmhouse Decor EAT Sign + Fork and Spoon, Wooden Letters for Rustic Wall Decor (EAT Sign + Fork and Spoon)
This farmhouse decor set is made from SOLID wood that is in a distressed finish.  Adorn this set on your kitchen wall to bring some farmhouse charm to your space.
Where To Buy:  Amazon
In summary,
Farmhouse style kitchen wall decor is just one of the many ways that you can introduce a country vibe for your kitchen.  I hope that this article has given you lots of ideas of how you could decorate the walls in your kitchen.